Kid-Friendly Vegetable Sushi Recipe
This Kid-Friendly Sushi Recipe Solves the Won't-Touch-Veggies Dilemma
Struggling to get your kids to eat their veggies? Don't worry, we've been there (and are there!), but that doesn't mean it's time to throw in the towel. Rather, it's time to get creative! While we've been known to hide a veggie or two in some mac and cheese, putting them front and center in some pretty packaging could easily do the trick. And thanks to Patricia Wong from Farm to Table Baby Mama, homemade sushi is an easy and fun way to do so.
Wong says, "Sushi is an easy, light, and healthy meal kids and parents can enjoy together. With hot weather around the corner, you can pair the sushi with some edamame, fruit, or tofu, and you're all set for a picnic or lunch to go!" Best of all, sushi is customizable, so if your child absolutely won't go near a mushroom with a 10-foot pole, you can swap in something else that makes it more appealing. "Cut them smaller for the little ones to eat in one bite, and you're ready to go," she says. "If you're in even more of a rush, like my husband and I often are, you can make handrolls, which are even faster! It's a simple and quick family meal that can please everyone at the table."
Sounds like a win-win for everyone. Watch her demonstrate her easy technique above, and see the recipe below — just swap in your favorite veggies for a meal the whole family will enjoy!
Kid-Friendly Vegetable Sushi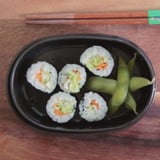 Ingredients
1 cup short-grain rice
2 tablespoons rice vinegar
3/4 tablespoon sugar
1/2 teaspoon salt
Toasted nori seaweed
Your choice of fillings (cooked carrots, avocado, fresh cucumbers, eggs)
Directions
Rinse the rice several times, and drain. Then cook in rice cooker or combine rice with 1 cup of cold water, and bring to boil over high heat. Cover and cook over medium for 10 minutes, and then reduce to low and cook for 10 more minutes.
Combine rice vinegar, sugar, and salt in a small pot over medium heat until sugar dissolves.
Move rice to a large container, and drizzle the sweetened vinegar over the rice. With a rice paddle, use a slicing motion to gently separate the grains and mix in the vinegar.
Lightly toast seaweed until crisp and fragrant.
Prep your choice of fillings, and then begin to roll the sushi, starting with the rice, and then top with your fillings. Have a small bowl of water handy to wet fingers in order to keep the rice from sticking.
Roll, slice, and enjoy!
Information
Category

Rice, Main Dishes

Cuisine

Japanese