LeapFrog LeapBand Review
Will the LeapFrog LeapBand Get Kids Moving? We Took It For a Spin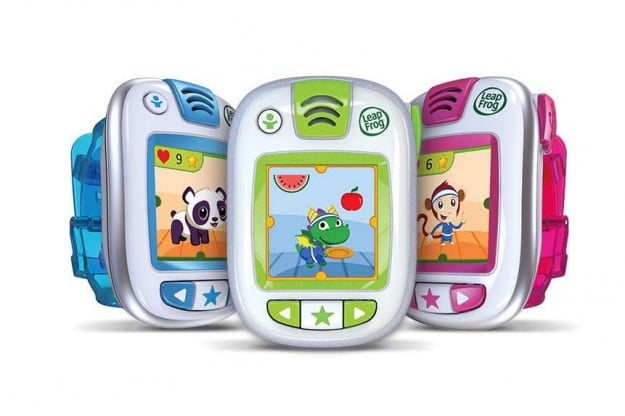 It often feels like our kids are bouncing off the walls, yet there's still an obesity epidemic in our country, one that is growing every day. So how do we encourage young kids to get up and move when they're addicted to gaming devices, tablets, and their parents' phones? By combining movement and gaming in one device — at least that's what LeapFrog believes. This month the company behind the LeapPad and LeapReader reinvents mom and dad's fitness tracker bracelet for the toddler and preschool set with the LeapBand ($40), the first activity tracker designed just for kids.
Consider the LeapBand to be a cross between Tamagotchi (the popular '90s digital pet) and a fitness tracker, encouraging kids to get moving and rewarding them with points based on their activity. The chunky, waterproof, watch-like device features an energy bar around the outer edge of the screen that moves as actions and motions are detected by the band's accelerometer. When kids reach certain goals, they earn rewards that can be used to unlock features on the band. But could a watch-like device really encourage kids to get up and move? LeapFrog sent us a few to try out; see what we thought below.
Who is this product designed for? It's designed for kids 4 to 7 years old, so my sons, ages 4 and 8, were the perfect specimens to try out the devices. After I connected them to my LeapFrog Connect account, they quickly put the watches on and were using them within minutes. The bands were pretty much self-explanatory, and the kids didn't need me showing them what to do.
What sets it apart? Personalized virtual pets (a dog, monkey, panda, cat, dragon, robot, penguin, or unicorn) "live" in the band to help guide tots through activity challenges. Games like Pet Chef (collect the healthy food items), Pet Boogie (a dancing game), and Pet Salon (teaching proper hygiene) provide fun ways for kids to interact with their pets and learn about healthy living, while 14 preloaded challenges command kids to "pop like popcorn," "walk like a crab," and "wiggle like a worm" with the accelerometer tracking their every move. Additional challenges can be downloaded from the company's LeapFrog Connect app. Parents can then track their kids' activity through an accompanying app (but information is not shared beyond that).
But perhaps my favorite feature is the parental controls that are found when the device is connected to mom's computer. So the devices don't end up on the bottom of teachers' "take away" drawers, the LeapBand can be locked so the energy bar and activity games can be only be seen during certain (nonschool hours) times. During the off hours, the band serves as a digital watch, displaying the time and recording movement that kids can see once the band is on again.
The parental tracking is also rather interesting, as it provides charts showing how active kids are throughout the week. While they think they're playing, their activity levels are completely tracked, so you can see if Thursday is usually a quieter/less active day and you need to step up your family's movement that day.
What could be better? My one big complaint about the LeapBand is its bulkiness. Perhaps it is because I'm used to the sleekness of the Fitbit and the Fuelband, but the tracker is a bit clunky, and my kids had trouble taking their sweatshirts off when they were wearing it. But I have no complaints about the functionality of the band.
How long did it entertain my child? It still is! Seriously, from the moment my kids put them on (including my older, more skeptical son), they've loved playing with them. They challenge each other to the activity challenges, compare how fast their energy bars move around the device, and have shown them off to all their friends.
Would I buy it? Yes! Seeing my kids play with them nonstop for two weeks has been a joy. I was originally nervous that the bands could contribute to some negative body-image issues in younger kids, but after watching how my kids use them — and the questions they've asked — I'm convinced that they are truly helpful devices. While I do think my 8-year-old is a bit old for it, my 4-year-old is the prime target, and I've loved seeing him use it.