Lennon and Maisy In the Waves Book and More
Nashville's Lennon & Maisy Stella on Their New Children's Book, Original Song, and More!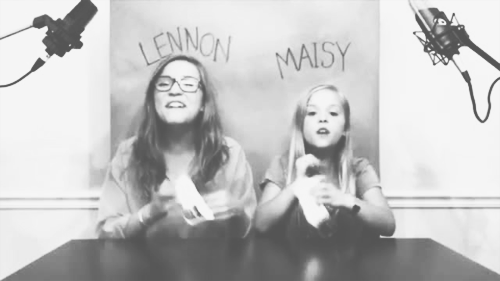 It's safe to say that Nashville stars Lennon and Maisy Stella have already won us over with their phenomenal YouTube covers like this amazing rendition of Charli XCX's "Boom Clap", but that doesn't mean we aren't giddy after hearing their latest news — they are officially the authors of a children's book! We caught up with the duo to talk about their book, In the Waves, the original song that inspired the whole thing, and what's next for the insanely talented girls.
POPSUGAR: Congratulations on your children's book! This all started with an original song that you started writing when you were 9 and 5, right?
Lennon Stella: Yes, exactly. We were literally in the bathtub when we wrote the chorus of it. HarperCollins reached out about collaborating to write a kids book, and then we rewrote the verses and the rest of the song, but [originally] we just had the chorus, the "in the waves" part from when we were about 9 and 5-ish.
PS: What was it like when you finally saw what the book looked like with the illustrations and the words to your song?
LS: So crazy!
Maisy Stella: Um, that was the craziest thing ever! When it came in the mail for the first time, it was all of the pages, but not even put together yet. And then we did a book signing, and that was the first time that we actually saw the hard copy, and there was like . . .
LS: . . . Four hundred of them in a row, and we were, like, "WHAT?!" It was the weirdest thing, but it was so cool to see it all come together.
(BRB while we gush about how they finish each other's sentences. So cute!)
PS: That's so fun! And then you made the video for it — what was it like making that?
LS: It was fun — my mom had a lot of creative design ideas and came up with all of the illustrations for the video and did the waves in the background. That backdrop, my mom actually painted. She's helped a lot with that design, and our manager helped out, too. It was fun — it was very lighthearted, for sure.
PS: Do you think that all of this is even more fun because you're sisters? You seem super close, like you do everything together.
LS: Yeah, we stay really close. We're with each other every . . .
MS: . . . We're going to the beach with each other right now!
LS: Every single day of our lives, we're together, so, I mean, we bicker because we're sisters, but we're very close, and it's awesome to get to experience these things and do stuff together. It's been great.
MS: I love that it's my sister [that I'm working with], a person I grew up with and feel comfortable with, rather than a random person that you have only known for however long you've been working with them.
LS: [Laughs] Yeah, for sure.
PS: Do you think that you have similar creative visions?
LS: We definitely have similar visions when it comes to our careers and what we want and how we want to pursue them. We definitely have the same viewpoints and perspective on that.
MS: Yeah, you could definitely tell that we're sisters just from talking to us. We, like, say the same things all the time, and we think the same things all the time and do the same things.
LS: For sure, but we definitely, like outside of the music stuff and the acting world, we have different interests. Maisy likes to dance, and I like photography, so it's definitely different for us on the personal side of things.
PS: So what are you doing next — are you planning any more original songs, any more picture books?
LS: Yeah, well, we've been writing a lot and just getting in that world and meeting with a few different producers lately . . . So once we have a compilation of a ton of songs that we love enough to produce for an album, then we definitely — relatively soon — will be putting out an album.
PS: Amazing! And what about covers?
LS: We have none in the lil' chamber yet [giggles] . . . I'm sure we'll post more covers before putting out an album, but we don't have one yet that we're uploading. We will let you know!
PS: Are there any songs that you are obsessed with and can see yourselves wanting to cover?
LS: Hmm. There's a lot of stuff Maisy and I love, but the thing about us covering things — I think why we're so specific on what we cover and what we do and don't cover — is we like to really make the songs that we're doing and covering our own . . . They're ones that we really enjoy listening to, but also it's about how much we can change it and make it our own. If it's already a duet, we don't want to cover it because you want to be able to change it, you know what I mean?
MS: Because that's really where the fun is, you pick a typical song and do harmonies where one stays straight and the harmony goes up and down. Just things like that, where it's fun to try and figure out ways that you can make it your own.
Seems like big things are coming for Lennon & Maisy, and if you weren't a fan of them before, you're sure to be now! Be sure to check out In the Waves and the supercute video the girls made to go along with it.