Mini-Meatball Soup
Your New Favorite 1-Pot Wonder: Mini-Meatball Soup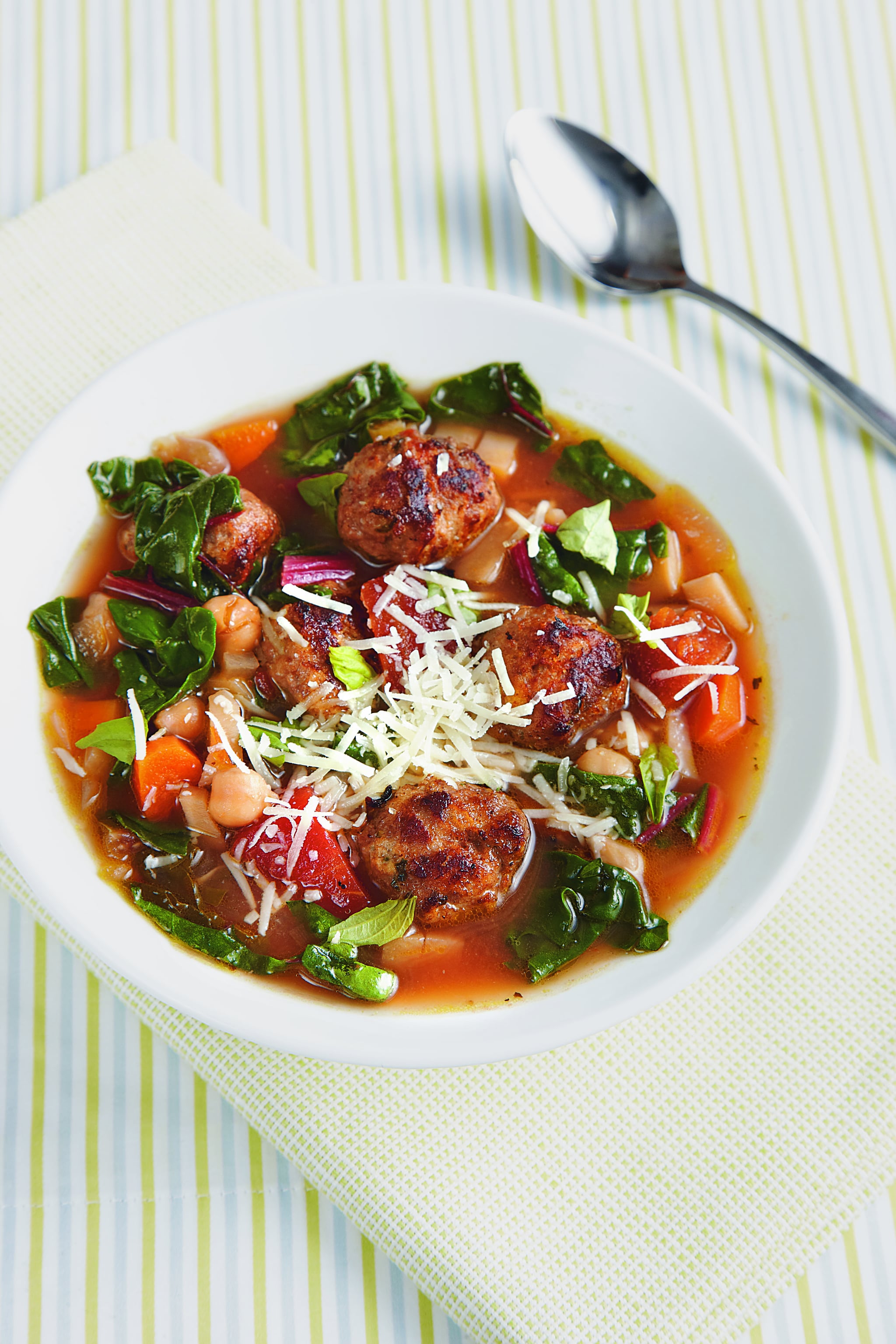 Mini-Meatball Minestrone
Amanda Haas
Notes
My kids love this soup so much. They always ask for seconds. And it's a hit with adults, too! Cook it over the weekend, when you have some time to chop the veggies. Don't be intimidated by the long list of ingredients. Once the chopping is done, it all just cooks together in one pot. Make it ahead and enjoy it all week.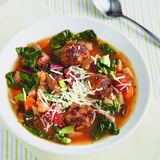 Ingredients
Soup:
1 tablespoon olive oil
2 cups diced onion
3⁄4 cup sliced carrot
3⁄4 cup sliced celery
3⁄4 cup cubed parsnip
2 garlic cloves, minced
3 cups chopped swiss chard
1 cup dry red wine
1⁄2 teaspoon freshly ground black pepper
1⁄4 teaspoon kosher salt
1 (32-ounce) container lower-sodium chicken broth
1 (14-1/2-ounce) can no-salt-added diced tomatoes with basil, garlic, and oregano
Mini meatballs:
1 pound ground turkey
3 tablespoons dry breadcrumbs
1 tablespoon chopped fresh basil
1 tablespoon olive oil
1⁄2 teaspoon freshly ground black pepper
1⁄4 teaspoon kosher salt
1 large egg, lightly beaten
Remaining ingredients:
1 (15-ounce) can chickpeas (garbanzo beans), rinsed and drained
1⁄4 cup chopped fresh basil
1⁄4 cup grated fresh parmesan cheese (optional)
Directions
1. To prepare soup, heat oil in a large

dutch oven over medium-high heat. Add onion

 and next 4 ingredients (through garlic); sauté 6 minutes or until vegetables are tender. Add chard; sauté 1 minute or until wilted. Stir in wine and next 4 ingredients (through tomatoes). Bring to a boil; reduce heat and simmer 10 minutes.
To prepare meatballs, combine turkey and next 6 ingredients in a bowl. Shape meat mixture by tablespoonfuls into 30 meatballs. Add meatballs and chickpeas to soup. Bring to a boil over medium-high heat. Cover and cook 12 minutes or until meatballs are done. Remove from heat; stir in 1/4 cup basil.
Ladle soup into bowls and sprinkle evenly with parmesan cheese, if desired. 
Amanda Haas is the culinary director of Williams-Sonoma's test kitchen. She's also the mother of 2 beautifully energetic boys, a cookbook author, a cooking video host, and the founder of One Family One Meal, a website that helps families menu plan, grocery shop, and cook on a budget. Her cookbook, Real Family Food, features this and other family-friendly recipes. Amanda's newest cookbook, featuring delicious dishes focused on health and well-being, will be published by Chronicle Books at the end of the year.
Information
Category

Main Dishes, Soup

Cuisine

North American

Yield

8 servings

Total Time

1 hour, 4 minutes, 59 seconds
Nutrition
Calories per serving

249