Mom's Candid Post For Black Breastfeeding Week
Mom Gets Real About Milk Shooting Across the Room and Other Candid Breastfeeding Moments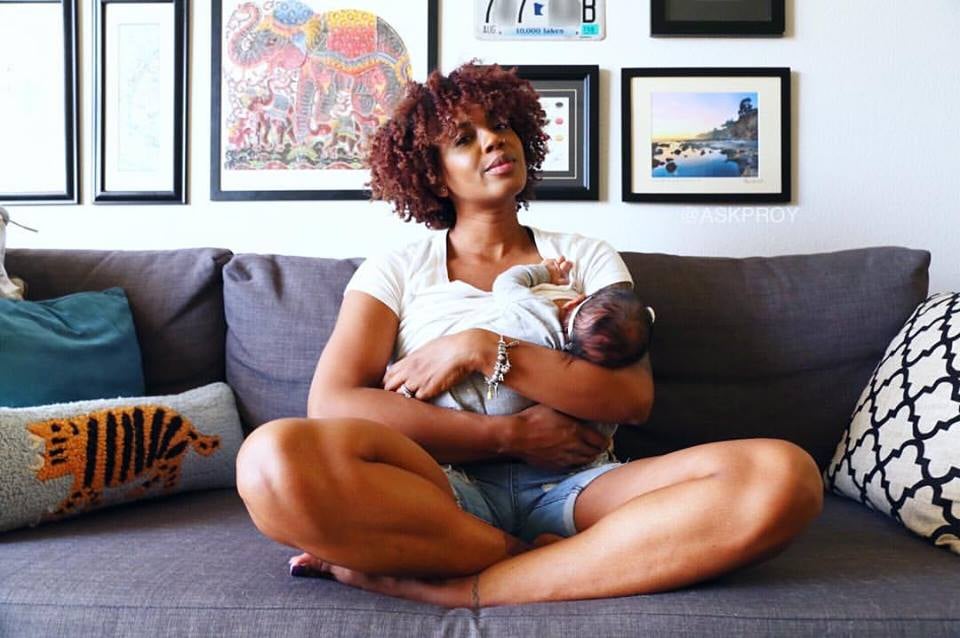 It's time to get real about breastfeeding. Although nursing moms know how amazing it is to be able to feed their babies and give them the nutrients they need, breastfeeding also brings with it some, er, interesting experiences. Now, one mom is getting real about the roller coaster journey of nursing in honor of Black Breastfeeding Week, and it's incredibly candid. Phylicia Sadsarin has been breastfeeding for around 24 weeks, and she's already experienced the highs and the lows, but out of all the emotions, she explains that she "couldn't feel more empowered."
"If it wasn't for the not so good latches in the beginning (hey — we were learning together, but LORDT my poor nipples), engorgements, pumping to relieve the pain of rock hard boobs, nursing around the clock, and streams of milk shooting across the room (don't ask) I would have never been able to experience the bond we share, the rapid weight loss (MILF), the natural birth control (use at your own risk), and the feeling of knowing I'm giving her the best of the best," the mom wrote on her Facebook page alongside the nursing photo above. "The benefits are endless and too much to state (here anyway), but they far outweigh any of the aforementioned hardships I've faced by a long shot!"
Phylicia, who goes by pRoy, explained that breastfeeding has always been normalized in her home — she even has a photo of herself as a child "breastfeeding" a doll — but she's especially thankful to her mother for teaching her about nursing and helping her understand the village of motherhood.
"Since motherhood, I have connected with a great group of Black women who support, uplift, and encourage one another through the good and rough times," she wrote. "To the mamas out there who are on this journey with me I want to say thank you for helping to bridge the gap. Thank you for helping to lower our infant mortality rate. Thank you for boosting your little one's immune systems. Thank you for creating a bond like no other with your babies. Thank you for sharing your struggles and your successes. And a HUGE thank you to all of the Black lactation consultants out there! You ladies ROCK!!"
The breastfeeding community is stronger together, and by discussing things like "rock hard boobs" and "milk shooting across the room" so openly, it allows new moms to find comfort in their experience and know that they are not alone, because it really does take a village.