Mom Gets Mean Note About Posting Baby Photos on Facebook
New Mom Is Sent a Nasty Letter From Her "Friends" Asking Her to Stop Posting Photos of Her Baby on Facebook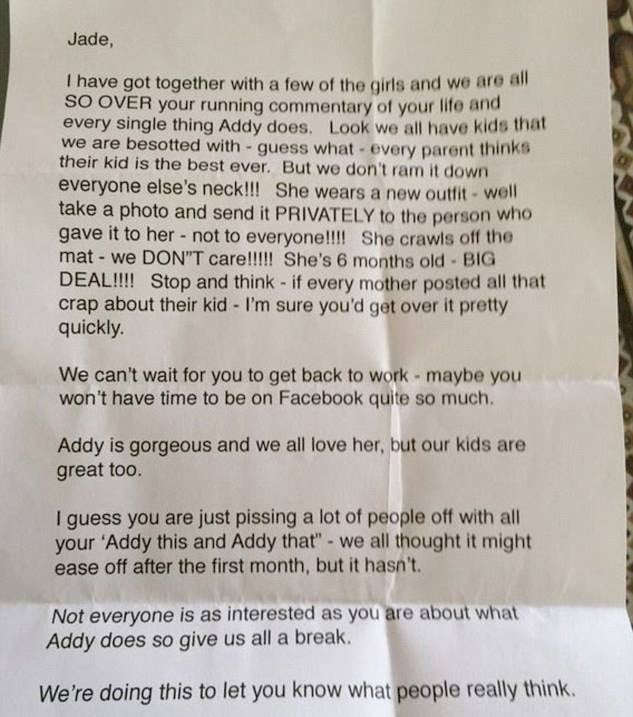 We've all been there, scrolling through our Facebook news feed, and there it is again: that girl from high school posting a million and one photos of her newborn. Or perhaps it's the couple that just can't talk enough about their 7-month-old and all the milestones they are witnessing every day, like the first time carrots get spit across the kitchen and stain everything. All parents think that their child is the most beautiful, the happiest, the smartest — and to be fair, that's totally fine! But is there a line on social media that is being crossed? Can you post too many photos of your pride and joy?
Jade Ruthven, 33, mama of Addison, 6 months, received a typed letter (above) from "a few of the girls" — supposedly friends of hers — saying, "We are all SO OVER your running commentary on your life and every single thing Addy does." The mom was shocked by the cruel letter and couldn't believe that any of her friends would write and send such a mean note.
The letter continues, informing Jade, "Not everyone is as interested as you are about what Addy does so give us all a break. We're doing this to let you know what people really think." Jade still doesn't know who sent the letter but decided to overcome the bullying by posting more photos of her daughter, along with the hashtag #Addyspam. Her true friends decided to join in, creating a stream of Addy photos on Facebook and proving that sometimes a little love and support is more important than trying to shame or isolate someone.
Anyone on Facebook has encountered something like this, so what are your thoughts on posting "too many" photos of your baby on your profile?