Mom Honors Ex-Husband Through Photos
After Losing Her Ex-Husband Tragically, 1 Photographer Kept His Spirit Alive in the Most Touching Way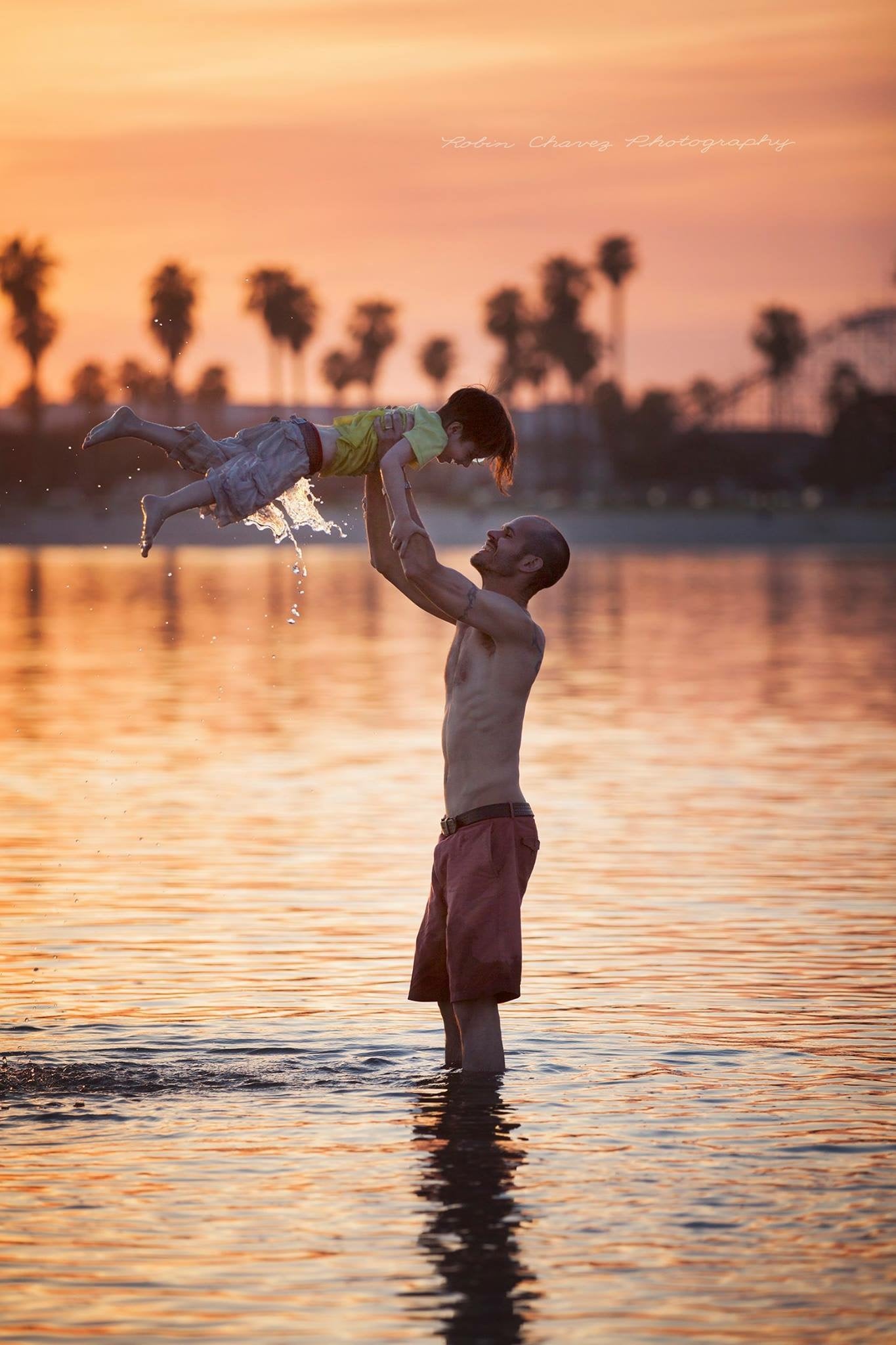 Despite being in the middle of a divorce, Robin Brazill, a photographer from Spokane Valley, WA, had her world shattered when she got the news that her 37-year-old ex-husband, Daniel, went into cardiac arrest over Thanksgiving weekend. Doctors told the family that Daniel had a rare heart condition called Brugada syndrome and after being resuscitated long enough to say goodbye to Robin and their three children, Ryder, Ryan, and Raven, he slipped into unconsciousness.
Tragically, after nearly a month of no brain activity, Daniel was taken off life support. His death sent ripples of grief throughout their family, especially because there were no warning signs.
"Daniel's passing was completely unexpected. There were no warning signs really," she told POPSUGAR. "A couple years before, he'd passed out while running twice but we chalked it up to him being dehydrated or not rested enough. He never went to the doctor because he believed he was healthy and in excellent shape. He was an extremely active man."
Robin explained that she'll never be able to forget her last conversation with Daniel for more reasons than one.
"You never really think it could happen to you or to someone close, but you just never know."
"The last time we spoke, I was upset and impatient with him. He'd come over to the house to talk. I don't remember the exact last words I said to him, but I remember my tone and it wasn't kind. His last words to me were that he was sorry and that he loved me," she said. "Even though we both were in the middle of a divorce and had moved on to separate relationships, he still always said it to me."
Looking back on the words she had with Daniel, she's happy that he was so kind to her and regrets not saying she loved him back.
I used to get angry at him for it, thinking it would somehow set us back from moving on, but he told me he'd always feel that way. Now, I feel grateful that he said it and I wish I'd said the same. It was a big life lesson for me. I take care and thought in how I speak to people now because I never know if it will be the last time. You never really think it could happen to you or to someone close, but you just never know. Daniel was always better than me at forgiving.
Helping her kids through their grief was the hardest thing Robin has ever done. But thankfully, Chad, Robin's boyfriend, vowed to always take care of Daniel's children, as first reported by Love What Matters.
"Chad came with us to say goodbye in Daniel's hospital room before removing him from life support," explained Robin. "There was no longer any brain activity or hope for recovery. He held his hand and promised Daniel that we would always be taken care of. I think that although we were experiencing deep pain and sadness, the security Chad offered to us was a comfort through it all."
And although Chad has become a huge part of her children's life, he never tried to replace their father.
"I'm not sure how our family would have fared without him. He's never tried to be a replacement for Daniel and he's always honored his memory. He's never asked the kids to call him 'Daddy' or 'Dad' either. They just started doing it on their own. I feel happy that they can do that and I know that Daniel feels that way, too."
The photos Robin was able to snap before Daniel passed away have definitely kept his memory alive — and her children are thankful for the mementos.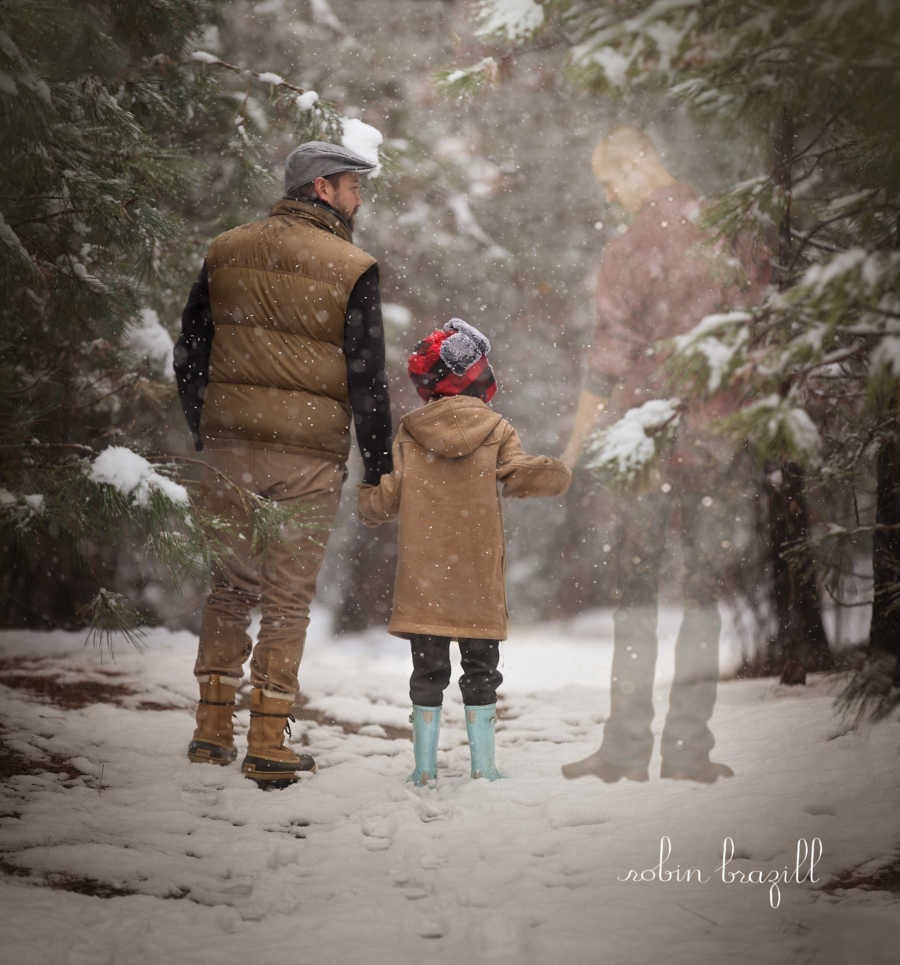 "Daniel's portraits have been an incredible comfort for our children. Our youngest daughter forgets mostly about him, but when she sees his pictures, points and tells us that's her daddy," she said. "Raven says she has two daddies: Chad and one in heaven. Our sons often sleep with his picture for comfort."
Robin and Chad got married in September 2017, but they'll never forget the memories they made with Daniel. Now, the family wants everyone to know just how great of a person he was.
I like to share Daniel's story because I think that even in death, he has so many inspiring lessons to teach, and I want his memory to stay strong. He was a man that couldn't go anywhere without seeing ten people he knew. He was kind to everyone and in the off chance he didn't know someone, he'd shake a stranger's hand and become their friend. He had that human connection thing down, and I always admired him for that.