Mom Shaves Daughter's Hair Off
I Shaved My Daughter's Hair
Blogger Paige Stannard of Baby Dust Diaries discusses daughter Aellyn's decision to shave her head and what it's taught her about being a parent.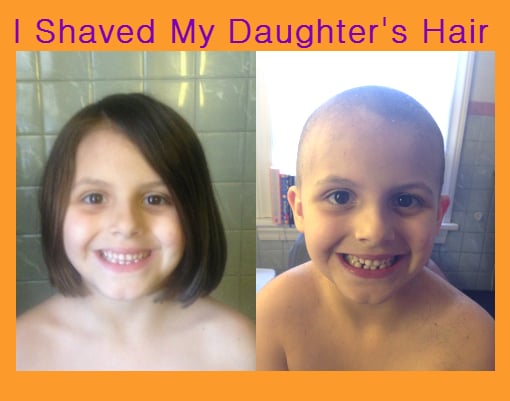 Every month my kids see their Daddy shave his head. Last week my younger son wanted his shaved off too. When Daddy was shaving Boston, Aellyn said she wanted him to shave her head too. Daddy said she'd have to ask mommy since I wasn't home.
She asked if we could and I said sure. We weren't home so it was easy to say yes. I decided I wouldn't bring it up and maybe she would forget.
Wrong.
She talked about it the rest of the day and the next. So, last night, we shaved her damn near bald.
First, let's talk about this from Aellyn's perspective. This wasn't a hard decision or even a big deal to her. She's never been told how "girls are supposed to look/act" because we parent outside of sexist stereotypes whenever we can* (I wrote the book Gender Neutral Parenting if you are new here). We talk about sexism a lot and I told her the morning before we cut it that some people think girls shouldn't have shaved heads. She said, "No way. Girls can have their hair any way they want." I said I know but some people might say something about it or call her a boy. She said, "That's OK, mom. I'll just tell them I'm a girl."
Look at this video I took during the cutting.
It's amazing to see her nearly blasé attitude about it. Isn't that how we should all be? I mean it is only f*cking hair!
I, unfortunately, was very much indoctrinated by my culture to put great importance on my appearance and my hair in particular. I had very long blonde hair as a child. Other girls in my class would fight to stand next to me in line so they could play with my hair. The adults in my life always told me how beautiful my hair was.
For my tenth birthday I cut all my hair off. The stylist kept asking me over and over, "Are you sure, honey?" As she began cutting I felt this nauseating sinking feeling in the pit of my stomach. When she was done I bawled my eyes out.
No big deal. I've overcome much of the "laws of femininity" that society tried so hard to force on me. I've had many a pixie cut and just last year I buzzed my hair with a 1 inch setting.
And yet my deep, gut feeling about my daughter shaving her head sounded something like this: "DEAR GOD NOOOOOOOO!"
Yep, really enlightened, huh?
That's the thing about this cultural conditioning I talk so much about. It forms roots so deep in our psyche that I know I'll never be completely free of them. But I can always try to observe my gut feelings and NOT MAKE DECISIONS BASED ON THEM. To instead question my assumptions. Peek behind the curtain of cultural conditioning.
I really, really, REALLY wanted to talk her out of it. I wanted to fawn over how beautiful her hair is. In fact, I knew I had that power of my daughter. What I think — as her primary caregiver and friend — has a huge impact on her. I could have used just the right words to talk her out of it.
Or, maybe not. Maybe she would have put her foot down anyway and cut it.
Either way, I would have told her that her appearance is important TO ME and that she exists for the consumption of others. That how others view her is more important than her internal voice, sense of adventure, and inherent value. That her decisions should be made based on external "rules" and not her own sense of what is right or wrong for her.
Even worse, I would show my daughter that manipulation is something that people do to control someone else. That love means power.
Hell no. Not even remotely worth it. I will take the discomfort of seeing my daughter without hair over teaching her that she is a doll to be dressed up for others' pleasure or that in any future relationship she is in she should allow someone to manipulate her or dictate her appearance.
But, guess what?
She looks beautiful with her head shaved. Not just beautiful in the way of aesthetic beauty (although she's that too. Have you seen eyes and cheek bones on a shaved head? Swoon), but beautiful in her complete purity of self. She knows herself without the layers of rules, expectations, and worries that most of us carry around every day.
As Pete shaved her in sections I was so worried she'd hate it and regret it. I was waiting for her to experience that sinking feeling in her gut as the hair fell. I didn't want her to experience the crippling fear of change or "being ugly" that plagued me as a child.
Nope. Not for her. The idea of regretting something as stupid as hair would probably never cross her mind. To her, this was FUN!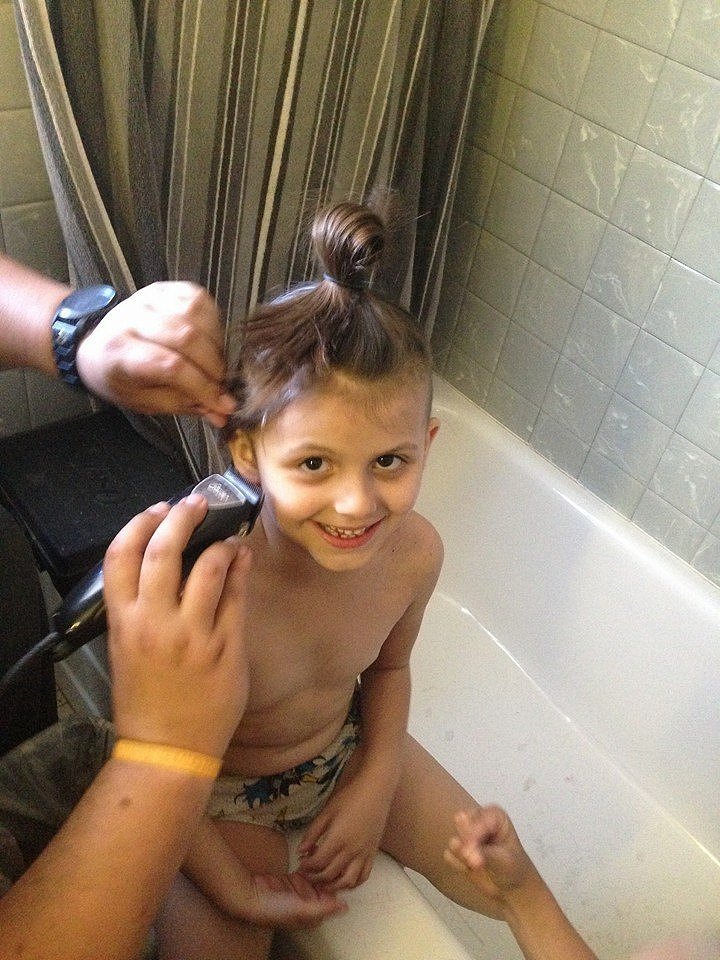 Once again, these tiny people in my life teach me so much. Parenting has, bar none, been the best personal development class in my life. I try so hard to remove my conditioned sexism from my parenting and they remind me how easy it is. They show me who I am under my conditioning. What a gift!
I still hold worries about what others will say to my daughter about her hair. I'll write more about our experience with her having a not-traditionally-feminine hair style in the coming weeks. I've already had one person tell me to "keep it private" and I was happy to tell her how marginalizing that is and how telling people to hide is how the status quo keeps its power. Would we tell gay people to "keep it hidden"? *Facepalm.* Well we shouldn't.
We should encourage people to be true to themselves and who they feel they are authentically. Then no energy would be spent crying over cut hair in a beautician's chair. Energy that can be spent making the world a better place for all.