Morning Routine of Working Mom With 2 Young Boys
For This Mom, Early Mornings Are Made Easier With Alexa and Ninjago
Chrystal lives in Metro-Atlanta with her husband and two sons, an 8-year-old and a 4-year-old. She's the senior internal communications manager for a lighting and technology company. Before children, Chrystal slept until 7 a.m. and woke up with the (prescandal) Today Show. These days, she wakes before the sun rises and functions robotically Monday through Thursday to get her children dressed and off to school on time and herself to work on time-ish. Each morning, she and her husband flow through their morning routine in concert. There are mornings when she is caught off guard by a "crazy" sock day or a last-minute request for money for Blue Ice, but most mornings now flow according to schedule. Below is a snapshot of her morning juggle.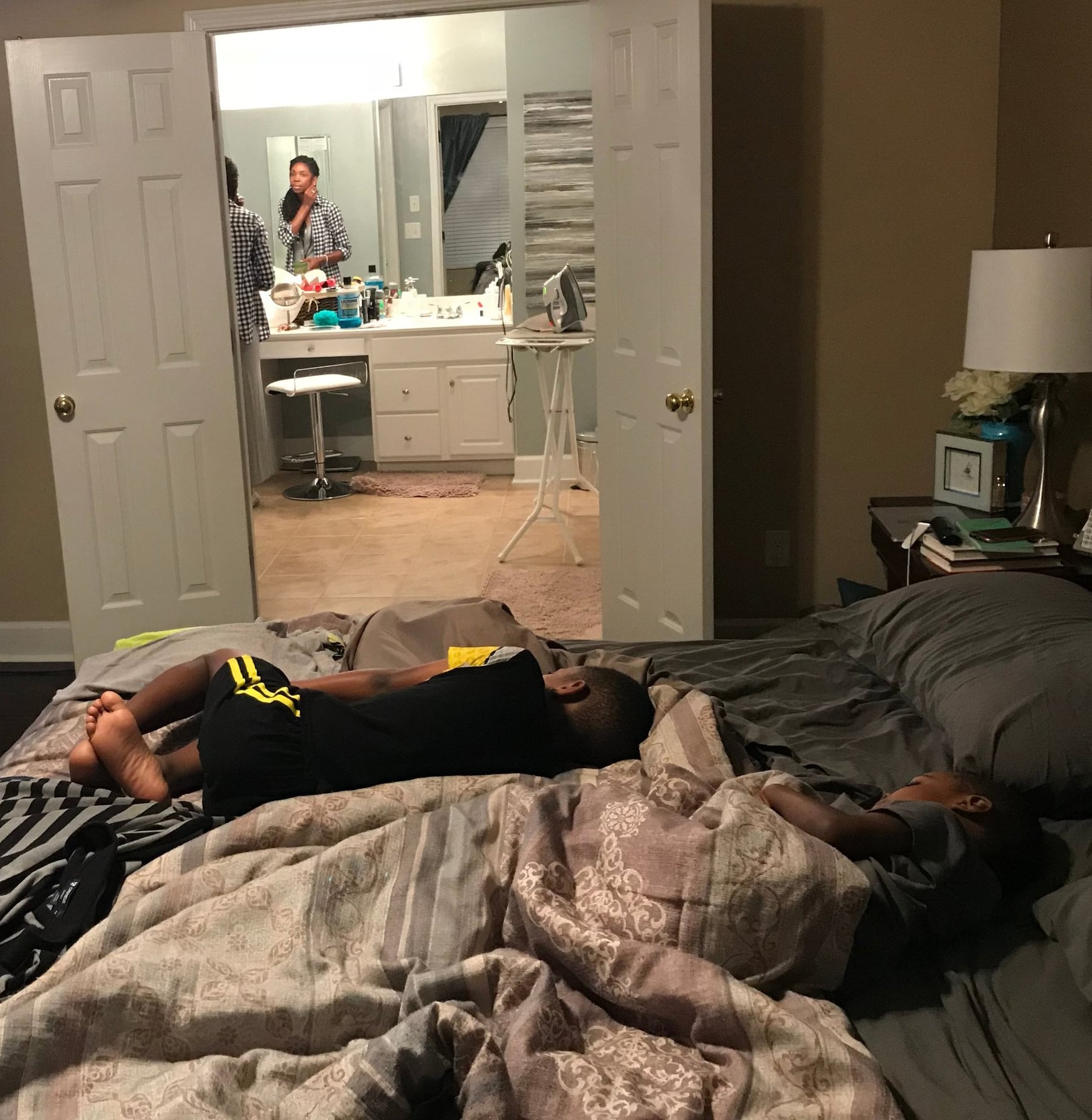 My Morning Juggle
3:45
My youngest walks into my room and tries to get in the bed with my husband and me. I ask him to please go back to bed or go sleep with his older brother. I had to start turning him away because I can no longer take knees and elbows in my spine. I toss and turn but thankfully fall back asleep.
5:20
Simultaneously, the alarms from my husband's and my iPhones go off. Same time, different wake-up tunes.
5:21
My husband asks Alexa from our Amazon Echo what the weather is for the day. I turn on the television to hear the local weatherman confirm what Alexa has just told us about today's weather and watch other happenings from my local news.
5:30
My husband puts on his workout clothes and goes to the basement to exercise. He asks me to join him; I decline.
5:40
I get out of bed and start getting dressed. I have showered and ironed my clothes and the children's clothes the night before, so I wash my face, run my electric toothbrush over my teeth until it stops, floss, put lotion on my face, and put on my clothes.
5:50
My husband returns upstairs from exercising and hops into the shower.
6:00
As I start my hair, makeup, and accessories routine, my husband yells from our room to the boys' rooms: "Time to wake up!" My youngest climbs in our bed and dozes; my oldest lays on top of the bed and complains about his early waking time. I put the preironed clothes on the end of my bed, praying today will be the day they will see the clothes and start getting dressed without waiting for me to say, "Please, start getting dressed."
6:13
After unsuccessfully negotiating with the children to rise and shine, my husband asks Alexa (we love her!) to play a song from
Kidz Bop Kids
. My husband and I sing along and dance to try to pull a smile from the boys. It works! They slowly move out of the zombie phase. The boys showered the night before. My oldest dresses himself but moves at a turtle's pace — he's watching the news intensely and asking questions about every topic that appears on the screen. I help my youngest get dressed while answering questions from my oldest about house fires, where we purchased our car (thanks to a car commercial), and how much longer I plan to watch my boring show. My husband and I tag team teeth and hair brushing and face washing, then we all head downstairs.
6:36
As we walk downstairs, the boys call out what they want for breakfast. I heat up frozen waffles for my youngest and frozen pancakes from my oldest. My husband makes a smoothie to drink in the car. I put a instant oatmeal in my lunch bag to eat around 9:30 a.m. I feed my youngest son breakfast even though I know he will eat breakfast at his daycare at 8:30 a.m. I like the family bonding opportunities around the table. While the boys eat breakfast and banter back and forth about Pokémon characters, I pack my lunch (leftover steak that I add to a salad mix), pack a snack for the boys' return trip home, and put a snack in my oldest son's book bag. My husband unloads and reloads the dishwasher.
6:52
I check the boys' faces for syrup and send them to the bathroom to wash their hands.
6:55
I put my bags in the car (purse, lunch bag, and computer bag), then return to put the children in the car. I kiss my husband goodbye. My youngest forgets the stuffed animal he wants to take to the day care, so he runs back to the toy bin to grab his selected animal of the day, and we head to the car.
6:59
In the car, I turn on an episode of
Ninjago
(which we all must listen to because the boys have broken another pair of headphones) and head toward the day care to drop off my youngest for pre-K prep and my oldest for before-school care.
7:08
When we arrive at day care, I walk both boys to their respective areas. My youngest turns back from his class to give me a long hug. I realize I'm only a few years away from him not doing this anymore. I take the hug and add an additional forehead kiss as I tell him to have a great day. My oldest walks in front of me, enters his class, and looks back to give a quick goodbye wave.
7:13
Back in the car, I start my commute to work. I realize Ninjago is still playing, so I turn it off to listen to the entertainment news and sports report. The sports report is interrupted by a phone call from a friend who is also commuting to work.
7:48
As I arrive at my office building, I end the call with my friend and sit in the parking lot to quickly outline the remainder of my day. I swipe my badge to enter the building, put on a smile, and start the "Good morning" receiving line until I get to my desk.