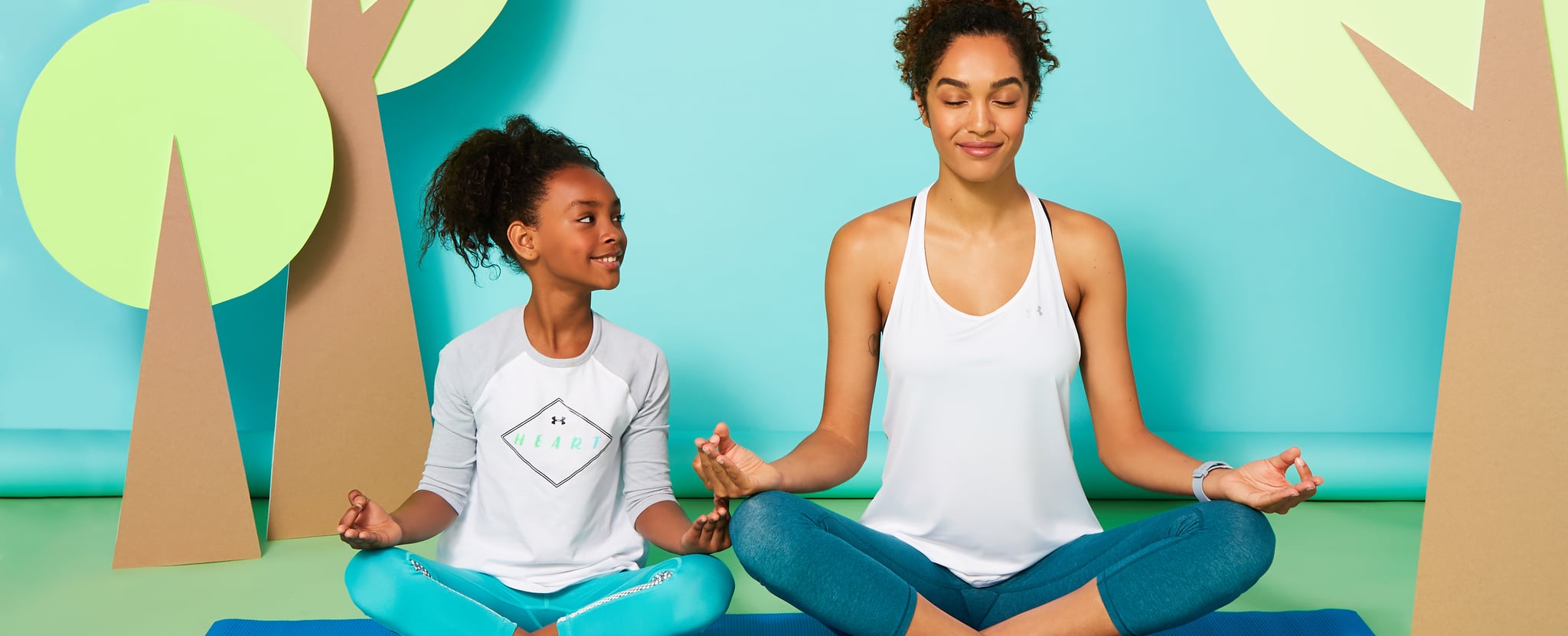 Image Source: POPSUGAR Photography / Diggy Lloyd
Mother's Day Activities For Kids
Ace Mother's Day With These Fun Ideas For Getting Active With Your Kid

This
Mother's Day
, it's time to break tradition! That's why we've partnered with
Kohl's
to share fun, fitness-boosting ideas for celebrating the holiday.
If you're looking for an innovative new way to celebrate Mother's Day that goes above and beyond breakfast in bed, try getting active with your kids! The best way to enjoy a day that's all about family is by teaching yours to embrace a healthy lifestyle with exciting, energy-boosting activities — and all of the ingredients for a fun day of fitness can be found at Kohl's, the ultimate destination for wellness products and Mother's Day gifts! From catching major air on a mini trampoline to training tiny yogis, read on to discover how to get an endorphin boost while bonding with your little one.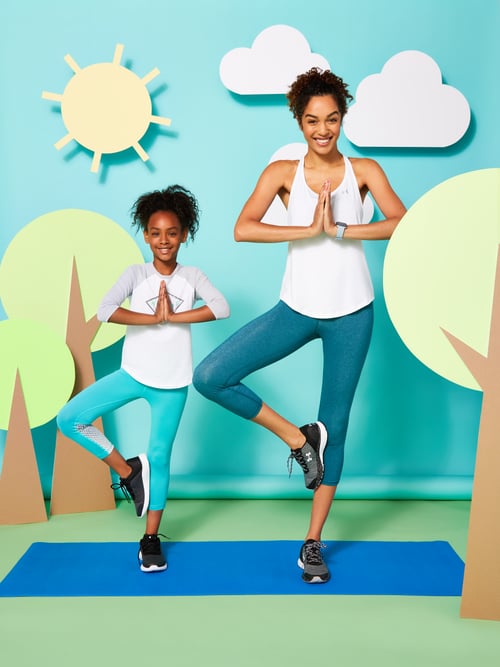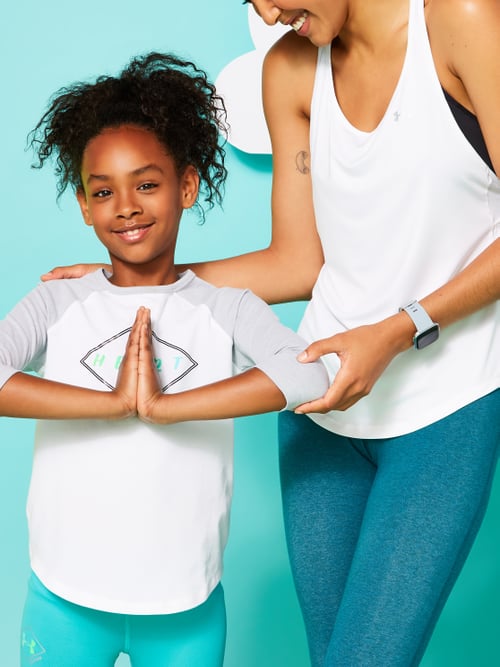 Image Source: POPSUGAR Photography / Diggy Lloyd
Try saying a few "Oms" with your child as you warm up for the day with a few minutes of slow-flow yoga. Yoga will not only encourage gentle exercise, but will also inspire you and your child to savor the present moment. The importance of taking the time to simply focus on your breath is a lesson all children will benefit from learning. Plus, you'll create a Mother's Day memory you'll remember for years to come! Suit up your for the occasion in matching Under Armour leggings in the season's trendiest teal shade. The Under Armour She Plays We Win collection for girls champions fierce female athletes in the making by encouraging young women to embrace sports. The collection, available at Kohl's, supports the idea that athletic pursuits can help kids learn key life skills and build confidence to pursue their dreams.
Whether you're an experienced yogi with a gravity-defying Scorpion pose that belongs on Instagram or a novice, try beginning with safe, child-friendly poses that place a greater emphasis on stretching and meditation. Begin with an adjusted Sun Salutation sequence by placing your palms together in front of your chest and raising your arms to the sky. Next, at the same time as your child, slowly stretch your arms toward the ground and walk your feet backward while leaving your back arched for Downward Dog. Lower yourself to the ground and press your head, chest, neck, and forearms off the ground for a Low Cobra. Take a few breaths between each pose. Repeat the sequence, and finish off the routine with a Tree pose that encourages core strength and balance. Don't be discouraged if you or your little one break your pose! Half the fun of a mother-daughter yoga session is challenging yourself to test-drive positions that push you past your comfort zone — and giggling at different takes on traditional poses is encouraged!

Embrace the Love With Tennis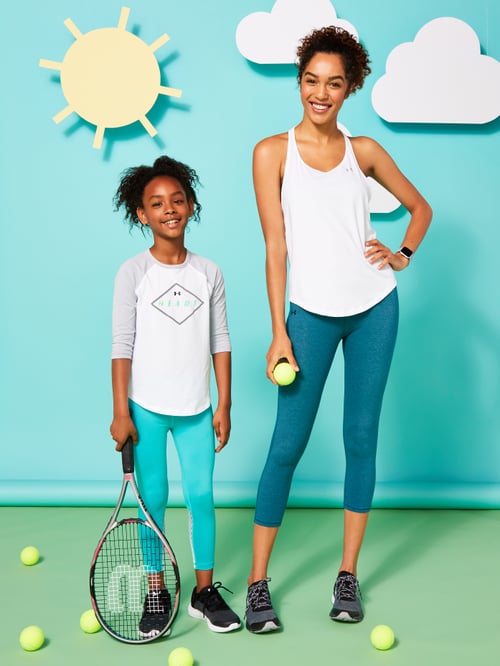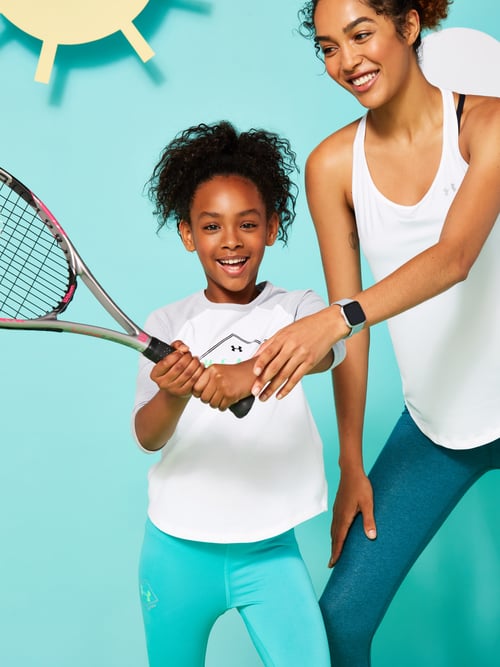 Image Source: POPSUGAR Photography / Diggy Lloyd
There's no better way to enjoy Mother's Day than with a game that celebrates love: tennis! Engage in a friendly competition to see who can ace the most serves and who will go home with the title of Grand Slam champion. During the game, track your heart rate and steps with a FitBit Versa that serves double duty as a functional fashion statement that matches your ensemble and a fitness tracker. Be sure to snap up a brand-new FitBit Versa for yourself and a matching FitBit Ace for your child at Kohl's later this Spring. To kick the game up a notch, use the tracker to play your family's favorite tunes while you perfect your swing.
If your mini opponent is still working on her tennis basics, liven up the game by playing a game of "H-O-R-S-E" on the court. The two-player game encourages both players to amp up their precision by mastering tricky shots. To begin, select a target area of the court where the ball must land during each serve. Next, try to aim the ball there. Any player who misses the shot receives a letter "H." Set up the next shot with a different target area, and give each player who misses the shot the letter "O." Whichever player spells out "horse" first owes the other player a hot fudge sundae!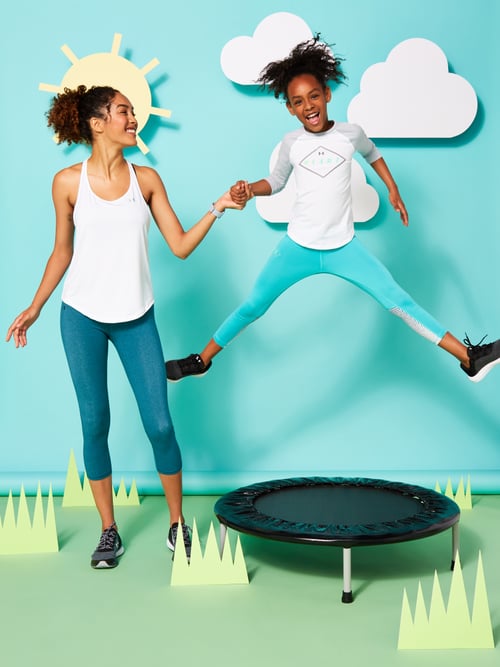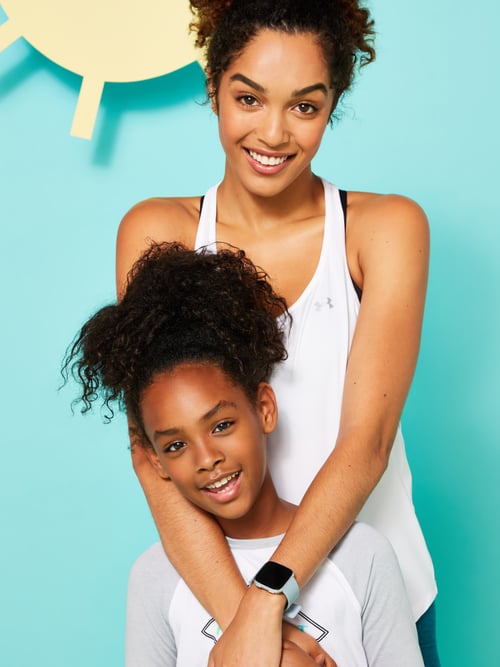 Image Source: POPSUGAR Photography / Diggy Lloyd
Get your daughter jumping for joy — and tap into your own inner child — with a mini trampoline. Make the experience even more memorable by encouraging your child to strike a pose midair and snap pictures of her aerial acrobatics. Whether she's emulating her favorite superhero with a midair kick or simply shooting for the stars, the pictures will be priceless. Your daughter (and your Instagram followers!) will thank you. Make sure to snap up your trampoline — and the other items you need for a beautiful Mother's Day — at Kohl's, your one-stop shopping destination for the holiday.
Once you've wrapped up your athletic activities for the day, end on a sweet note by hugging it out. Every mom knows that the best Mother's Day gift she can receive is spending quality time with her kiddo, especially when it offers the opportunity to instill some important life lessons about the significance of physical activity for health. Next stop: that classic, can't-miss homemade holiday brunch!

Credits: Art Direction: Colleen Lennon; Photography: Diggy Lloyd; Prop & Set Design: Kristin St. Clair; Wardrobe Styling: Melissa St. Clair; Hair & Makeup: Yuko Mizuno; Producer: Andi Nash & Cassie Doyle