Mother Posts Photo of Postbaby Stomach
Is the Postbaby Belly Photo a Humblebrag or a New Trend?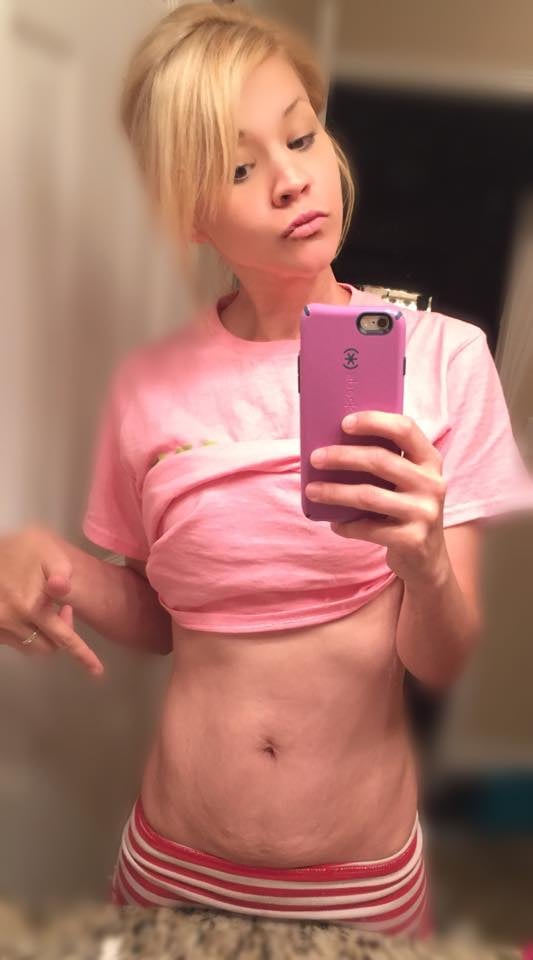 Your body housed and grew a baby for almost 10 months, stretching the skin across your belly tighter and further than you ever thought possible. And once that baby arrived, chances are your midsection didn't suddenly deflate back to its prepregnancy shape. Even a year of strict diet and intense exercise later, there's a good chance your body still has some battle scars there — stretch marks, baggy skin, and diastasis recti, to name a few. But rather than hide beneath baggy shirts and camisoles, the latest trend seems to be showing it off — loud and proud — so people everywhere have a better sense of what the postpartum mom really looks like.
The latest person to join the crusade is singer and songwriter (and former American Idol contestant) Kimberly Henderson. You may remember Kimberly from her lullaby rendition of Whitney Houston's "How Will I Know," which reached more than 20 million views on YouTube last year. The single mom is making waves again after posting a photo of herself — her shirt pulled up to reveal her belly — on her Facebook page, with a caption that begins, "Everyone always compliments me on how I have such a 'perfect' body after four kids. I decided to upload this pic and leave my belly 'unedited' [and] 'unphotoshopped' because I used to struggle with accepting my body after kids."
She says she doesn't miss her prepregnancy six-pack abs because she has four "beautiful, smiling faces" looking up at her each day. The photo — and its accompanying message — is resonating with women everywhere, as it has already racked up more than 100,000 "likes" and more than 10,000 "shares."
Kimberly is just the latest mom to show off her postbaby belly. Earlier this year, lifestyle blogger Rachel Hollis posed in a bikini in a Facebook photo that went viral when she encouraged moms everywhere to be proud of their bodies — saggy bellies and all. And just last week, Alec Baldwin's wife shared photos of her two-day-postdelivery belly on Instagram, setting her comment field on fire.
So tell us, do you think this new trend is supportive of the postbaby body, or is it just a way for moms to brag about how they look?