Officer Joins Boy on Stage at Graduation After Parents Die
The Cop That Told a Teen His Parents Were Killed Joined Him on Stage at His Graduation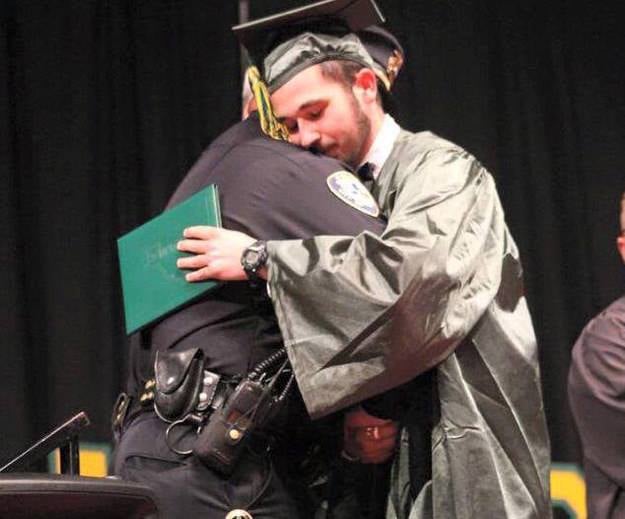 For Kazzie Portie, the youngest of five children, the unthinkable happened just a few days before his high school graduation — both of his parents were killed on their motorcycle by a drunken driver. Eric Ellison, an officer on the case, was given the daunting responsibility to inform the next of kin about the tragedy. What he did for Kazzie — who was alone when the news was delivered — is so heartwarming.
Ellison told BuzzFeed News that while sitting with Kazzie, the boy mentioned not knowing what to do about his graduation coming up in a few days. Ellison's response to him was, "You are going to walk! Your mom and dad will have front-row seats looking down from heaven, and I'll stand in their place. I've got your back."
After being handed his diploma, Kazzie found Ellison waiting at the end of the stage for him and received a 40-second standing ovation, which his brother Blake captured on video.
Kazzie said of the special gesture, "Seeing Officer Ellison there to congratulate me meant the world to me. It was so nice to see that he actually showed a genuine care for me and my family's situation instead of us just being another 'case.'" Ellison, who has an 18-year-old daughter who graduated this year as well, says that by standing with Kazzie on that stage, he did what he would want someone to do for his daughter if he were to have passed away — he was there to support the boy on "his day to shine."