Ronda Rousey and Speech Disorders
Yet Another Reason Ronda Rousey Is Inspiring People Everywhere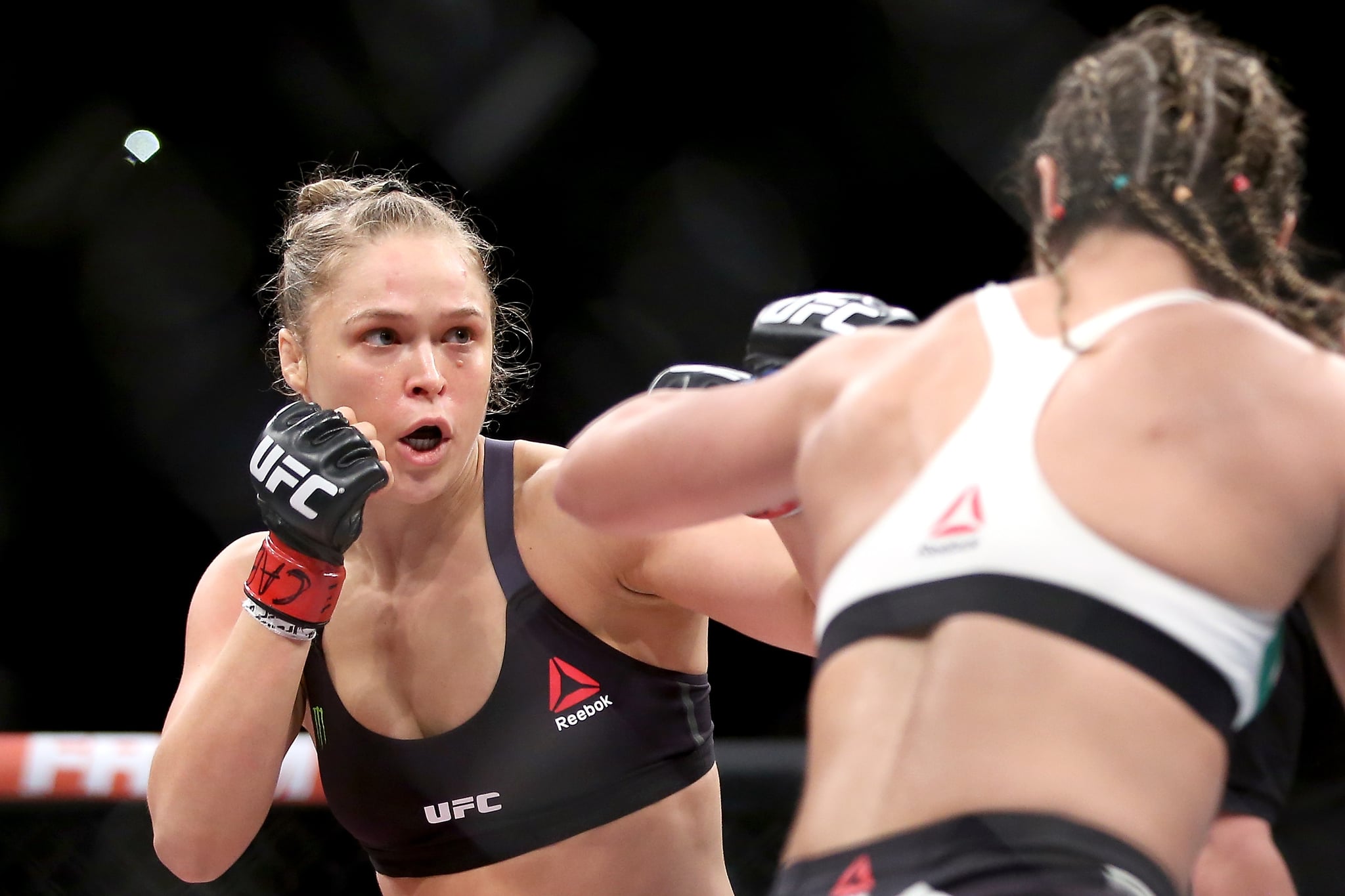 I hid it from the world. That's how I originally handled my oldest son's speech disorder diagnosis. He was barely 2 years old and we, his parents, were the only people who could make out what he was saying. After the doctor recommended an evaluation with a speech therapist, and we received the diagnosis, I retreated. But I soon came to learn that there is a large community of parents working through their kids' speech issues — a larger community than I ever imagined — and with significant therapy and daily exercises, you'd never know that my loquacious elementary school student was ever "searching for his words," as we used to say.
But I often think back to those dark days when we felt so alone. If only there had been more light shed on the issue. And it seems I'm not the only one.
Writing on her blog SLP Mommy of Apraxia and then on The Mighty, Laura Smith shares how a quiet afternoon of surfing the web turned into a chance meeting with UFC champ Ronda Rousey later that evening. After reading an excerpt from Ronda's book stating that she had trouble communicating in her first six years, Laura deduced that the fighting champ had apraxia, a motor speech disorder where kids get tripped up saying sounds, syllables, and words. Coincidentally, Ronda was going to be signing books in Laura's hometown that night, so Laura packed up her daughter, Ashlynn, who was also diagnosed with apraxia, and headed to the bookstore. There, under the intimidating eye of Ronda's bodyguards, Ashlynn had her book signed and Laura slipped the star a brochure about apraxia.
"Did you have apraxia?"

Ronda stopped signing, looked me in the eye and said, "What did you just say?"

"Uh, uh, apraxia? Dyspraxia? Was that your speech impediment?"

She looked incredulous and repeated, "Apraxia, yes, this is what they think I had."

I said, "This is information on apraxia. If you really did have it, will you say that in your interviews instead of speech impediment? It would mean so much to our kids who are struggling with it."

She again looked at the brochure before looking back up at me and said, "I will. I really will."

"They wanted to put me in a special classroom away from my friends. They thought I was stupid! But by fourth grade I was top of my class in algebra, and by high school I tested gifted."

"Yes!" I again replied. "Yes, these are our kids."
And before the mother-daughter duo left the store, Laura turned back and said, "Look, Ashlynn! She has apraxia, and all these people want her autograph!"
Much to Laura's surprise, that night Ronda stayed true to her word, posting images of the brochure on her Facebook page, forever cementing her as the new face of apraxia, and making her a hero for kids everywhere:
Does your kid having trouble speaking? Educate yourself on the signs and symptoms of Apraxia and what can be done to help your child find their voice at apraxia-kids.org

Posted by Ronda Rousey on Friday, May 29, 2015
Then, less than two months later, Ronda participated in an "ask me anything" session on Reddit and was asked about her speech disorder:
We've long been fans of Ronda Rousey for the positive perspective she provides girls about body image and weight. But by giving kids, particularly young girls, a hero to look up to who has overcome additional adversity, we moms thank you, Ronda.