Siblings Reunite in Hospital After Car Crash
These Siblings Holding Hands After a Car Crash That Killed Their Parents Will Break Your Heart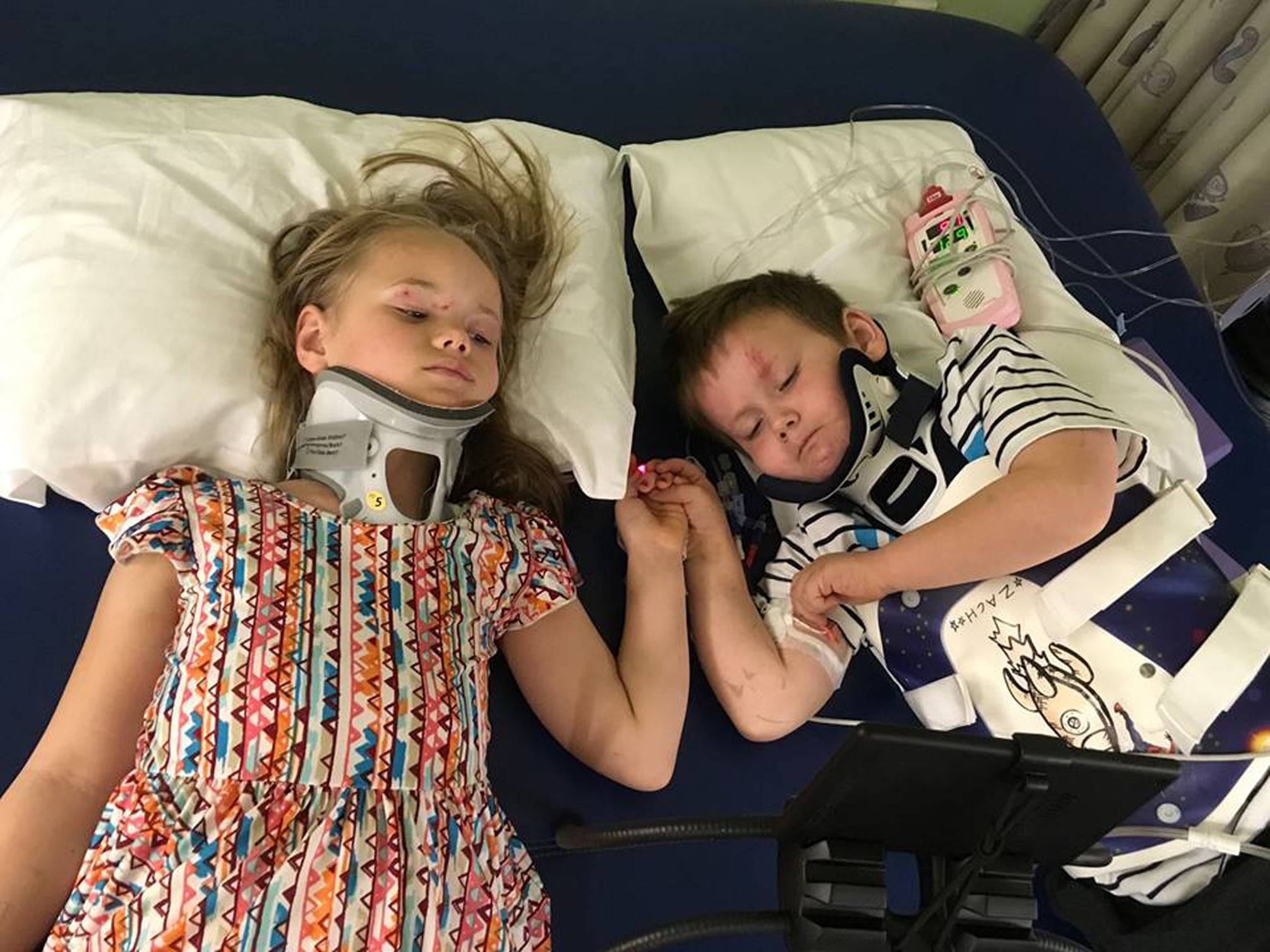 Following a horrific car crash on April 7, siblings Wyatt, Zachary, Nicholas, and Angela Clemens were faced with recovering from their injuries without their parents, Jim and Karisa, who were both killed in the accident along with their 2-month-old daughter, Julieanna. Three weeks later, 5-year-old Zachary was finally able to leave his bed and went straight to his 8-year-old sister, Angela, when the bittersweet image above was captured. Karisa's aunt, Teresa Burrell, shared the image, calling being able to serve these healing little ones a "sacred experience."
"Today was a sad day for me as I headed back home," Teresa wrote on Facebook on April 26. "It was hard to leave these precious children. They have been such a joy. Angela was able to feed herself today. It was so wonderful to see her coordination returning. Zachary is still fighting a fever, but practiced his breathing exercises to help his lungs by blowing bubbles. . . . Wyatt is climbing and walking and although he still has a lot of work to do, he is acting more and more like his normal 4-year-old self. Through it all the family from both sides continue to love, support and pray for these children."
To help raise funds for both funeral arrangements and the children's medical expenses, Teresa started a Facebook fundraiser that has since reached nearly 75 percent of its $250,000 goal.
The children's grandmother, Susan Skillicorn, hopes that anyone who hears the Clemens's story will be reminded to "love your little ones . . . because there is no guarantee for tomorrow."
"I learned a long time ago, you either rise above and make it a better situation or you can choose to be caught up in the drama and the sadness and not help anybody," Susan, who will raise the kids with her husband as soon as they're all released from the hospital, told NBC 5. "And for this, the story is a beautiful story of love and hope and a good and a fresh future. That is the story and for that I am grateful."