Twitter Saves Odin Camus's 13th Birthday
When No One RSVP'd For This Boy's Party, the Internet Gave Him a Birthday to Remember
All Melissa Camus wanted was for her soon-to-be 13-year-old son, Odin, to feel loved on his birthday. Odin, who has Asperger's, has trouble making friends and is constantly bullied at school. Though his mom sent out birthday invitations to 15 kids in his class, no one RSVP'd. So she decided to take him bowling on his big day and posted about her plans in a local Peterborough, Ontario, Canada, group on Facebook. Little did she know what would happen when she did.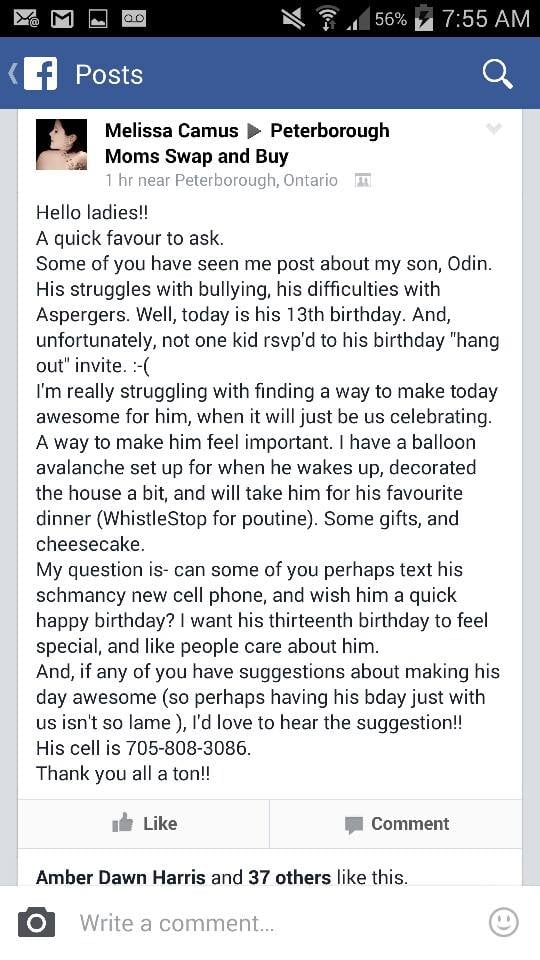 Soon after posting her note, it went viral. More than 5,000 people RSVP'd to the event, Odin received more than 5,000 texts on his new phone, he received more than 32,000 tweets, and the #odinbirthday hashtag was trending on Twitter. The teen also received birthday wishes from some very famous faces around the world.
Heard about a sweet boy named Odin & his birthday. Really proud of Peterborough for making it special! Happy birthday, buddy! #odinbirthday

— Carrie Underwood (@carrieunderwood) March 21, 2015
Wishing Odin a very happy 13th birthday today! Hope you have a great day. Bonne fête! #OdinBirthday

— Justin Trudeau (@JustinTrudeau) March 20, 2015
Happy 13th Birthday to our new friend Odin! Help him celebrate #Peterborough: http://t.co/5UqIVQBUmx #OdinBirthday pic.twitter.com/PJpdB9mBpH

— Toronto Raptors (@Raptors) March 20, 2015
Happy birthday Odin! Wish I could be there to celebrate with you! #odinbirthday

— Molly Ringwald (@MollyRingwald) March 21, 2015
Happy Birthday, Odin!

— Elijah Wood (@elijahwood) March 20, 2015
#odinbirthday Happy Birthday!!!! from your friends in Green :) pic.twitter.com/PB6R5drJXg

— D-Man (@madtuxca) March 21, 2015
And from the look of things, Odin had the best birthday — ever!
#odinbirthday arrives 2 bowl & greeted throng of wellwishers @thewolfca @1005FreshRadio @Ptbo_Canada @petedalliday pic.twitter.com/QkWov8n6Pj

— Carey Walker (@CWalker1015) March 21, 2015
"It's amazing how people care. I feel absolutely amazing," Odin said. But it is his mom who can't stop crying. "People are here because everyone knows a kid who struggles to fit in," Melissa said. "It's not new. It sucks for the kid. But everyone can relate. . . . You don't have to be bummed out — no matter how down you feel, there's always someone there. Always."