Victor Cruz Talks Safety of Football
NFL Star Victor Cruz Says Football's Safe, Kids Aren't Being Taught Correctly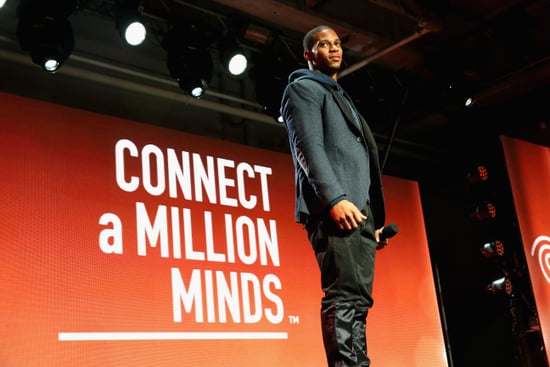 While much has been made about the action (or lack thereof) on the field at NYC's MetLife stadium over Super Bowl weekend, a few miles away, one former Super Bowl star was doing something to connect to future MVPs both on and off the football field. New York Giants star Victor Cruz, who's won over Giants' fans and more with his signature salsa dance touchdown celebration, joined forces with Time Warner Cable's Connect a Million Minds initiative to educate students about the science, technology, engineering, and math (STEM) behind some of their activities — including football and television production.
My cub reporter and I (aka my 8-year-old son) sat down with the charismatic wide receiver to see who influenced his education and discuss kids' involvement in football today.
POPSUGAR: Why did you choose to become involved in the Connect a Million Minds initiative?
Victor Cruz: I'm just trying to get kids excited about STEM programs, to get them as excited as they are about football and sports.
PS: Were there any teachers that influenced you throughout your education?
VC: My football coach was also a teacher. He was my life coach, he was my football coach, he was my second dad, so he just taught me how to be a man essentially — how to treat people with respect. He was the one who instilled these good morals on me.
PS: Much is being made about the safety of football these days. Even President Obama has said that if he had boys, he wouldn't let them play the sport due to the concussion rates. If you had a son (Cruz is father to a daughter, 2-year-old Kennedy), would you let him play?
VC: I would. I think it is safe. It has to go back to the teaching. It has to go back to teaching (kids) the right way to tackle, the right way to play the game. I think we've gone away from that as coaches teaching at the young level. That's what's missing right now, teaching them how to tackle, looking at what you hit to prevent concussions, to prevent hits, and things of that nature. I'm going to teach him the right way to play, if I ever have a son.
And as for my son's big question to one of his sports idols?
PS: How does it feel to be Eli Manning's main target?
VC: It's a dream come true! I remember being in college when he won his first Super Bowl and thinking I have to make it to the NFL and I have to do this thing. And now to come all this way and be his main target is a dream come true. Now the goal is to stay his main target and to be out there as much as I can and continue scoring touchdowns and dancing salsa. Do you like to salsa?
The event, which was part of President Obama's Educate to Innovate campaign, invited kids from around the tristate area — including 300 students from local NYC Boys & Girls Clubs — to visit a studio outfitted with pop-up sets of their favorite TV shows and engage in hands-on learning activities related to them. So at an ESPN booth, kids learned about chemistry involved in designing football padding to protect the players, before practicing their broadcasting skills with the network's main hosts. At the Food Network station, students worked with star chef Anne Burrell to conduct a food circuitry experiment that harnessed the energy from everyday foods to light up LEDs and power clocks. About her involvement, Chef Burrell said:
"When they tapped me to do it, I called my mom and said, 'Time Warner Cable wants me to do something that talks about how great math and science are.' And she was like, 'You were a terrible student!' I think about it and I'm like, it had to be because no one connected the dots for me. No one told me how math and science are used. I thought, 'I don't care the periodic chart, I don't care about algebra, I'm never going to use this stuff because it didn't have any practical application to my life. If I had had teachers that (had made that connection), I would have been on the trail sooner."