Amazon Delivery Woman Prays Outside Family's House | Video
After Seeing a Moving Note Outside a Family's House, a Delivery Woman Took a Moment to Pray
Amazon Driver Praying for Lucas

There's a lot going on in the world right now but we believe in the goodness of humanity. This is the moment we captured Monica, our Amazon driver, praying for our sweet boy. This video is a good reminder that although it may feel lonely, we are all in this together and we are never alone.

Posted by Strong Like Lucas on Wednesday, May 27, 2020
For mom Raquel Pearson, social distancing has been especially challenging. Because her son, Lucas, was diagnosed with a rare anomaly in a heart artery, the Pearson family have been relying on deliveries to ensure Lucas stays healthy. Recently, Raquel left a sign out thanking the drivers for being so helpful during this difficult time and got a surprising response from Monica Salinas, a delivery woman with Amazon. In a video making rounds on social media, we see Monica saying a prayer for Lucas — and the clip is powerful.
"I was deeply touched when I saw Monica praying," Raquel told POPSUGAR. "We have often felt lonely because it's rare to find other people with his condition and symptoms. We both teared up watching how a complete stranger took time out of her busy schedule to pray for our son's well-being. It was some much-needed positivity during everything going on in the world."
Of course, Monica's reaction is incredibly moving. However, the note the Pearsons left on their porch is just as touching.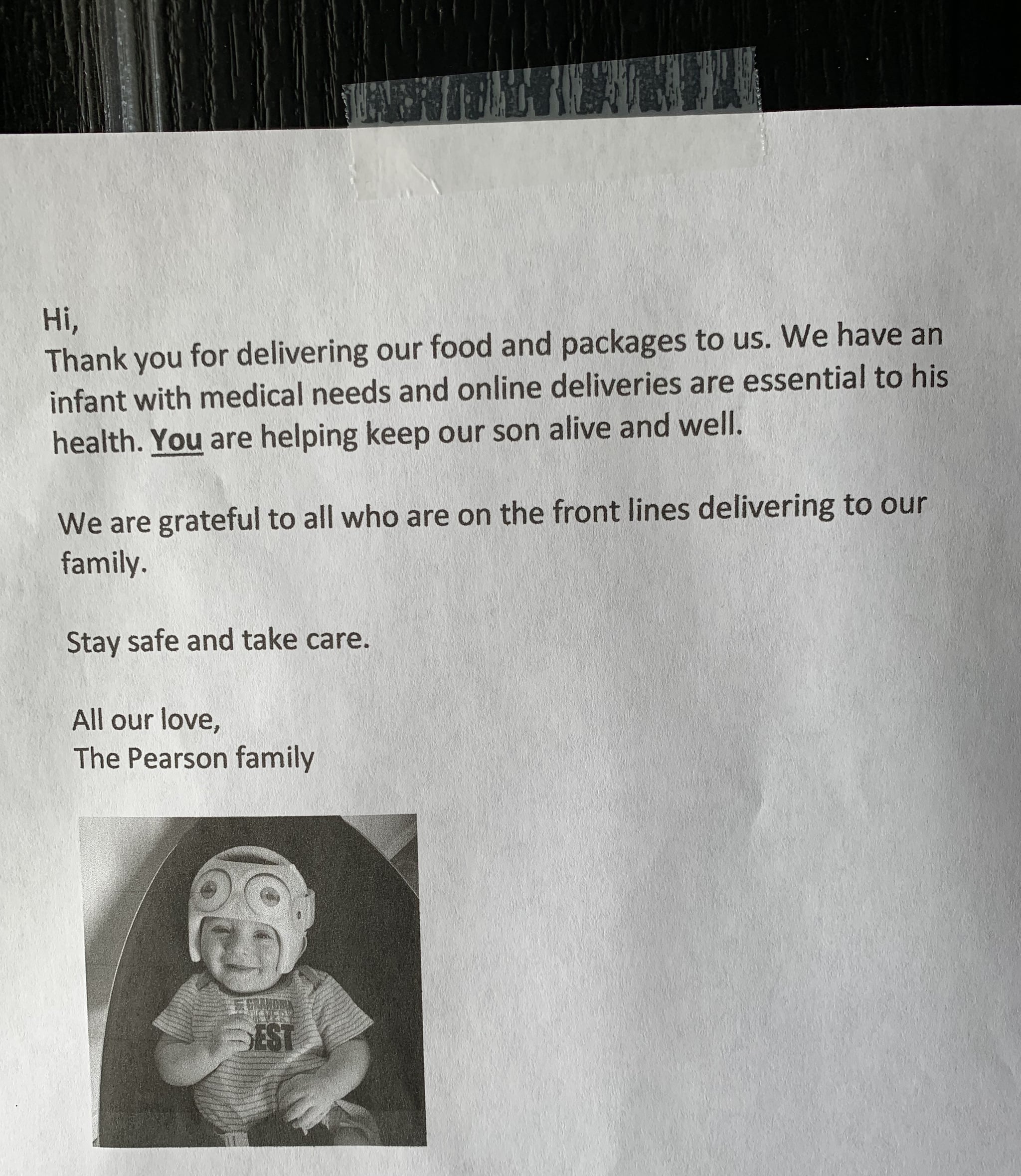 After the heartwarming video began to gain traction on social media, dozens of families reached out to Raquel and her husband. The overwhelming kindness prompted them to make their son a Facebook page, Strong Like Lucas, so others can keep up with his health journey and help raise funds for his treatment at Boston Children's Hospital.
Raquel poignantly summed up her feelings in the caption of the video shared to Lucas's Facebook page. "There's a lot going on in the world right now but we believe in the goodness of humanity," she wrote. "This is the moment we captured Monica praying for our sweet boy. This video is a good reminder that although it may feel lonely, we are all in this together and we are never alone."