Ayesha Curry's Tips For Getting Kids to Eat the Same Meal
How Ayesha Curry Became a Mom Who Doesn't "Make Multiple Dinners For Her Kids"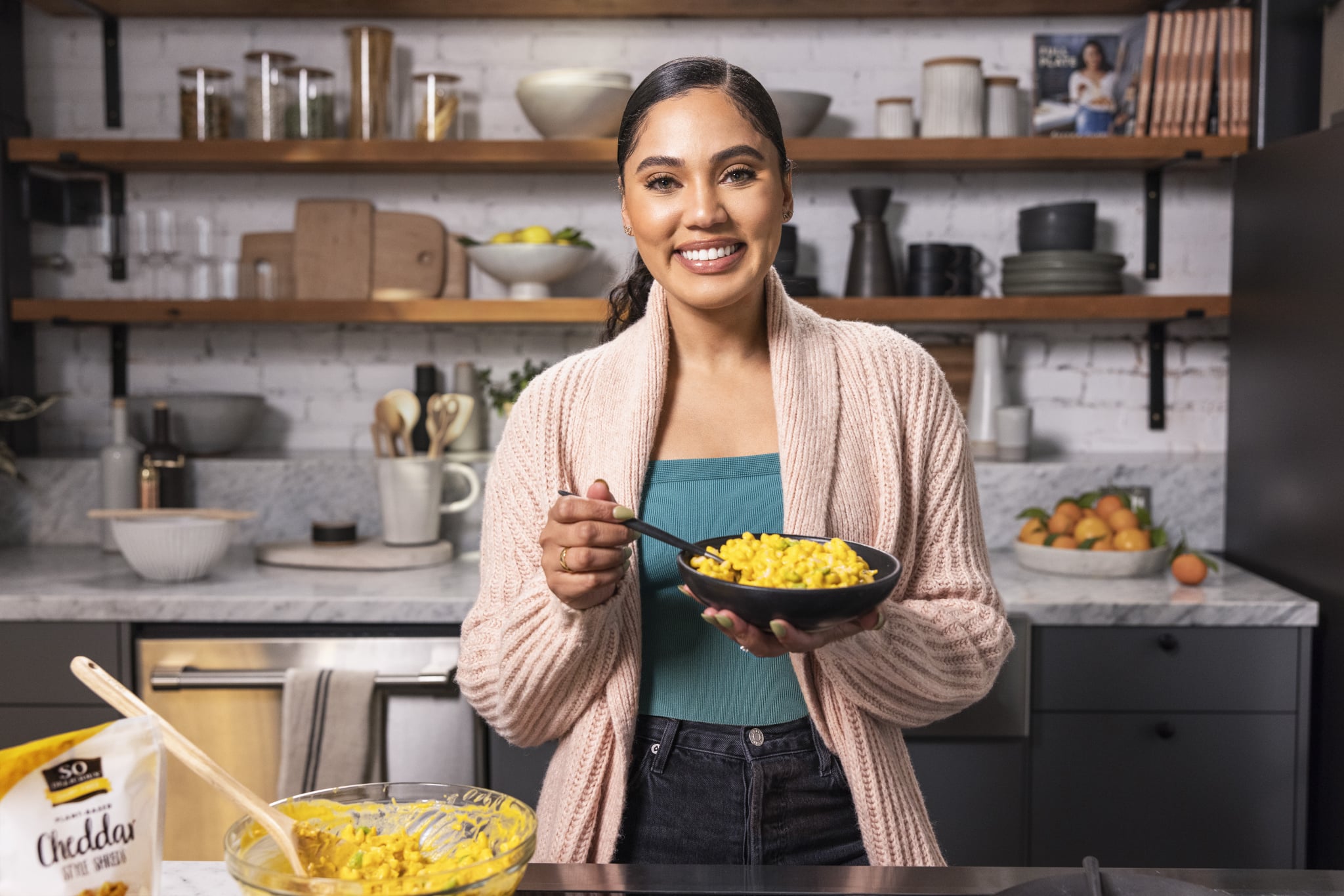 As a mom to three adorable kiddos, cookbook author and TV personality Ayesha Curry knows how challenging it can be to get kids of different ages to eat the same thing. A big proponent of sneaking veggies into sauces and soups, she shared how she's keeping family dinners interesting during the pandemic while discussing her partnership with So Delicious, a plant-based company that just released a new line of cheese alternatives.
"On nights when I'm cooking dinner, I always involve the kids to some capacity by giving them a task or a job, and they absolutely love it," Ayesha told POPSUGAR over the phone. "[The kitchen] is where we've created some of our best memories. I feel like we all need to have grace with ourselves because it is a pandemic and we haven't seen [social distancing] like this in our lifetime."
While Ayesha would love to have dinner as a family every single night, the pandemic has made keeping up with this ritual hard. "It's come in peaks and valleys. There have been times when we're at the dinner table every single night, seven days a week, and we absolutely loved it," she explained. "Then, when people started to understand that [the pandemic] was going to last a lot longer than we anticipated, it got to where we were eating dinner together a couple of nights a week. Maybe the kids were eating at the island while I was washing the dishes, and getting stuff cleaned up, but I was still engaging with them."
She continued, noting that sometimes you just need to roll with the punches. "There are some nights where we just have take out, and then it is what it is," she said. "I'm tired from doing everything all day all at once. There's no compartmentalization of anything. It's like all stacked together! But I just want to remind people to have grace with themselves."
"My husband was requesting chicken parm so much for so many years, I was just over it."
To combat pandemic fatigue, Ayesha has been relying on one-pan sheet dinners. She also has gotten into the habit of putting new spins on classic dishes her family loves on their heads to spice things up.
"My husband was requesting chicken parm so much for so many years, I was just over it," she said with a laugh. "And I was like, 'I can do so much better than this for you.' But he still wanted the chicken parm, so I'm like, 'How can I recreate this and make it exciting?' And so came up with a chicken parm burger that uses dairy-free cheese."
Although Ayesha has no problem catering to her family's dietary restrictions (no one eats dairy in the Curry household!), she's not one to make multiple meals for her kids, who are 8, 5, and 2 years old, respectively.
"I am not the mom who makes multiple dinners for her kids," she said. "Everybody's eating the same meal, so I need to keep it creative. Involving them in the process makes a world of a difference, especially at their ages. They feel so empowered and want everybody — themselves included! — to try whatever it is since they've had a hand in making it."
Although her kiddos have varying tastes, her 5-year-old daughter, Ryan, is known to be an oyster aficionado. "None of my kids have the same eating habits or savor the same thing," she explained. "Our youngest son, Canon, wants to eat the So Delicious cheddar style slices all day. It's not a joke. It's the cheese, or he has fruit, which is fine. Whereas Ryan requested oysters for her birthday. She is not picky at all. She will try anything — you don't even need to dare her!"