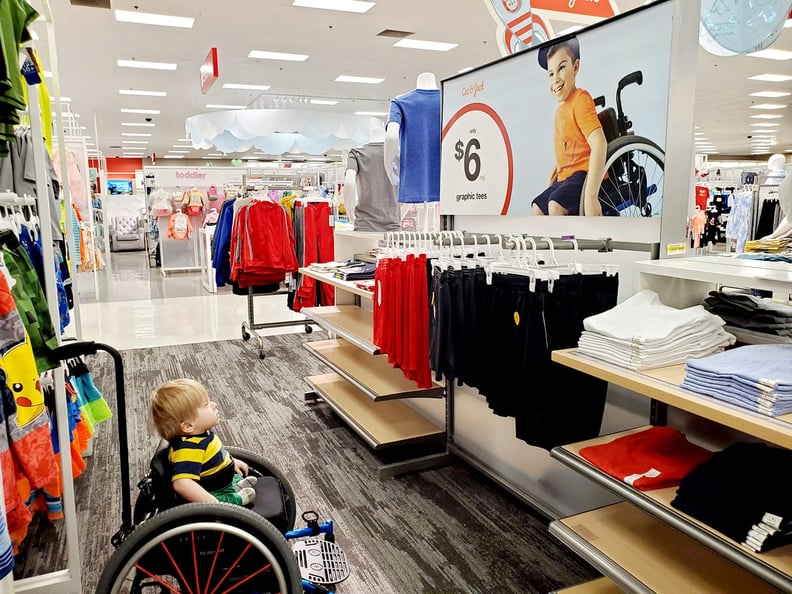 Demi Porter Garza-Pena
Demi Porter Garza-Pena
On a typical shopping trip to Target, Arizona mom Demi Porter Garza-Pena was walking through the kids' clothing aisle when her two-year-old son Oliver suddenly stopped her.
"He turned back around to see this picture that he spotted," she wrote in a moving Facebook post. "He just stared at it in awe!"
The picture was a Target display ad featuring a boy in a wheelchair. Oliver, who will turn two years old next month and has a condition called Caudal Regression Syndrome, also uses a wheelchair – something his mom calls a "valued resource" – and rarely sees kids like himself reflected back.
"He recognized another boy like him, smiling and laughing," she continued. "Oliver sees kids every day, but he never gets to see kids like him. That was amazing! I am so happy that other kids that pass through here with their parents will see this."
Demi's photo was shared nearly 8,000 times and even reached the parent of the boy, named Colton, in the advertisement: "This picture has me in tears!" Ashley Catharine replied in the comments section. "Tell Ollie he can do anything he puts his mind to!"
For both of these parents, especially, this is a powerful example of how much inclusion representation matters.
"There is a lot of focus on representing diversity," Demi wrote, "but representing people with disabilities is just as important."