Grab Some Popcorn! Cards Against Humanity's Family Edition Is Free, and Game Night Is On
During a time when families across the world are getting especially creative with their free time, Cards Against Humanity is here with a new Family Edition that's about to make game night a lot more fun. You can download and print the beta version of this family-friendly card game — which contains about "six hundred poop jokes" — for free on the game's website as either one 21-page PDF document with 420 small cards or one 47-page PDF document with 420 larger cards.
Rather than removing all of the not-so-kid-friendly cards from a traditional Cards Against Humanity deck, the company has written completely new cards for everyone over 8 years old to enjoy. "We've been working on this game for over a year with child development experts and psychologists," said Cards Against Humanity's head writer Julia Weiss. "We wanted to get this beta out as soon as we could to encourage people to stay inside. So please stay home. We're begging you."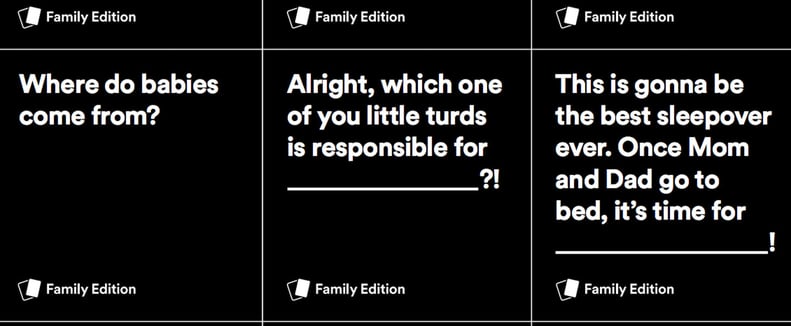 While this game was made specifically with families in mind, the company does encourage parents to flip through the deck before playing with their children to filter out any content that might not be suitable for younger players. "The content is PG-rated and we play-tested it with families," the Cards Against Humanity website reads. "We encourage parents to look through these cards before you play with your family and remove anything you don't like, since different kids have different sensitivities . . . 'Crap' and 'boobies' is about as bad as it gets."
Some of my personal favorite cards for filling in the blanks so far are "a baby with a full mustache," "stuffing my underwear with pancakes," and "Baby Yoda." Because this is a beta version of the game, the site explains that some cards may be removed and new cards may be added before the game officially goes on sale in the fall. In the meantime, download the game for you and your family to enjoy here.