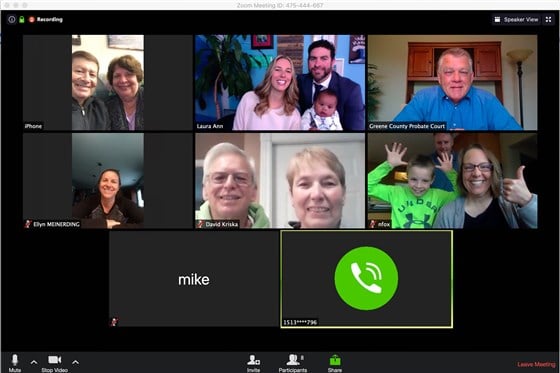 Laura and Casey Wieck
Devon Abeit Photography
Laura and Casey Wieck
Devon Abeit Photography
Laura and Casey Wieck, a couple from Columbus, OH, have been waiting to start their family for eight long years. So when they finally got the chance to potentially adopt a baby boy named James, they jumped at the chance. But unfortunately for the aspiring parents, the novel coronavirus (COVID-19) pandemic threatened their timeline. But with the help of a quick-thinking judge and a little modern technology, Laura and Casey became parents on time after all.
"After four fertility treatments, we decided to move forward with adoption and were referred to an agency that specializes in local, open adoption," Laura told POPSUGAR. "We had two matches prior to James that fell through. And while they were heart-wrenching in the moment, we knew that our baby was coming. That hope kept us going."
The couple eventually caught a break. "Last June, we were notified that there was a birth mom who was interested in meeting us. We went to lunch with her, a social worker, and the head of the adoption agency to meet," she explained. "We clicked from the beginning and she chose us to be the parents. I'm forever grateful to James's birth mom for making such a loving, empowered choice. She invited us to come to the doctors appointments. We even got to be there for the sonogram where they did the gender reveal."
"The love I feel for him is in my bones, it flows through my blood."
Because Laura and Casey were such a huge part of James's birth mom's pregnancy journey, they were ecstatic when she offered them the chance to be in the delivery room for his birth. "She allowed us to be present for the birth (I cut the umbilical cord!)," Laura said. "James came right into our arms the moment he was born. When he opened his eyes for the first time and looked at me, I knew this was our son."
Once James was placed into their arms, all they had to do was wait. "After James was born, the state of Ohio requires the adoptive parents to do a six-month home study before we go to court to finalize the adoption, all states are different," she explained. "Our court date had been set early in the process, and we were just waiting for March 31 to get here as soon as possible."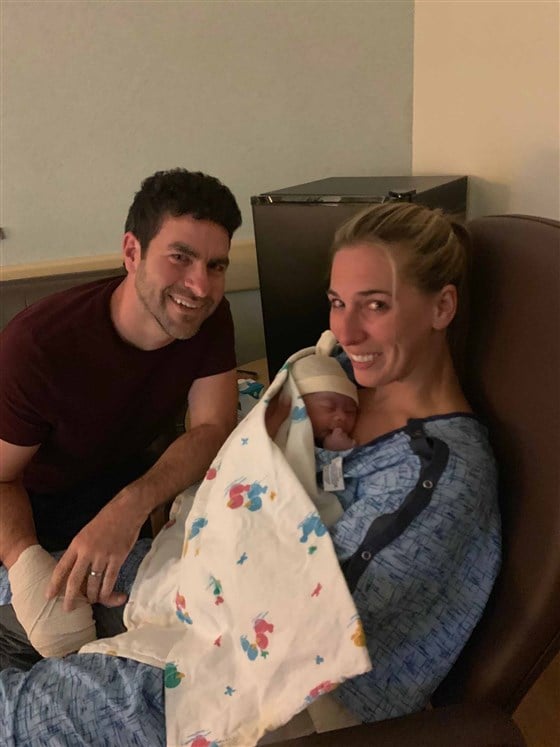 As soon as the COVID-19 pandemic began to escalate, Laura and Casey started to worry. They wanted to become James's official adoptive parents as soon as possible.
"While the process had been smooth up until that point, in the back of my mind, I couldn't stop thinking, 'It's not final until it's final,'" she recalled. "In early March, we got a message from our lawyer saying that we may need to reschedule our court date. At the end of the email, he said there was a possibility that they may set up a teleconference for the hearing."
Laura and Casey instantly jumped at the chance to have a teleconference. There was just no sense in waiting for the couple. "I immediately wrote back and said that we would like to keep our original court date if possible, and would they consider doing a hearing on Zoom," she said.
"Tears, happiness, relief, and pure joy. This is my child. I am his mother. It was finally official."
Judge Thomas O'Diam agreed to have a virtual hearing — one of the first of its kind — and naturally, Laura and Casey were incredibly grateful. "When we got the notification that the hearing would proceed via Zoom, we were so thankful," Laura said. "It wasn't until we got on the actual call and heard the judge talking that I finally relaxed and realized that it was actually happening."
Moments before connecting with the judge through Zoom, Laura and Casey learned that they could have friends and family join the call to see James's official adoption. "We sent a quick message to our families and both of our parents, and two of our sisters and their families were able to join the call," she shared, adding, "While the number one goal for all of us was to have the adoption finalized, I think they were so excited to be a part of it, too."
"When Judge O'Diam said, 'When I sign this paper, he is officially your son. It's as if you carried him and birthed him yourself. He is your son,' and then he signed it, I felt every emotion take over my body," she explained. "Tears, happiness, relief, and pure joy. This is my child. I am his mother. It was finally official."
Because James was technically placed in temporary custody with the Wiecks for the first six months, many of Laura and Casey's friends were unaware that they had become parents until James was officially adopted. Now, the couple is settling into their routine with their son.
"Being a mother is amazing," Laura said. "For me, embodying the word 'mom' has been a journey for me. I have always known that James is MY son. I have never doubted that through this entire process. The love I feel for him is in my bones, it flows through my blood. I look into his eyes and know that he has always been my child."