As POPSUGAR editors, we independently select and write about stuff we love and think you'll like too. If you buy a product we have recommended, we may receive affiliate commission, which in turn supports our work.
Your baby's development is happening constantly — whether you're actively setting them up for it or not. Still, most of us strive to stock the playroom with toys that offer an educational or developmental benefit. Whether that's introducing new colors or sounds, offering a lesson in cause-and-effect, or nurturing their fine or gross motor skills, there are a dizzying array of options on the market.
We've filled our carts with 10 toys meant to inspire purposeful play for the 0-12 month set. And, if they seem more excited by the shipping box that your purchases arrive in, that's OK, too.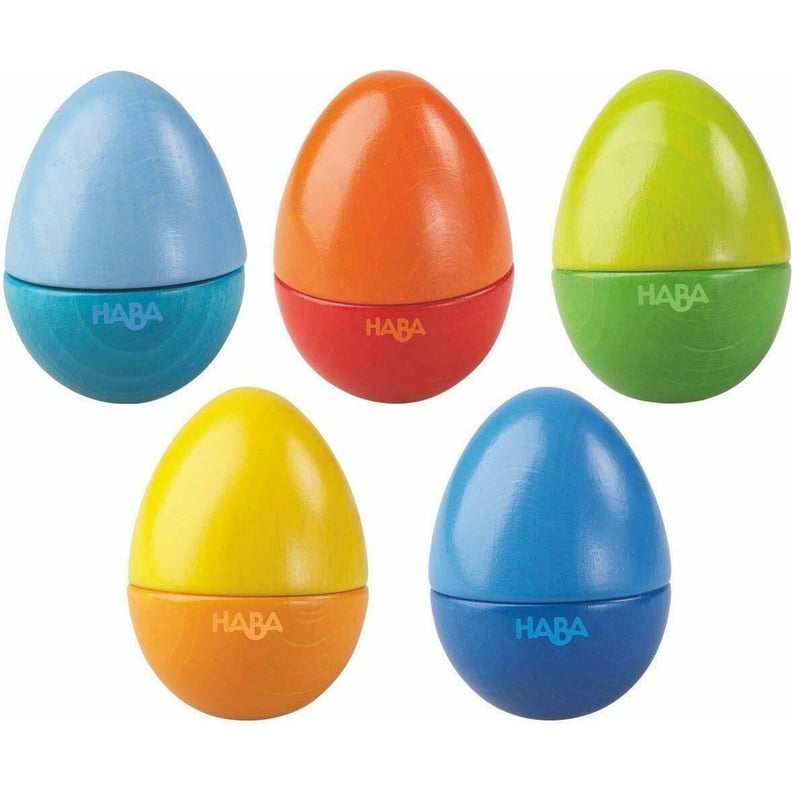 Haba Musical Eggs
Shake, rattle, and roll with Haba Musical Eggs ($35), a set of five beechwood egg shakers that make different sounds. Bring them to music class or rock at home — it's entertainment for the whole family.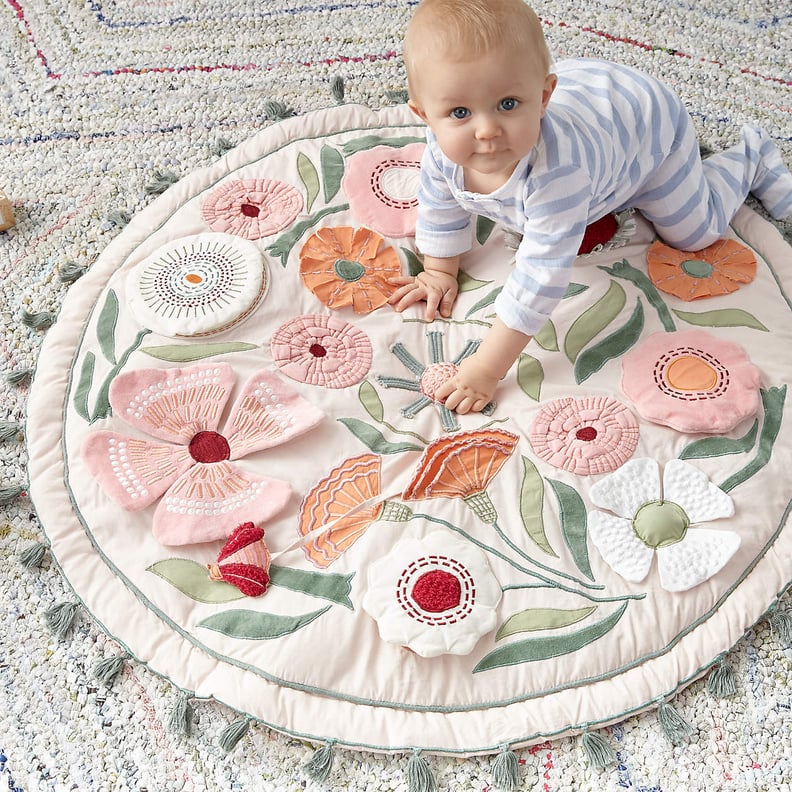 Magical Garden Baby Activity Mat
A soft, beautifully designed play mat, the Magical Garden Baby Activity Mat ($119) is as aesthetically pleasing as it is entertaining for baby. Features include petals that squeak, crinkle, and reflect to stimulate your baby's senses of touch and hearing.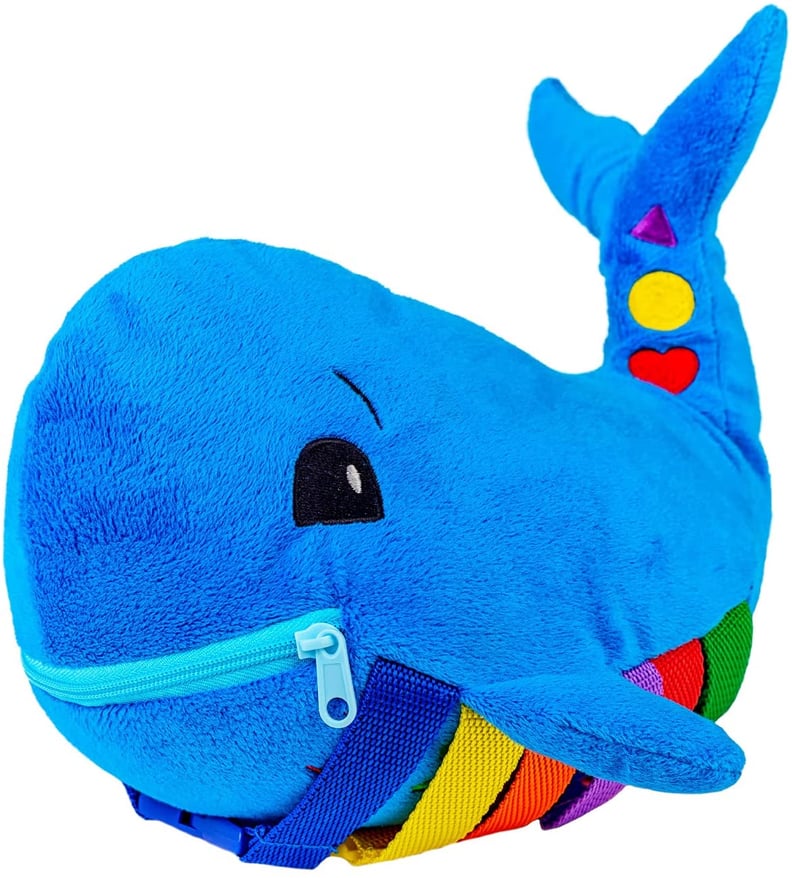 Blue Whale Buckle Toy
Babies love buckles. A seatbelt or car-seat harness is inevitably always going to be more entertaining than an intentional "toy." This Blue Whale Buckle Toy ($22) combines the best of both worlds — a portable plaything that will satisfy their urge to clip and unclip again and again with its six colorful buckles. There's a zipper pocket, too, and brightly colored numbers and shapes.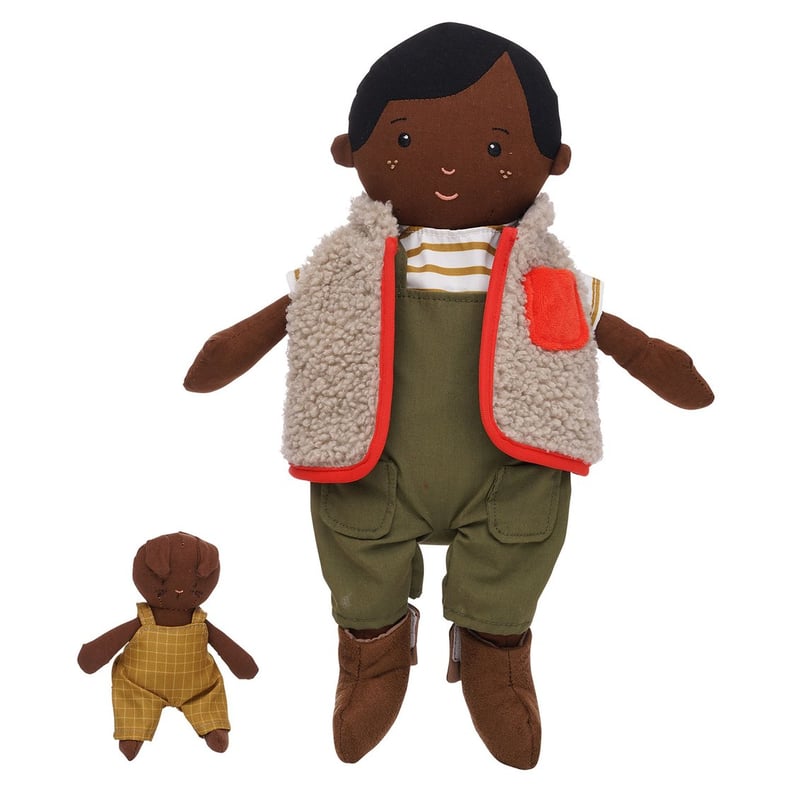 Manhattan Toy Playdate Friend
These sweet cloth dolls called Playdate Friends ($27) encourage imaginative play and the development of fine motor skills. You can choose from several different "friends," and their clothes are removable — plus, each comes with a coordinating "buddy."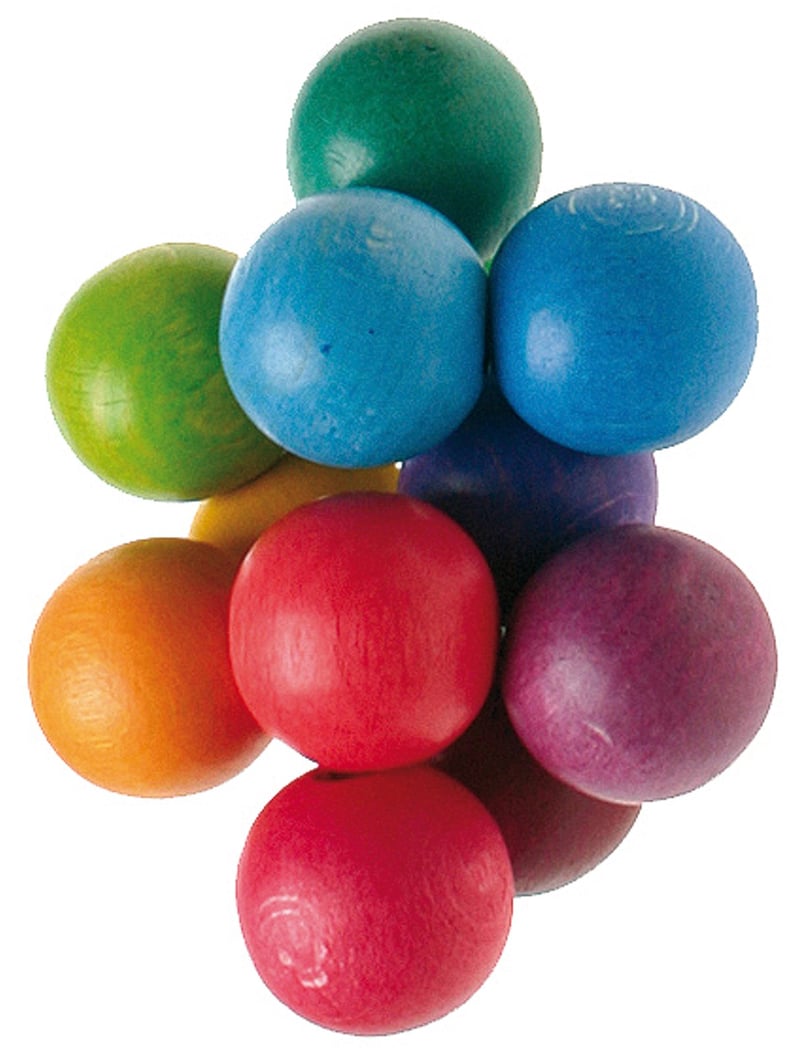 Grimm's Colorful Grasping Beads
These German-made, 100% natural wood Grimm's Colorful Grasping Beads ($21) feature non-toxic dyes, paints, and finishes, making them a great first grasping toy and teether.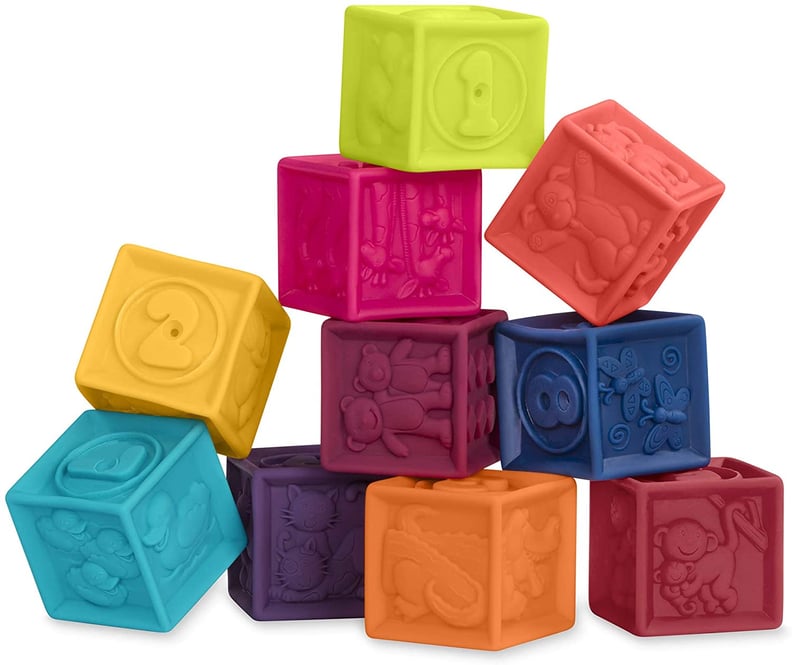 B. Toys Building Blocks
B. Toys removed the sharp edges from traditional wooden blocks with their squishy, squeezable, colorful blocks. The set of 10 B. Toys Building Blocks ($21) are made from recycled plastic, and encourage the development of baby's motor skills, teaches cause and effect, and introduces colors and relief imagery on all six sides of every block.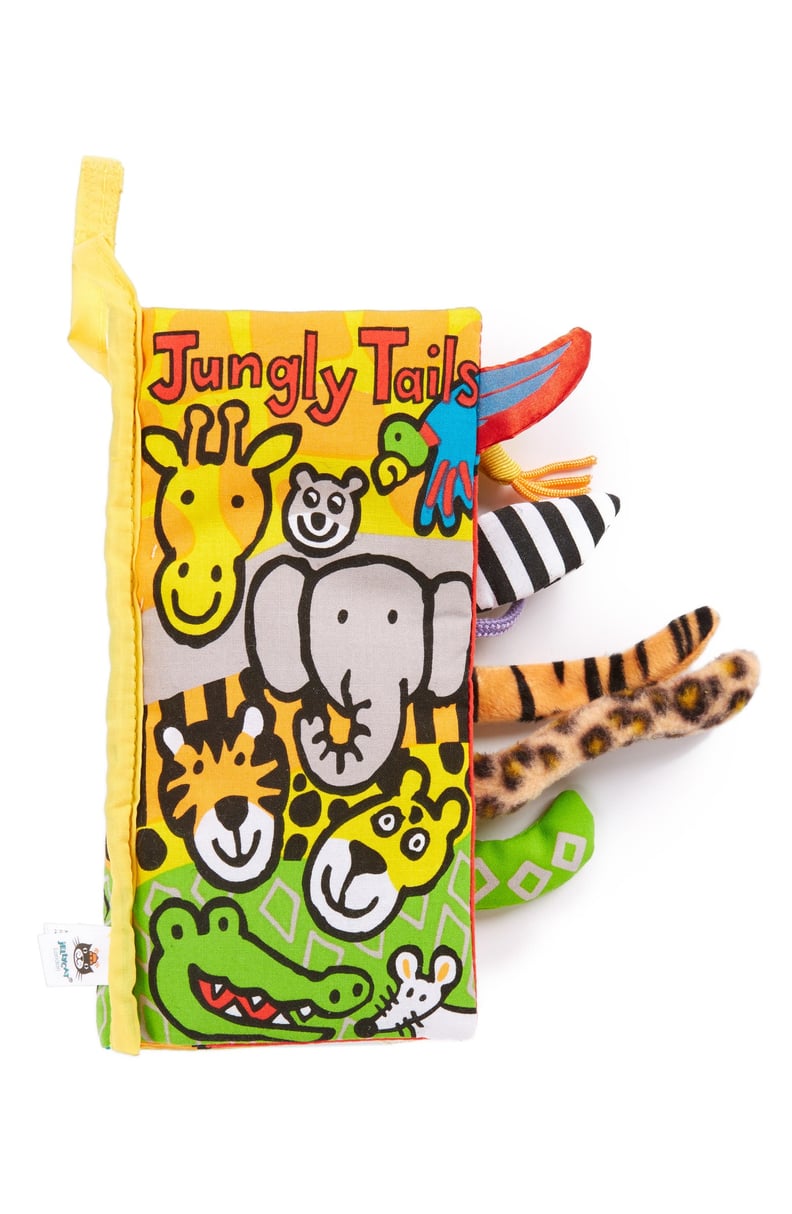 Jellycat Jungly Tail
An ideal first book, soft and crinkly Jungly Tails Cloth Book ($17) can be Velcroed onto baby's stroller or carrier to keep them occupied on the go. Bright colors, plenty of texture and sound, and adorable animal faces make this one extra appealing.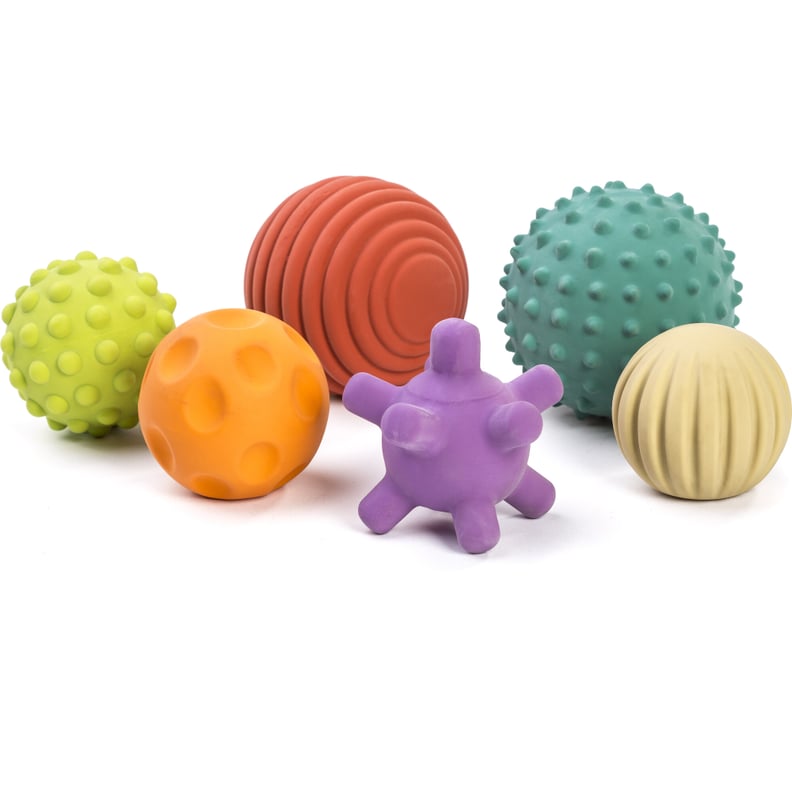 Miniland Sensory Balls
A seriously gorgeous toy, these natural rubber Miniland Sensory Balls ($42) were designed to develop hand-eye coordination and sensory stimulation through the varied shapes, sizes, and colors. Their soft texture is easy to grip for little hands, and holds up well to grabbing and biting.
Wimmer Ferguson Tiger Spiral
The high-contrast colors and patterns of the Wimmer Ferguson Tiger Spiral ($24) is designed to support baby's visual development. The flexible "spiral" attaches easily to a stroller or car-seat handle, and a trio of dangling, interactive attachments are designed for grasping, exploration, and cause-and-effect learning.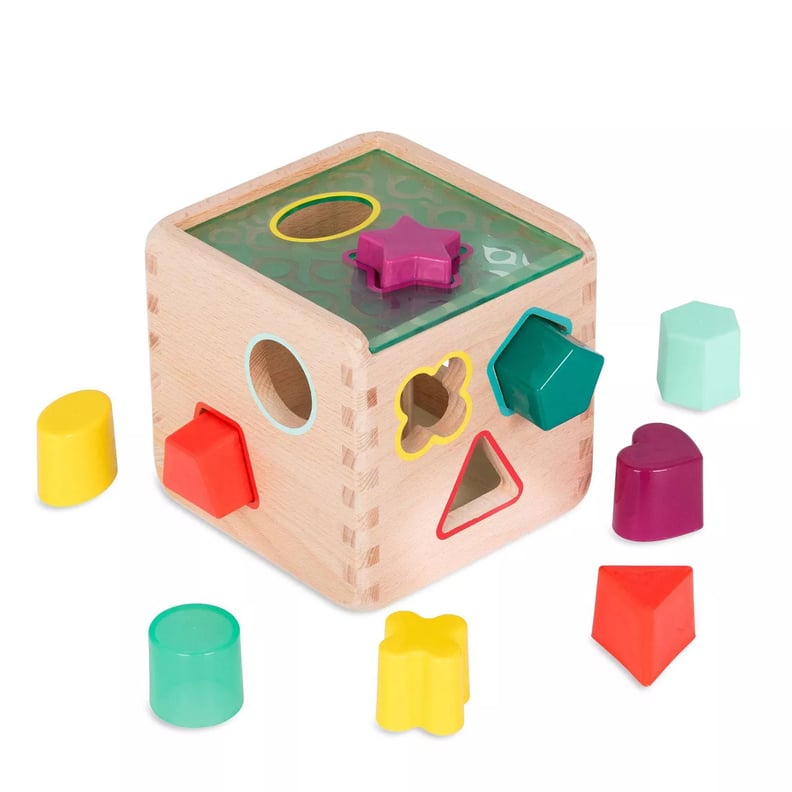 B. Toys Wonder Cube
Shape sorters are an essential baby toy for developing the building blocks of problem solving. The B. Toys Wonder Cube ($12) features nine shapes — small enough for tiny hands — that each fit into a designated space on the cube. Pop the lid up, dump them out, and start over. The shapes can also be used on their own to introduce colors and counting.