Emma Roberts on Pregnancy, Fertility, and Freezing Her Eggs
Emma Roberts Opened Up About Pregnancy, Fertility, and Why She Decided to Freeze Her Eggs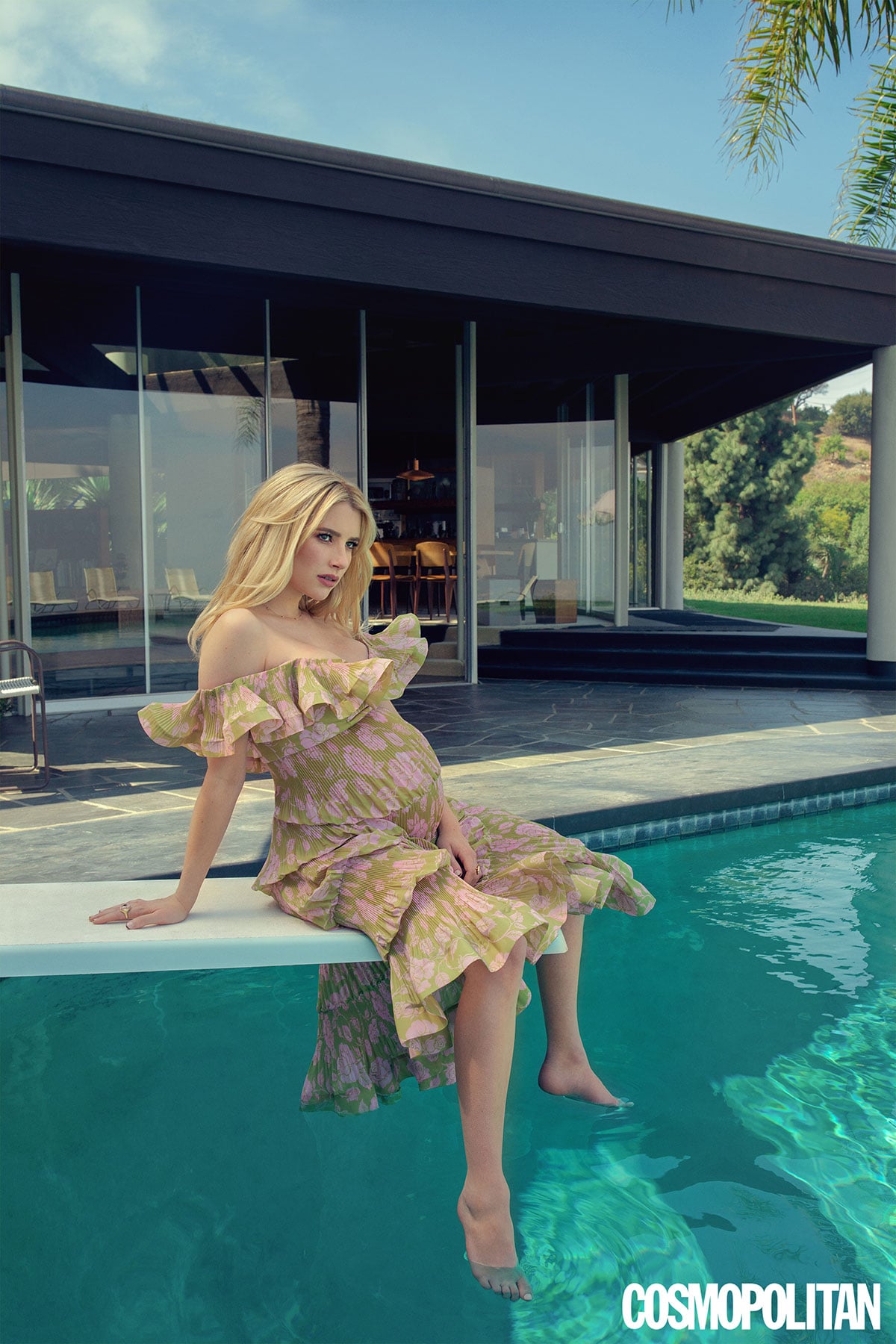 In case you missed it, Emma Roberts is expecting a son with her boyfriend, 36-year-old Garrett Hedlund. The 29-year-old American Horror Story actress detailed how she's handling her pregnancy and why she froze her eggs in an interview for the December issue of Cosmopolitan, as the first-ever pregnant woman to grace the magazine's cover.
After acknowledging that a simple "how are you?" has become such a loaded question this year, Emma opened up about how she's been feeling at 28 weeks along. "Long story short: I am hungry and tired. Food and sleep do not abide by the normal laws when you're pregnant," she explained. "But I'm healthy, which is the thing I'm most grateful for. To see my body change inside and out so drastically has been a wild experience. Surprising and beautiful. Then again, some days I feel like I'm being hijacked by something."
For Emma, motherhood has always been on the table. She often thinks back to when her little sister was born. "Ever since I was little, I wanted to have a baby, in theory," she explained. "When I was a kid, I begged my mom to have another baby. The day she brought my sister home from the hospital, I remember holding her, wanting to dress and play with her."
At 16 years old, Emma was convinced she would be a mom by age 24. However, given her successful career, she didn't have kids as early as she thought she would. "I was 24 and I was like, 'Remember when I said I would be married with kids by now?'" she said. "With work, especially with acting — the travel, the hours — it's not always conducive to settling down in a traditional way."
Emma also shared how having an undiagnosed case of endometriosis since she was a teen affected her long-term family planning.
"I was 24 and I was like, 'Remember when I said I would be married with kids by now?'"
"I always had debilitating cramps and periods, so bad that I would miss school and, later, have to cancel meetings," the actress said. "I mentioned this to my doctor, who didn't look into it and sent me on my way because maybe I was being dramatic? In my late 20s, I just had a feeling I needed to switch to a female doctor. It was the best decision. She ran tests, sent me to a specialist. Finally, there was validation that I wasn't being dramatic. But by then, it had affected my fertility. I was told, 'You should probably freeze your eggs or look into other options.'"
Understandably, Emma was nervous to go through with freezing her eggs at first. "I said, 'I'm working right now. I don't have time to freeze my eggs.' To be honest, I was also terrified," she said. "Just the thought of going through that and finding out, perhaps, that I wouldn't be able to have kids . . . I did freeze my eggs eventually, which was a difficult process."
"When I found out about my fertility, I was kind of stunned. It felt so permanent, and oddly, I felt like I had done something wrong," she continued, noting how she made it a point to speak with other women about her diagnosis. "All of a sudden, there was a new world of conversation about endometriosis, infertility, miscarriages, fear of having kids. I was so grateful to find out I was not alone in this. I hadn't done anything 'wrong' after all."
After learning she was pregnant, Emma was hesitant to tell her friends and family at first. "It sounds cheesy, but the moment that I stopped thinking about it, we got pregnant," Emma said. "But even then, I didn't want to get my hopes up. Things can go wrong when you're pregnant. That's something you don't see on Instagram. So I kept it to myself, my family, and my partner, not wanting to make grand plans if it wasn't going to work out. This pregnancy made me realize that the only plan you can have is that there is no plan."
Although Emma is acutely aware that bringing a child into this world will change her lifestyle, she's eager to jump into motherhood head first. "It's a beautiful thing to know that you're in charge of creating your child's world," Emma said. "I take that so seriously. Even just putting his nursery together, that's the first environment he's going to be in. Sometimes I think about seeing him in the morning and how I want to say good morning to him and how I want to put him to bed at night, all those things that end up creating your sense of safety. Sometimes it's scary, though, because I'm responsible for this child's world and memories, and I want to make it all wonderful."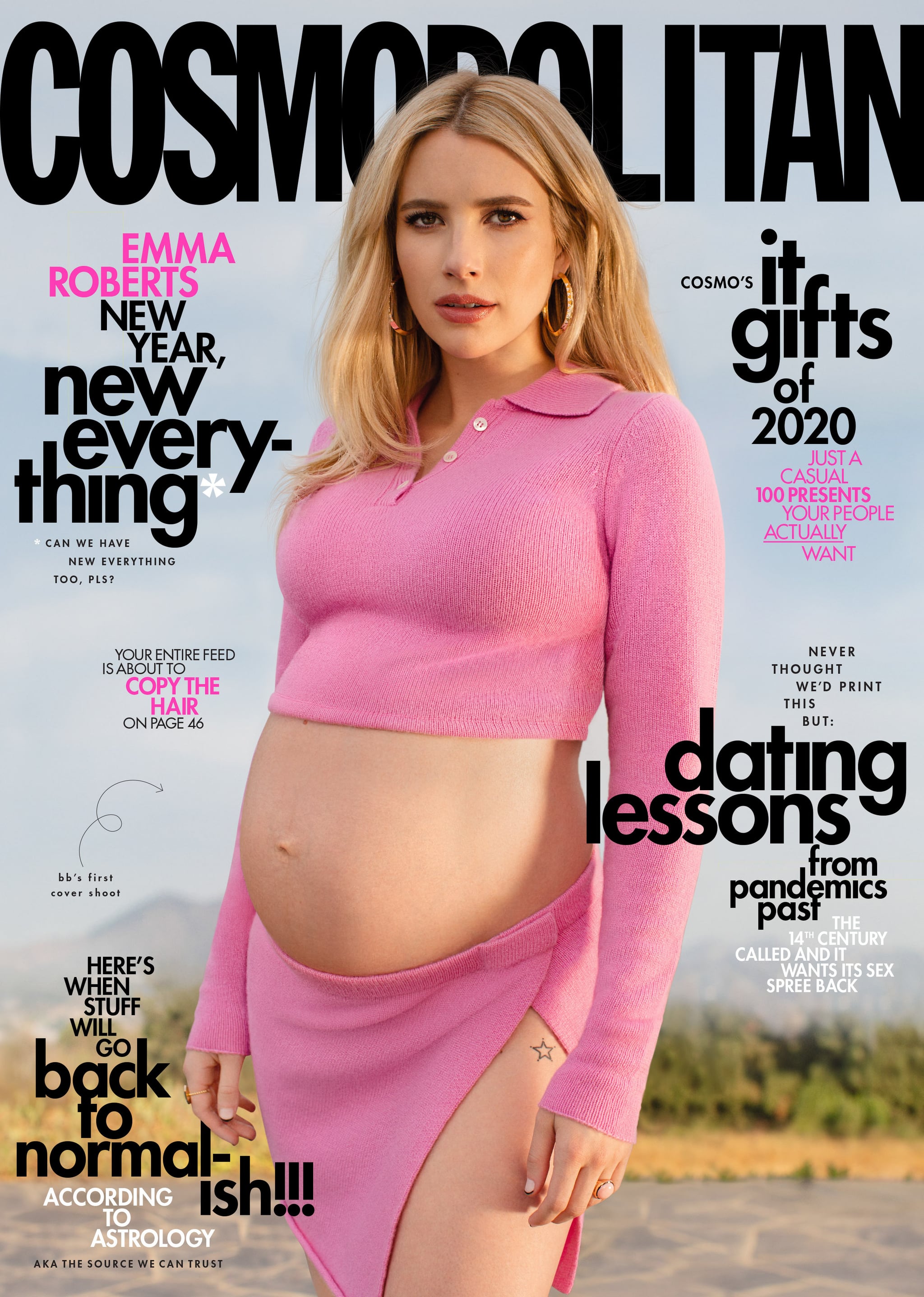 Image Source: Cosmopolitan / Sasha Samsonova