Holiday Gift Ideas For the Whole Family From Sam's Club
The Simple Shopping Hack This Editor Relies on to Find Holiday Gifts For Her Entire Extended Family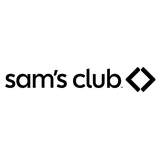 We've partnered with
Sam's Club
to help you make holiday shopping a cinch — even when everyone in your life is on the nice list.
Growing up as the only child in a small, close-knit family meant a few things. First, I was perpetually jealous of my friends with tons of siblings and cousins to play with at family holidays. Second, I rarely had to sit at the kids' table, because often, I was the only kid around. And third, holiday shopping for my family was always easy, since there just aren't that many of us.
That all changed this Fall when I married my long-time boyfriend. For the first time, I have to shop for Christmas gifts for both my side of the family and his siblings, parents, aunts, uncles, and cousins. As much as I love my even bigger extended family, I have to admit that the length of my shopping list looks a little daunting.
Thankfully, I found the easiest way to get all of my holiday shopping done in one fell swoop: hitting up my local Sam's Club. Sam's Club has awesome gifts for everyone on my list — from my tech-savvy brother-in-law to my little cousins — at prices you just can't beat. Plus, I can buy everything I need in one shopping trip; it doesn't get more convenient than that! Read on to see what I'm shopping for at Sam's Club this holiday season, then become a member to get these top-notch gifts for yourself.
These days, it seems like everyone in my family can get on board with a high-tech gift. Even my dad — the man who just recently got his own email address — is fascinated by cool gadgets. You just have to pick out the right tech for the right person.

For the kids at heart, I'm going for a grown-up version of a toy: the Nintendo Switch Lite. This handheld system is superportable, so it allows you to take games like Mario Kart™ 8 Deluxe and Super Smash Bros.™ Ultimate with you anywhere you go. I know my cousin is going to be stoked!
On the other end of the spectrum, the Orbit Tracker Bundle works perfectly for the people on my list who prefer something a bit more practical. The Orbit Card, Keys, and Stick-On trackers use Bluetooth to show the GPS location of anything you attach it to — so it's an ideal gift for my brother-in-law who is always losing his phone.
Shopping for beauty devotees can be tough. The makeup fans in my life usually snap up the latest eye shadow palettes and skincare products as soon as they drop, and their extensive collections mean you run the risk of buying them something they already own.

Makeup and skincare accessories are always a safe bet. This year, I'm giving my sister-in-law the BPL Magnetic Beauty Collection. Each of the makeup brushes in this set has a magnet in the handle that makes them easy to attach to the metal stand. You can even hang your brushes upside down to dry out after cleaning. So useful!
Growing up, I was always the baby of the family. Now, not so much. A few of my cousins have started their own families — plus, my husband's side of the family includes a few kids.

That means that I have to start thinking about what kids today actually want to play with — and what toys won't drive their parents crazy! Instead of trying to track down some of the year's most in-demand toys, my strategy is to pick out something I would have loved when I was their age, like this adorable Member's Mark Kids' Animal Sleeping Bag. What kid wouldn't want to curl up in a shark, dinosaur, llama, or unicorn sleeping bag? The kids in my family will be the envy of every sleepover.
Best of all, I don't have to make a special shopping trip just to pick out something for the kids in the family; I can grab these sleeping bags (and tons of other fun gifts) at my local Sam's Club or shop online, with free shipping for Plus members on most items.
Credits: Photography: Matthew Zach; Art Direction: Meg Konigsburg; Wardrobe Styling: Emma Sousa; Hair and Makeup: Ashley Rebecca; Production: Alex Friedlander