How SEL Helps Kids Become Better Adults
How (and Why) Social and Emotional Learning Can Help Kids Become Better Adults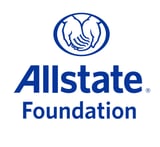 We partnered with
The Allstate Foundation
to help educate parents (and the world) about Social and Emotional Learning, and how it can benefit both kids and entire communities.
In this time of uncertainty, it's more crucial than ever that kids are supported — and given the tools they need to support themselves — now and in the future. Enter: Social and Emotional Learning, or SEL: an approach developed by the nonprofit the Collaborative for Academic, Social, and Emotional Learning (CASEL) to do just that. SEL is how people learn to understand and manage emotions, set and achieve positive goals, feel and show empathy for others, establish and maintain positive relationships, and make responsible decisions. Essentially, it's a toolkit for helping kids become empathetic, self-aware, and confident humans.
To bring more awareness to SEL and to help put kids around the country on a path to success, The Allstate Foundation granted nearly $1.2 million in teachers' wish lists posted on DonorsChoose, an online nonprofit that connects teachers in high-need communities with donors who want to help — meaning more than 1,700 teachers were surprised with funding for their online requests for social and emotional learning supplies.
This also means that almost 300,000 students will be impacted by this funding, giving them access to SEL skills and key learning techniques. Keep reading to find out why this is so important now, and into the future.
To understand how SEL can impact both children and their communities, we spoke with Laura Freveletti, the senior program officer at The Allstate Foundation. First things first, what is social emotional learning, really? "In short, SEL gives young people tools to engage with the world," said Freveletti, "and importantly, the benefits of SEL apply to every child, regardless of background, socioeconomic status, interests, and aptitudes."
CASEL has developed five key tenets, called competencies, of the program: self-awareness, self-management, social awareness, relationship skills, and responsible decision-making — their framework provides examples of each competency. "For instance, self-management can mean managing emotions, using stress-management strategies, or setting and achieving goals," said Freveletti. "These skills are essential for young people now, but become even more critical as they enter the workforce and build healthy relationships as adults."

When kids have access to these skills, myriad benefits can emerge — and the research supports it. "SEL skills are a booster rocket for kids to succeed in life, not just short-term, but for life-long achievement," said Freveletti. "More than 20 years of research shows that for a young person to succeed in life, SEL skills are as, if not more, important that academic achievement."
Kids who have access to the SEL programs and curriculum see increases in graduation rates, postsecondary completion, employment rates, and average wages; in the short term, students participating in SEL programs also show improved classroom behavior, an increased ability to manage stress and depression, and better attitudes about themselves, others, and school.
So what does a SEL program actually look like? Well, there are a number of activities that can be done in the classroom, after school, and at home that can help build these skills. And right now, while many kids are learning at home rather than in the classroom, there are many resources that families can use to implement SEL at home. Freveletti said that The Allstate Foundation and its nonprofit partners help teachers and families work together to bridge these lessons from the classroom to home, and then to the community.

Freveletti also shared some examples of how SEL skills are taught in real-life programs. "Our partner Wings for Kids offers a Dinner Discussion Guide to help families communicate and build stronger relationships," she said. "Play can also be a great tool to build SEL skills. Our partner Playworks has an online library of games that can be played at recess or at home to help build teamwork and confidence. These activities help engage youth in building these skills in the short-term, but the strategies they develop can be carried into adulthood, whether it's by having the skills to be flexible and a strong communicator in the workplace or building healthy relationships in their personal lives."
Freveletti said that she often hears from families who can see tangible changes in their kids as a result of learning SEL skills. "We support the nonprofit Inner Explorer, which brings audio-guided mindfulness exercises into classrooms," she said. "One parent recalled rushing around the house as they were running late and started to raise her voice. Her son calmly took her hand and said, 'Mommy, anger is a little thing inside of you that can either grow or turn into happy.' He then led her through one of the breathing exercises they use in the classroom to calm down."
As longtime supporters of SEL, Freveletti said The Allstate Foundation recognizes how critical these skills are, especially in times of crisis. "SEL can give young people — and their families and teachers — tools to cope with uncertainty and stress," she said. "It's important to also note that SEL doesn't just impact the individual student. It can have a profound impact on entire communities."
Because The Allstate Foundation believes that supporting young people is the most important investment we can make in our future, they've partnered with a number of nonprofit organizations that give students, educators and families access to evidence-based programs and curriculum that foster SEL skills, as well as the opportunity to build these skills through service-learning and volunteer programs. "Awareness and demand for SEL is at a crucial tipping point, with more and more educators and families recognizing SEL as a solution to help youth cope in the face of uncertainty," said Freveletti.
To learn more about SEL and how to implement these skills in your own family, visit AllstateFoundation.org.