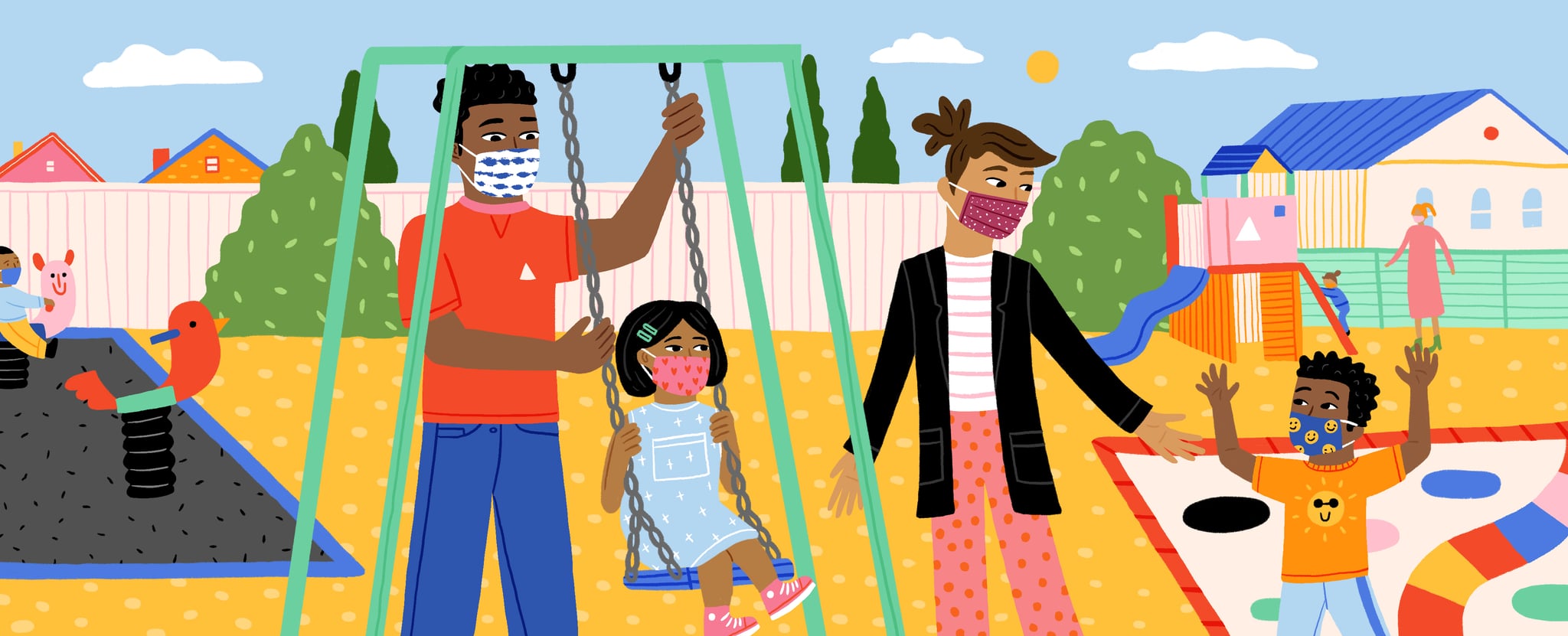 Image Source: Illustrations by Ruby Taylor
Stylish and safe? There is nothing better! That's why we teamed up with Old Navy to share its fashionable selection of face masks for the whole family.
The
experts agree
: wearing a cloth mask or face covering can help keep you and your family safe while navigating the COVID-19 pandemic. It's the practical and essential way you can help prevent further spread of the virus. Reminding your family to put on a mask can feel like a chore, so we've gathered some fail-proof tips (aka mom hacks!) to get your crew excited to wear a mask while flexing their own personal style. Below are
fashionable face masks from Old Navy
that will get your whole family on board with not just wearing masks but also rocking them!
Shop Bold Prints in Neutral Colors
If you're worried about a mask clashing with your outfit, don't be! In fact, pattern-on-pattern play is a big fall 2020 trend, so mixing and matching prints will actually look great. Just stock up on masks with prints or floral patterns in neutral shades like gray, navy, white, or black. These are guaranteed to go with everything in your closet, so you'll have no excuses.
Turn It Into a Fashion Statement
If nothing else, do it for the 'gram. Your teen won't mind wearing a mask when they can coordinate a stylish selfie or OOTD. Look for fashion-forward animal prints or a tie-dye print that will match their latest sweatsuit set for a lewk that will get them all the "likes."
Stock Up For Every Occasion
Have you had that reoccurring nightmare? The one where you show up to work or the grocery store, and you look down and you're . . . maskless?! Shivers. No matter what your plans or where your day takes you, never get caught sans mask. We recommend stocking up so you have one for any situation. Tuck one in your baby's diaper bag, your purse, or your car console so you're prepared even when on the go.
Make Shopping For Masks Fun
For teenagers who are worried about what back-to-school will look like this year, a bit of retail therapy might help. Gingham! Paisley! Camo! Let them browse online until they find the perfect mask pack for their unique style. Everyone looks forward to back-to-school shopping, and this year — in addition to notebooks and pens — getting masks that match their backpack or their room is one way to get them excited about the new school year.

Show Off Their Personality
For little ones who may be less than thrilled with the idea of wearing a face covering, finding a mask that speaks to their interests is key. Their favorite fruit is banana? Banana mask it is! They love all things space? A solar-system mask will be an instant hit. They'll be a much more willing mask wearer if they're excited about the mask that you picked out just for them!
Buy Masks That Are Comfortable
Don't skimp on comfort. Pick out masks that are washable and easy to take on and off. Plus, cloth masks are gentler on little faces, while adjustable straps make it easier for adults with smaller faces to wear a mask with ease.