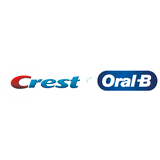 We partnered with
Crest and Oral-B
to share how you can encourage and motivate your family to build your own teeth-brushing routine and pledge to Conquer Cavities 2Gether.
As a millennial mom, I can't say I put too much thought into my son's future dental hygiene while I was pregnant. I worried and stressed over lots of things — his sleeping and eating habits to be specific — but oral health didn't really ping on my radar until he was about one year old. By then, my now three-year-old son Gabe had teeth coming in and I knew we had to figure out a routine. So we signed the Crest and Oral-B Conquer Cavities 2Gether pledge to brush our teeth for two minutes, two times a day with a fluoride toothpaste. In turn, Crest and Oral-B are helping make healthy smiles happen for kids everywhere by donating up to 10,000 brushing kits to families in need. Armed with the knowledge we are doing something good for our community, we wanted to implement some fun and creative ways to get Gabe to reach that two-minute mark. From the silly song I made up to the special puppet my son uses to practice brushing his own teeth, here's how I got my son to love brushing.
Once we knew Gabe was ready to start brushing his own teeth, we really wanted it to be a daily routine he enjoys. So the first thing we did was go shopping. We bought a step stool so he could reach the sink himself, a Spiderman themed Oral-B toothbrush, and Kid's Crest Sparkle Fun toothpaste. We made a big deal about setting up his space and showing him that his cup goes next to the sink and that his new toothbrush and toothpaste go inside the cup.

Any parent will tell you, when you want a new routine to be successful, you need to hype it up! In the beginning, my husband and I would turn on music, brush our teeth, and dance around while our son was in the bathroom. We made it seem like brushing your teeth was this exclusive bathroom party and that made him want to be a part of it. Once he started asking for his own toothbrush, we made sure the experience was always fun and enjoyable. We used a dinosaur hand puppet to show him how to brush his teeth and then let him practice on the dinosaur himself. Once he mastered the length and technique on "Dan the Dino," we let him try brushing his own teeth with his own toothbrush!
Routine is so important when it comes to creating healthy oral-care habits. Not every strategy works every day, but here are some of our favorite ways to get Gabe involved and encourage him to brush two minutes, two times a day. First, we turn on some tunes! We'll usually dance around for a bit and I'll sing the aforementioned silly made up song while we prepare his tooth brush with a fluoride toothpaste: (To the tune of "Row Row Row Your Boat") "Brush Brush Brush Your Teeth, Brush Them Twice A Day. Up and Down and All Around, Brush The Plaque Away . . ."
Listen, I never said I was a musical genius, but Gabe loves it, and he knows exactly what is coming next. We then turn on our Disney Magic Timer by Oral-B which helps encourage him to brush longer. Then, for the last 10 seconds we do a big boisterous count down which gets him all excited and ready to spit and rinse.
All this to say, brushing his teeth has become one of Gabe's favorite daily habits! It's the first thing we do in the morning and one of the last things we do at night before bed. So sign the Crest and Oral-B Conquer Cavities 2Gether pledge below to get in on the fun yourself!