Is the UPPAbaby Vista Worth It?
It's Definitely Pricey, but the UPPAbaby Vista Is Worth Every Penny
As POPSUGAR editors, we independently select and write about stuff we love and think you'll like too. If you buy a product we have recommended, we may receive affiliate commission, which in turn supports our work.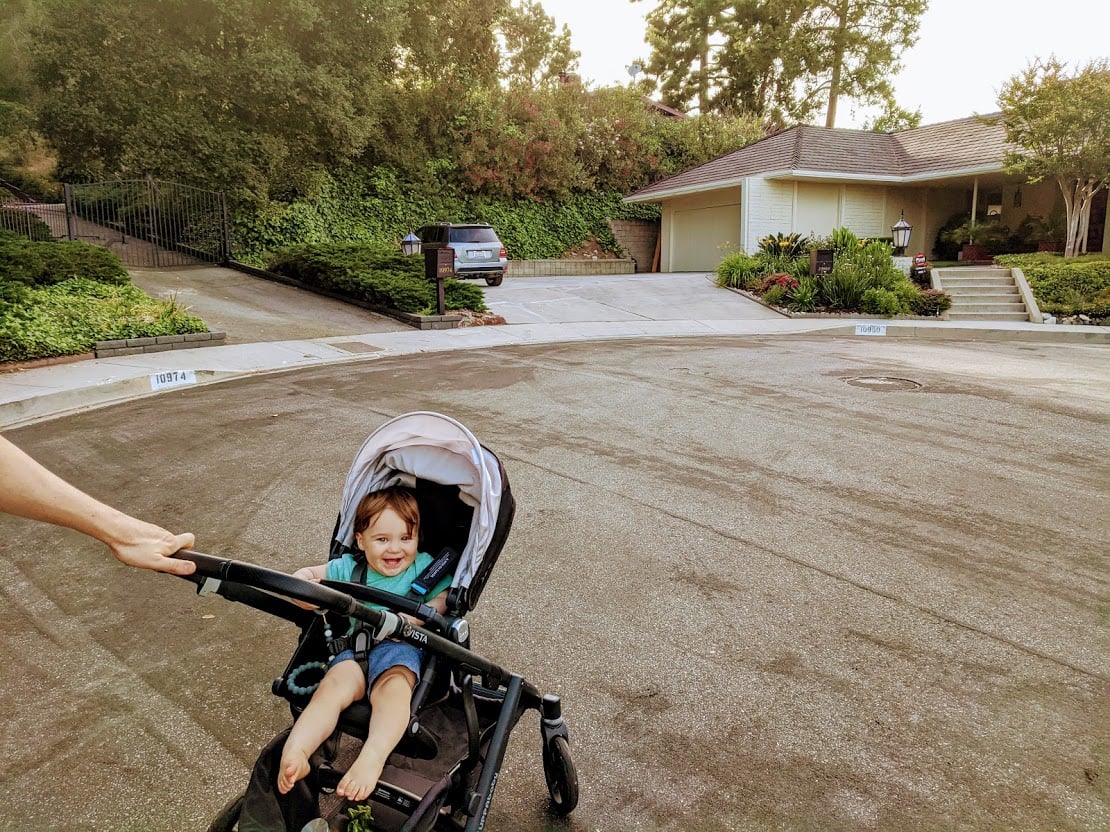 Becoming a first-time parent is filled with many choices — and at least as far as shopping is concerned. But few decisions are as important as figuring out which stroller to buy. When I found out I was pregnant with my son in 2018, I started checking out strollers with the zest I once had — okay, still have — for handbags. I quickly noticed the UPPAbaby Vista ($970), and immediately loved its sleek pram-like look.
Is the UPPABaby Vista Worth the Money?
I'll admit, the high price tag initially turned me away from this stroller, but after conducting careful research, I realized you get what you pay for. In addition to being a high-quality stroller, the new UPPAbaby Vista V2 model also comes with a variety of accessories. This includes a toddler seat and bumper bar, bassinet, two bug shields — one each for the toddler seat and bassinet — toddler rain shield, and a bassinet storage bag.
Sure, you have the option to purchase plenty of other add-ons — the cup holder was a must-have for my coffee — but having all the essentials included in one curated set makes it feel like a better value. This brings me to another big selling point for my husband and I — the Vista's compatibility with the UPPAbaby Mesa infant car seat, which seamlessly attaches to the stroller frame. The car seat carrier also features a one-handed release from the stroller, which made moving our son between the car and the Vista refreshingly effortless.
This stroller became a staple in our new parent lives. From walks around the neighborhood to parking our son in it at a restaurant table for brunch, we got a ton of use from the Vista. In fact, our son even slept in the bassinet one night — soundly, without waking up — as an infant on his first weekend getaway.
Another reason we chose the Vista, instead of the relatively similar UPPAbaby Cruz model is its ability to convert to hold multiple kids. Multiple adaptors and accessories are available on the UPPAbaby site that allow the stroller to hold up to two seats and a ride-along board for slightly older kids who don't want to sit, but get tired of walking. This means even if we have more kids, we'll only ever have to buy one stroller, making the Vista much more economical for us.
Why Should You Try the UPPABaby Vista?
Our son is now 17 months old and after racking hundreds of miles, the Vista and its various accessories are still in excellent condition. The only part showing significant wear and tear is the handlebar — we have the standard black foam version — but replacement parts are impressively affordable and easy to find.
I couldn't recommend the Vista enough, because it's a quality product with so many customization options. From function to style — we chose black, but it's available in several colors — you can truly make it your own.
Image Source: POPSUGAR Photography / Laura Woods