I Tried the Joey Wagon, and It's Replaced My Strollers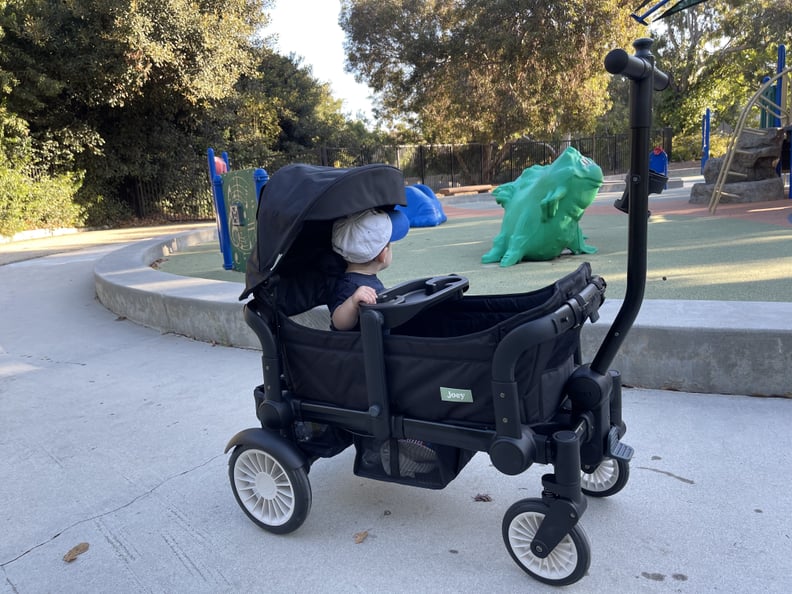 Genevieve Farrell
Genevieve Farrell
As POPSUGAR editors, we independently select and write about stuff we love and think you'll like too. If you buy a product we have recommended, we may receive affiliate commission, which in turn supports our work.
As a first-time mom, I mulled over each and every purchase for my son, but none more than the stroller. I had my eyes set on a luxury stroller and it ended up being the most expensive item I'd purchased for my yet-to-be born son (and honestly myself too.) I justified this knowing I was going to use it to multiple times per day for years to come. However, my intuition was wrong. Now a year old, my son hates this stroller and the subsequent less luxurious stroller I tried, as well as his car seat and high chair. I noticed a theme: this baby does not want to be contained. When I had the chance to try out The Wagon from Joey, a packable and adaptable wagon designed to fit two children, I raised my hand as quickly as I could. I noticed a few parents in my area carting their babies in wagons and thought: could that be a mode of transportation that my son would tolerate?
What I Like About The Joey Wagon
The Wagon arrived partly assembled and was easy to put together. I'm horrible at setting up things so this was a true treat. The instructions were clear and it took less than 10 minutes. If you're very savy at assembling, you may be able to do so in less than 3 minutes like this reference video.

Next came the real test, would my son, Theo, like it? As I set him in the seat, buckled his seat belt, and prepared for his normal reaction, he didn't have a meltdown. He looked around and actually smiled! So far, so good!


As I took The Joey on our walk, I was impressed by how smooth the ride was. It has large wheels and steered easily with one hand which was really nice to be able to drink water while pulling the wagon. My son smiled and giggled throughout the ride too. Since it's been a heat wave in LA, I think he appreciated the airflow of this wagon, which has mesh in the back of the seats. He also enjoyed banging his hands on the snack tray. Toddler life!
Over the next week, I took the Wagon out twice a day on walks for a total of 2-3 miles. We live in a hilly area and The Wagon handled so well up and down hill. The ability to switch from push to pull made it easy to handle. I also appreciate that this wagon has seat belts, so Theo is secure in it. It also has a one-step footbrake and front-locking wheels for extra safety.
The Wagon features seats for two children up to age 4 or 55 lb. for each seat. When I took this wagon to the farmers market, I was able to fit several totes on the second seat as well as a few additional items bottom storage basket and even on the handle bar. If you have two children in the wagon, there would not be a lot of extra space for additional items. There are larger wagons on the market but the size of the Joey feels appropriate for my needs (walks, trips to farmers markets and local shops.) Due to the size, the wagon is not too heavy. It weighs 37lb with fabric attached. It's not too cumbersome to load into the trunk of my SUV. In contrast, some larger wagons can weigh nearly 60lb which would be unmanageable for me to take out by myself.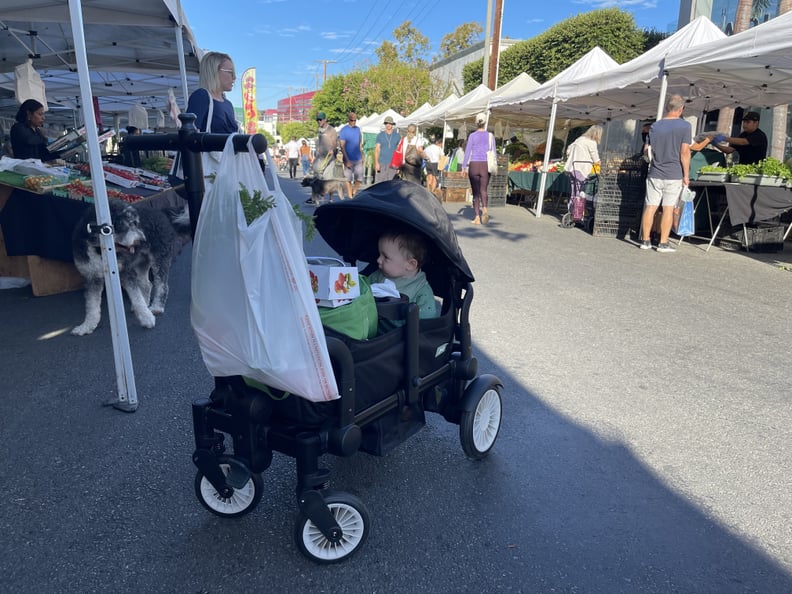 What's Worth Noting
The Wagon has a UPF 50+ canopy. I do wish it was larger to block more of the sun. When I use the wagon, I just make sure to also have Theo wear a hat if the sun is out. Compared to a stroller, this wagon does not offer as much sun protection. I wish there was an option for a full top canopy.
Is The Joey Wagon worth the splurge?
At $689, it is an investment. If you take a lot of walks and are looking for a wagon with proper seats and seat belts and plan to use it a lot before the children are 4, it is worth it. For the price it also includes a canopy, drink holder, and snack tracy. This wagon would also be great if you have two children, particularly an infant as it has a nap time accessory to transform the wagon into a bassinet and a car seat adapter. If you travel a lot, this wagon can be gate checked at the airport.
Additional Details
Safety certified by CPSC and ASTM international Meets the requirements of 16 CFR 1227 and ASTM F833-19
Folded dimensions: 38.2 in x 25 in x 18.1 in
Unfolded dimensions: 59.3 in x 34.9 in x 25 in
Stroller weight: 32 lb without fabrics; 37lbs with fabrics attached
Tires 7 1/2" front wheels; 10" rear wheels; all-terrain performance tires
Where is The Wagon Available
The Wagon ($689) is available on MyJoey.com.
Rating:
★★★★