TikTok Can't Get Enough of This Dancing Mother-Daughter Duo, and Neither Can I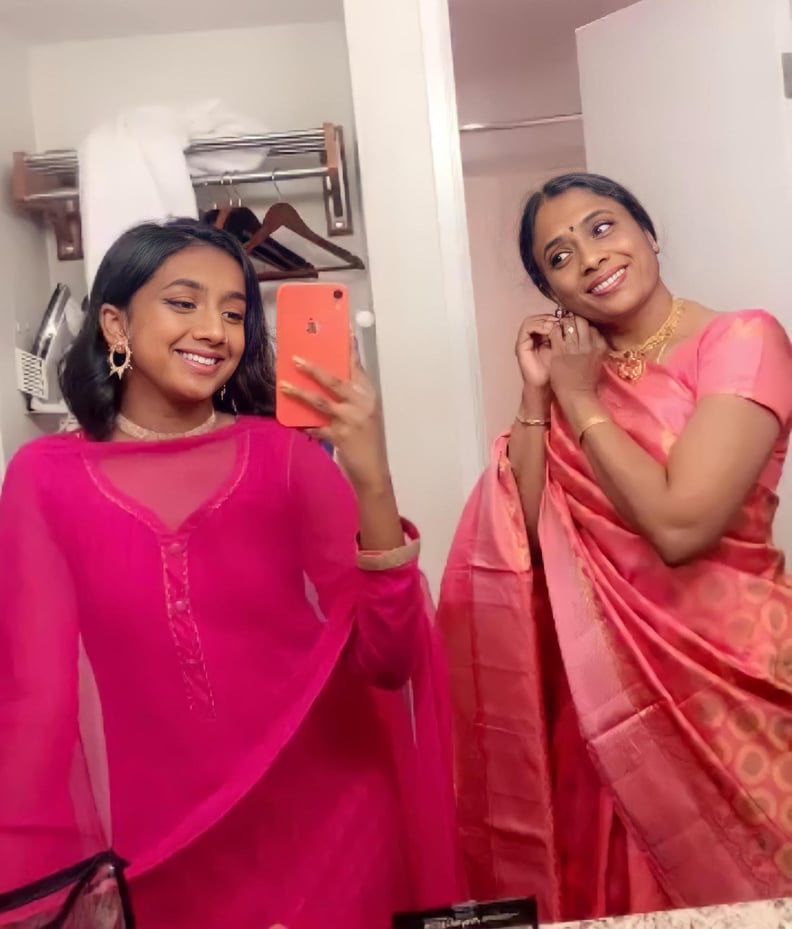 Krithi Srinivas
Krithi Srinivas
My mom and I cumulatively have as much rhythm as Beyonce's left pinky toenail, but Krithi Srinivas and her mom, Sridevi, are a whole different story. The mother-daughter duo have enraptured TikTok users aplenty with their in-sync dance moves, gaining more than two million dedicated fans on the social media platform.
A 20-year-old graphic-design student at Rhode Island School of Design, Krithi first chose to team up with her mom on a TikTok dance challenge back in the summer of 2020, not realizing it would ultimately lead to their internet stardom. "I thought it would be awkward if I just did this dance by myself," she recalled. "My mom knows how to dance, so I was like, 'You know what? This seems easy enough to teach her.'" Krithi's followers instantly became hooked on their bond, so Sridevi became a staple in her daughter's videos.
It's hardly a surprise Sridevi easily picked up on popular TikTok dance moves like "the woah" and "dice roll walk." Trained in a form of Indian classical dance called Bharatanatyam, she was a prominent figure in India's dance community, appearing in a smattering of productions through the years. After moving to the States while six months pregnant with Krithi, Sridevi opened her very own dance studio in New Jersey called Sri Art Academy, which has allowed her to teach a host of students, as well as Krithi, the ins and outs of Bharatanatyam.
"I'm glad people are finally seeing what she's really about."
Krithi explained that she's thrilled to share the TikTok spotlight with her mom so others can bear witness to her talent. "When [my mom] moved to America, it's such a big place, and she was just trying to make it in a country she didn't really know too much about it," Krithi said. "I'm glad people are finally seeing what she's really about. It's awesome that she's getting this exposure." The two have garnered so much exposure, in fact, that Krithi was recently included on TikTok's list of API Trailblazers, and she hopes her fans can take away a positive message from her content. "There's this stigma that immigrant parents and their children have this relationship that's not the most affectionate, but I don't think that's always the case," she said. "I'm glad people get to see [our bond] and have hope that they could also have a good relationship with their parents regardless of their cultural differences."
If you're ready to have your mood boosted and day brightened instantly, read ahead to watch some of Krithi and Sridevi's most entertaining dance videos to date, and be sure to follow both of them on TikTok for more mother-daughter content in the future. They ace the assignment every. single. time.