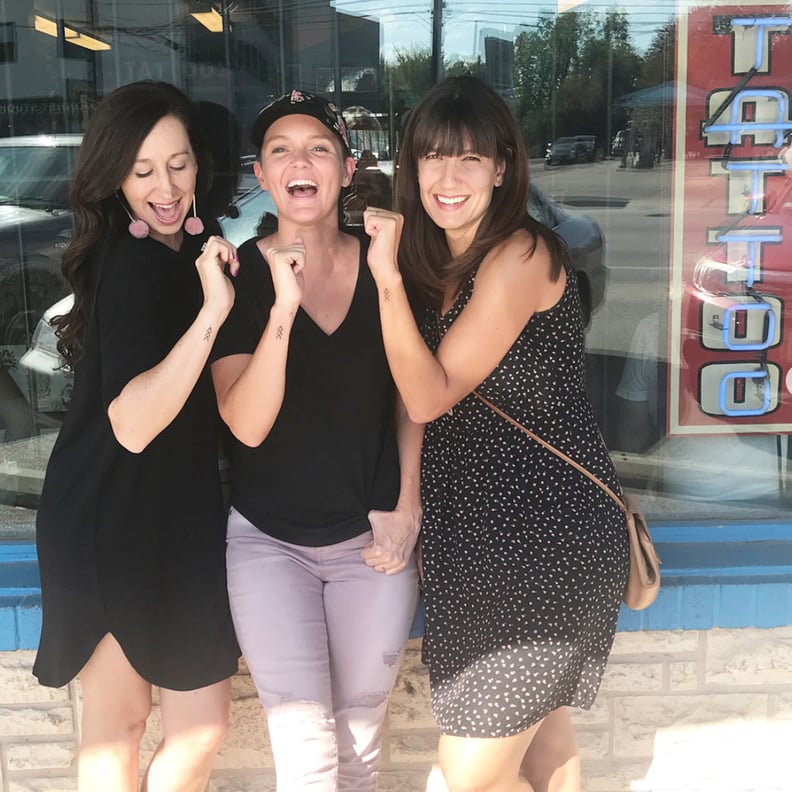 Late last year, Mica May, a mom of three children, one of which has Down syndrome, was at a Ruby's Rainbow retreat surrounded by other moms of kids with Down syndrome when the idea to get matching tattoos started making its way through the group. Months later, what's resulted is a simple and clean three-arrow tattoo on the bodies of hundred of parents, referred to as "the lucky few tattoo."
In an Instagram post from last October, Mica shared a photo of herself and two other moms from the retreat sporting their new ink. "At #rubysrainbowretreat we all started talking about getting matching tattoos and what started as a semi joke spiraled into an epic decision to make it happen. I shared a recurring dream I've had of waking up with three black arrows tattooed on my arm," she wrote.
In another post featuring a closeup photo of herself and her tattoo, the mom shared: "I had never really put the tattoo in my dream together with Down syndrome and definitely never imagined it as an epic group tattoo, but that evening a new thing that was so much bigger than my dream was born. The next day several of us . . . headed to get the tattoo and after we put it up on Instagram, more and more people from #theluckyfew tribe began asking if they could join in and get the tattoo also and sooo YES YES AND YES!!"
One of those people was Rosalinda Gray, along with nearly 300 other moms who all wanted to join in on the movement. "We felt the same connection they did," Rosalinda told the Mighty. "The symbol unites us all." With the help of her tattoo artist husband, Tony, a first group of eight women in California were tattooed — and he's currently booked until August with appointments made by other moms, dads, and family members of someone with Down syndrome.
As of now, hundreds of parents, siblings, grandparents, aunts, uncles, and friends have gotten the lucky few tattoo, and Mica couldn't be happier.
"I'm over the moon to see how this image and message has captured the hearts of so many," she said. "The three arrows symbolize the three 21st chromosomes and how we rise up and move forward. We fly the highest after we have been pulled back and stretched, sometimes even more we think we can bear."