When we first began social distancing ourselves from our friends and neighbors, my mom friends and I weren't too worried about keeping in touch. We had already been maintaining real-time group text threads that were so lively and conversational, I'd forget what we "discussed" on our phones and what we'd actually talked about in person.
But our kids? How would they keep in touch? I cracked a joke about how we could all walk to the same park and wave to each other from across the field. Another suggested how we could have the kids draw one another pictures and put them in each other's mail slots! Someone else suggested FaceTime.
The latter got a few groans. And I understood why.
As much as I appreciate how FaceTime allows us to keep in touch with long-distance relatives, it's not an ideal solution for young families.
As much as I appreciate how FaceTime has become a great tool in allowing us to visually keep in touch with long-distance relatives, it's not an ideal solution for young families. Finding a time that works for both ends of the conversation is tricky. It never fails that whenever we get an incoming FaceTime, my kids are still napping, we're dealing with a temper tantrum, we've just sat down for dinner, or we're trying to power through their bedtime routine. And when we do all manage to show up, half of the call is a parent imploring, "stop trying to push the red button!" or "come back, we're talking to Zachary!"
It's oddly just a lot of pressure.
My go-to app for helping my kids keep in touch with their friends and cousins? Marco Polo. The app — created by a Kansas-based mom — has all the visual benefits of live video chats but with the ease that comes with shooting off a quick text message.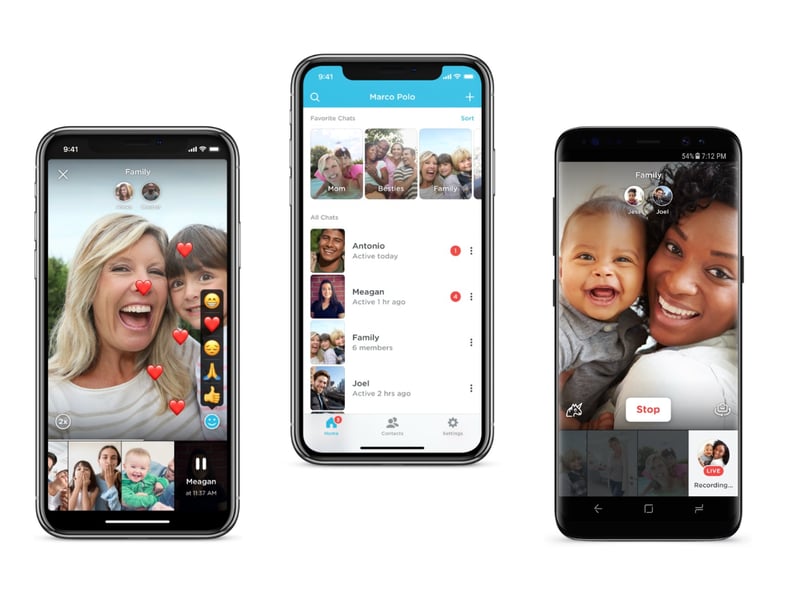 Marco Polo is spontaneous, effortless, and low pressure
Unlike other video apps, you don't need to be "live." Families can use it when they have a moment to talk, even if their schedules don't match up. This leads to impromptu "face-to-face" conversations you wouldn't have if you had to call at a specific time.
Marco Polo keeps an unlimited archive
One of the best things about Marco Polo compared to live chat apps is that the shared video text messages don't disappear. So, when my daughter's friend Jack sings her a song that she wants to learn, we can rewatch his video over and over (and over) again. It's a great screen-time alternative to mindless TV shows as it's them connecting, in a way, with their friends. There's no need to be concerned about storage — it's all in the cloud and doesn't take up space on your phone.
Marco Polo's got fun kid-friendly features
In addition to just looking into the screen and talking, my kiddo can have fun with the app's doodles and voice filters. One day, she and her friends can talk like a robot, and the next, they can all draw each other a picture right on the screen.
Marco Polo is free and inclusive
The service is free, unlimited, and ad-free, but also handy? It works on iOS and Android devices. A third of my loved ones don't have an iPhone, so figuring out how to video call was always a pain. Not anymore. It's one of the easiest things I do all day.