This Mom's Photo of Her Rainbow Baby Twins With Her Late Daughter Is So Emotional
Warning: This story contains a sensitive image that pertains to child loss.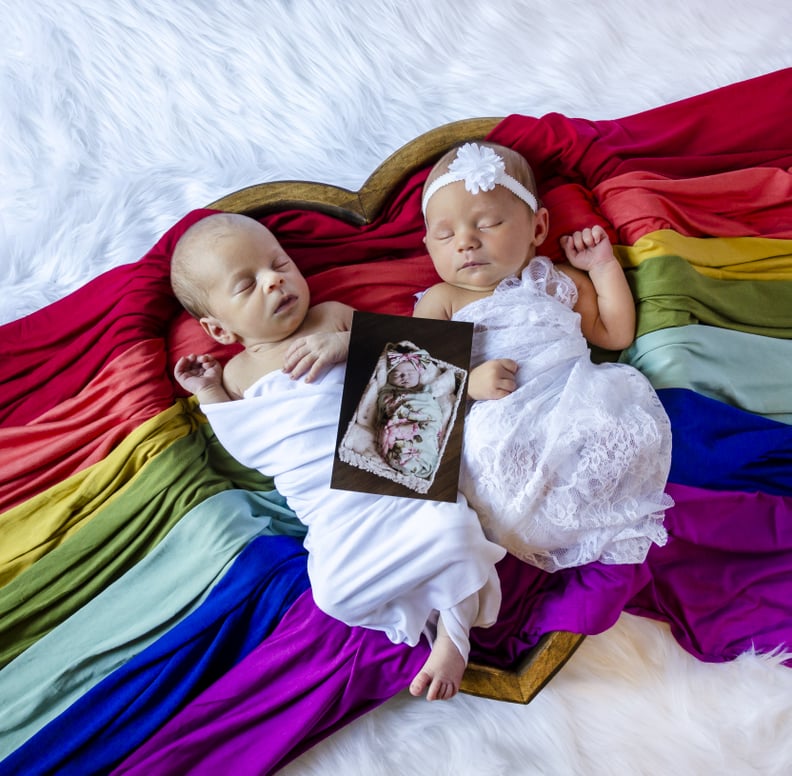 Photographer Ashley Duffy knew that she wanted to do something special to honor all of her children after her rainbow babies, Patrick and Teagan, came into the world one minute apart on July 7. Before having the twins, Ashley suffered from an infection and preeclampsia during labor with her daughter, Finley, who was born still at nearly 41 weeks gestation. Putting her photography skills to the test, Ashley managed to capture an incredibly moving image that included all three of her beautiful babies.
"As you can imagine, pregnancy after loss is an extremely exciting yet terrifying time," Ashley told POPSUGAR of her pregnancy with the twins. "Finding out there are two lives you are expecting now instead of just one amplifies those feelings. Throw a pandemic in the mix and the anxiety almost overflows."
Understandably, Ashley was overcome with emotion upon entering the hospital for her planned C-section, but as soon as she met her twins for the first time, her feelings shifted to pure joy. "The moment I saw their faces and heard their cries, all of my anxiety disappeared," she shared. "I finally did it. I had TWO living, breathing babies. When the operation was all over and my husband and I were in post-op recovery with the twins both happily nursing, I looked at him, and whispered 'THIS is heaven.' Both my heart and arms were so full in that short and massive moment."
"She is their big sister, our firstborn, and we will love her always."
After bringing Patrick and Teagan home from the hospital, Ashley let her creative juices flow. "I knew I wanted to create an image that celebrated all three of my children and the love I hold for each of them. I also wanted to be able to capture the full range of emotions we had been going through during and after my rainbow pregnancy," she explained. "Even though my daughter Finley couldn't be here to see her siblings be born, I want to make sure they know her and know that she is and always will be a part of our lives. She is their big sister, our firstborn, and we will love her always."
Looking back on her birth experiences, Ashley is encouraging other those who have suffered from pregnancy loss to process their feelings at their own pace. "For parents hoping for their own rainbow babies or currently expecting them, know that all of your feelings are valid; the good and the bad," said Ashley. "There is no handbook on how to handle child loss or pregnancy after loss and every person lives through their grief in their own way. Never hesitate to get help and support if you need it. You are not alone."