Neil Patrick Harris Interview on Cooking and Family Dinner
Neil Patrick Harris Really Doesn't Understand Why Certain Foods — Like Pasta — Are on Kids' Menus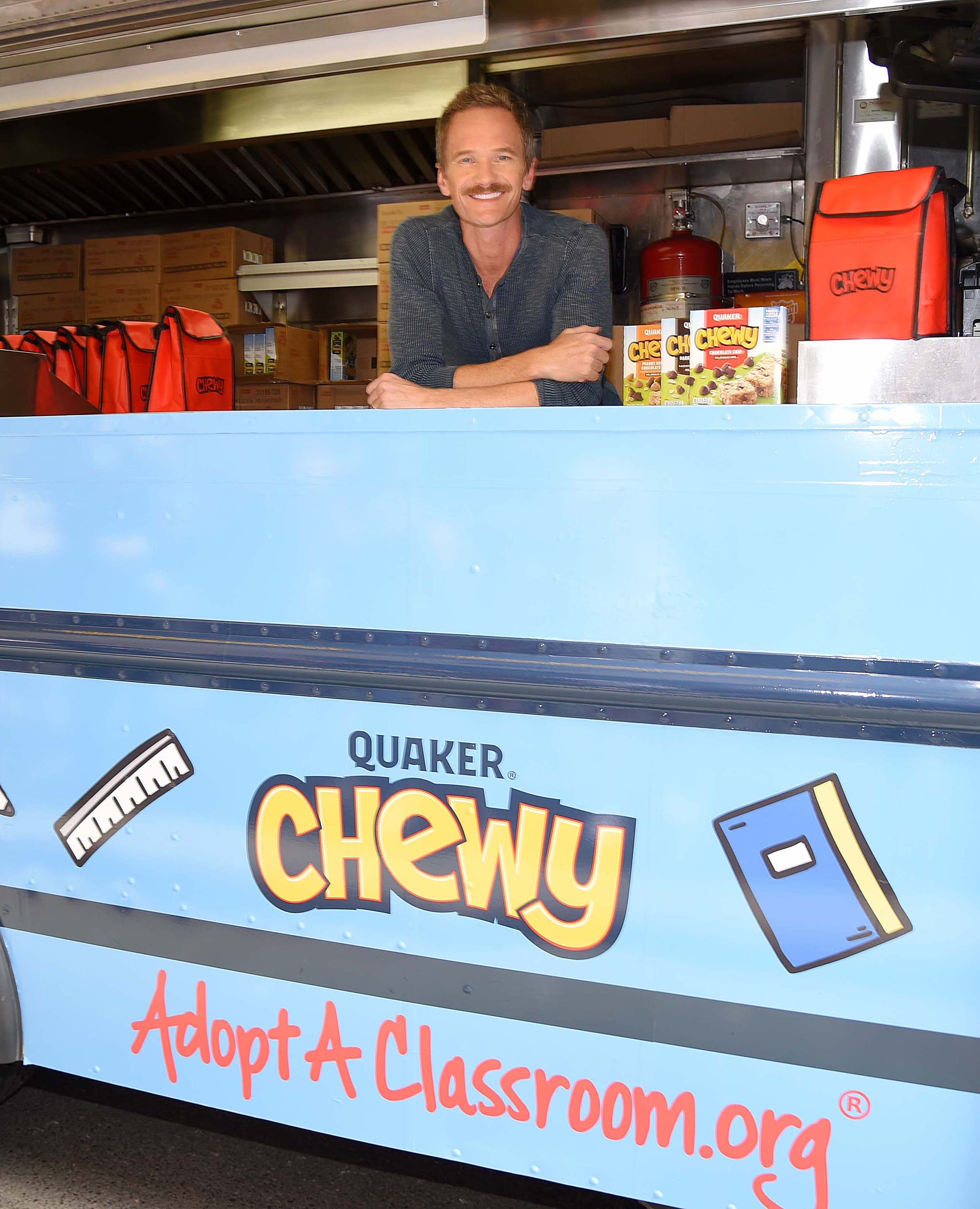 For father of two Neil Patrick Harris, back-to-school season means getting into the swing of his kids' routine. Despite having several projects in the works, Neil recently partnered with Quaker Chewy — the brand behind the snack bars Neil calls "delicious" and "wholesome" — to support the brand's initiative with Adopt a Classroom to get more school supplies in teachers' hands.
While discussing his partnership, the A Series of Unfortunate Events star shared what dad life is like for him and his husband, chef David Burtka, now that their twins — Harper and Gideon — are entering third grade.
Going out to eat with the family takes on a deeper meaning when your husband's a professional chef. "I get confused by the kids' menus at most restaurants, because how many chicken nuggets can a stomach take, you know?" Neil jokingly told POPSUGAR. "Pasta with butter, really? That's a full meal? I don't know! David's a miraculous man in many ways and he has taught all of us how to appreciate foods and try new foods and, therefore, our kids love snails and all kinds of interesting vegetables."
As for what goes on at home? A whole lot of cooking with a seriously healthy focus. "What David and I try to do is provide healthy snack alternatives for in between meals," he said. "When they're eating meals at home, make sure that they're challenging their palates enough that they're not just asking for the same mundane meal after meal."
"We always try to end our days with a family meal together. Usually we eat something that David cooks at the house . . . We really hold that time pretty sacrosanct."
Although Neil and David switch up who wakes up with the kids depending on their work schedules, Neil admits that his 8-year-old children's breakfast options are as good as it gets once his husband gets behind the stove. "When it's my turn to cook, they'll get oatmeal or cereal, and that's about the end of it," Neil explained. "If David's the one that's in charge of breakfast, it's like going to some sort of diner. He just can make anything that they want in a short period of time. I didn't even know we had ham in the house. Then there would be ham or bacon and some sort of amazing avocado toast situation."
And because Harper and Gideon are involved in a slew of after-school activities — like gymnastics, acrobatics, and woodworking — ensuring the twins get plenty of rest is always top of mind. "The kids like their sleep," Neil said. "We think sleep's always been important so we try and get them in bed around 8 p.m., which is early compared to their peers."
While Neil admits the kids are up and at 'em by 6:30 a.m. most days — with their beds made, no less! — David and Neil make it a point to have dinner together, regardless of how crazy the day has been. "We always try to end our days with a family meal together," Neil said. "Usually we eat something that David cooks at the house. But it might be at a restaurant depending on what's happening that day. We really hold that time pretty sacrosanct."
As for some of his most important advice for moms and dads? Try to strike a parenting balance. "David is more strict with things like screen time," Neil said. "He draws the lines in the sand, and I think making sandcastles is hilarious. We differ in that regard. I fully agree with his stances. And I think it's important to have a parent who's got a stronger stance, but I think it's also effective to have the other parent be able to give a wink, 'Don't worry, I got you.'"
Image Source: Quaker Chewy