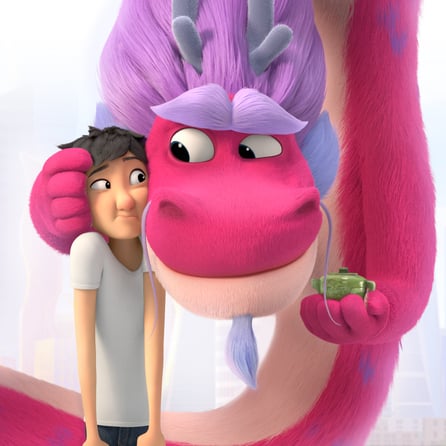 Netflix has been pumping out the movies in 2021, and its next full-length film looks like it's on a fast track to becoming a family favorite — especially if your kids love Aladdin! Wish Dragon, which is based on the same Chinese fable about a wish-granting spirit that inspired the story of Aladdin, is about a 19-year-old named Din (Jimmy Wong) who finds an old teapot that contains a Wish Dragon named Long (John Cho) with the power to grant three wishes to whomever releases him from the teapot.
Din is the 10th person to release Long, which means that after granting his three wishes, Long will remain free. He urges him to wish for material things — and quickly! — but Din has bigger dreams of reuniting with his long-lost childhood best friend, Li Na (Natasha Liu Bordizzo), who moved away from Din's working class neighborhood years before and now lives a charmed life working as an actress and model. "With three wishes in his pocket, Din and Long embark on a wild journey rich in magic, adventure, and humor," reads a press release for the film. "Along the way, they learn that some of the most important things in life — hard work, honesty, family and friends — cannot be wished for."
Watch the adorable trailer for Wish Dragon above, see first photos ahead, and stream the movie with your family when it releases on Netflix on June 11.
Official Trailer For Netflix's Wish Dragon