Photo of Custodian Comforting Child With Autism
A Powerful Photo of a Custodian Comforting a Child With Autism Is Going Viral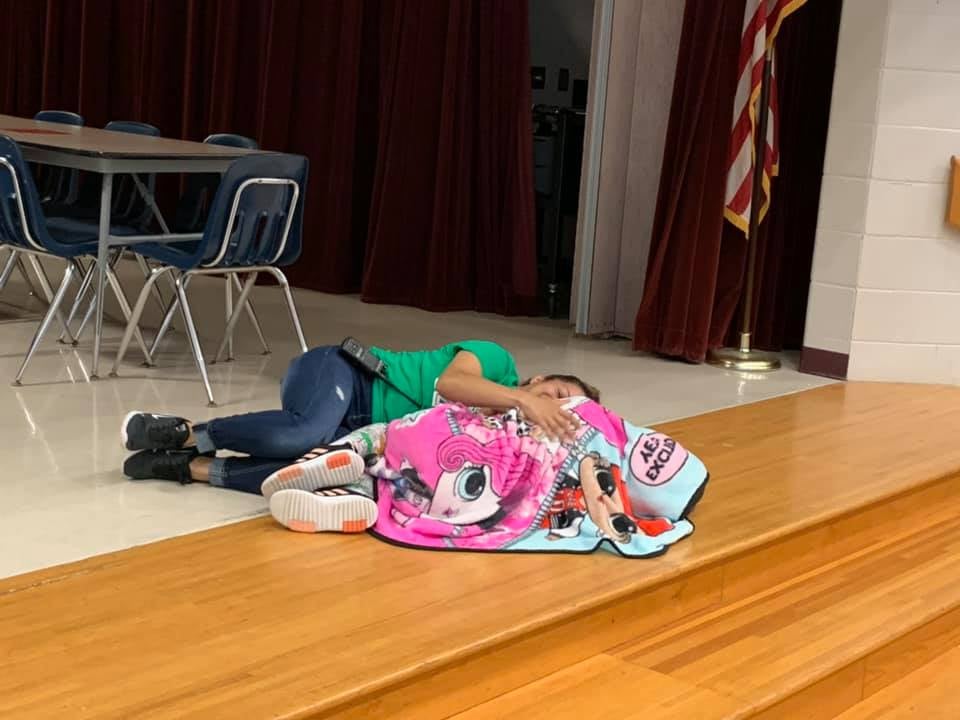 Although Hollie Bellew-Shaw has the luxury of working in the same school as her 9-year-old daughter, Kenlee, she admitted that even as an educator she worries about her little girl from time to time. Kenlee — who has autism — recently felt overwhelmed in the school's cafeteria until a thoughtful 43-year-old custodian, Esther McCool, saved the day.
"I'm a paraprofessional in the special education program at Melba Passmore Elementary School in Alvin, TX, where my fourth grade daughter is enrolled in the ASD program," Hollie told POPSUGAR. "Ms. Esther — the custodian here — has had a special bond with Kenlee now for three years. I believe they both have the same type of energy, which is why they are drawn to each other."
Regardless of the reason, Ms. Esther always knows exactly what Kenlee needs. "Esther knows Kenlee needs that extra little encouragement sometimes," she explained. "Ms. Esther always has the biggest hug and kind words for Kenlee. She holds a piece of our heart for sure."
On the day in question, Hollie admitted that her daughter was having a rough morning because they were running a bit behind schedule.
"The day of this photo Kenlee was having an exceptionally difficult morning, we were running a little late for school and I didn't have time to stop for her morning breakfast," said Hollie. "Kenlee does not do well when rushed she really likes to move at her own pace. She's also always struggled with the noise and busyness of the cafeteria. She laid down on the stage and covered her head with her blanket and cried."
As her mom, Hollie naturally wanted to make her daughter as comfortable as possible, but Ms. Esther immediately stepped in. "I was standing between our stage and the table of our students trying to help buffer the situation," she explained. "When Ms. Esther passed through she just beelined for Kenlee to comfort her. She didn't give it a hesitation or even a second thought, she just laid beside her and patted her back."
Sometimes a little love and support goes a long way!