Meet the Winner of the 2021 Scripps Spelling Bee
The Scripps Spelling Bee Has Crowned the First African American Winner in Its 93-Year History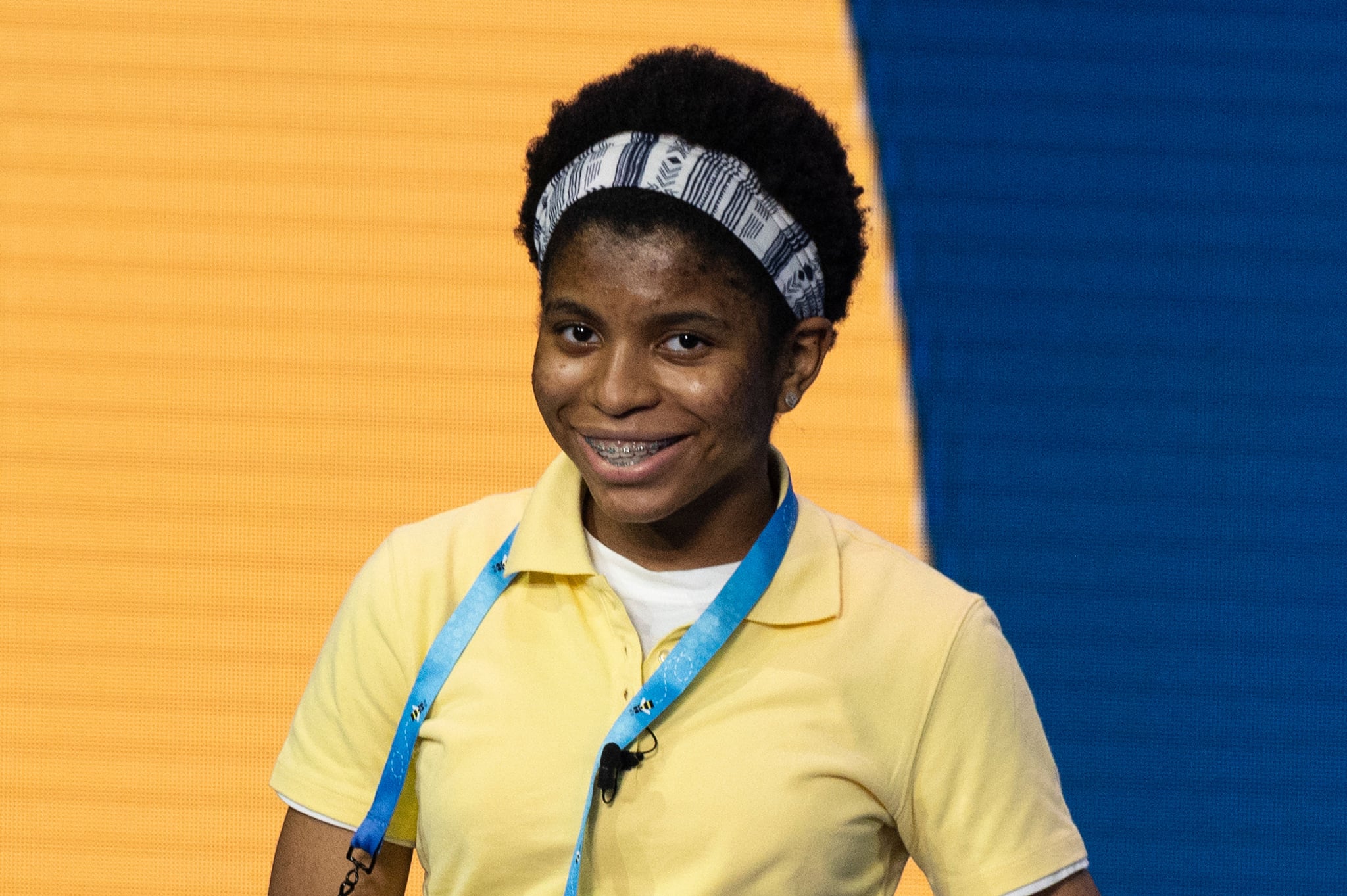 Image Source: Getty / Jim Watson
For the first time in the competition's 93-year history, an African American student has been crowned the winner of the Scripps National Spelling Bee. 14-year-old Zaila Avant-garde, an eighth grader from Harvey, LA, secured her victory on Thursday by spelling the word "Murraya." If, like me, you've never heard of a Murraya, it's defined by Oxford as a "small genus of trees and shrubs native to Asia and Australia and cultivated elsewhere."
One of 11 finalists pulled from a group of 209 contestants ranging in age from 9 to 15, Zaila showed nothing but confidence in the final round of the tournament, even taking a moment to crack a joke about none other than Bill Murray. "Murraya — does this word contain the English word Murray, which could be the name of a comedian or just an English name in general?" she asked with a smile.
As the winner of the Scripps National Spelling Bee — which was canceled in 2020 due to Covid-19 safety protocols — Zaila will receive $50,000 courtesy of Scripps, $2,500 and a reference library from Merrian-Webster, the Scripps Cup trophy, a commemorative medal, and $400 in reference materials from Encyclopedia Britannica.
🚨 14-year-old Zaila Avant-garde just won the 2021 Scripps Spelling Bee with the word "murraya" pic.twitter.com/flMgCJY7da

— Brandon Wall (I-Roku City) (@Walldo) July 9, 2021
Immediately following her historic win, Zaila did a victory dance under a rainfall of confetti and received a congratulatory shoutout from Dr. Jill Biden, who attended the event at Disney World in Orlando to cheer on the 2021 finalists. "Congratulations Zaila!!! 🐝💕," Dr. Biden captioned a post on Twitter on Thursday.
Akeelah and the Bee (2006) star Keke Palmer also offered her praises to Zaila in an Instagram post following her win. "THE REAL LIFE AKEELAH YOU GUYS!! The real life one," she wrote. "I'm so happy in my heart. A couple of weeks ago I sent in a video encouraging all the contestants and for this to happen just feels so spiritual! I am so happy. Major love to Doug Atchison that allowed me to act a dream and thank God for letting me live to see it come to fruition. 'Our deepest fear is not that we are inadequate.' y'all know the rest 😢😭🙌🏾♥️🙏🏾 [sic]."
"After four weeks and one two-hour Finals event, we have our 𝟐𝟎𝟐𝟏 𝐒𝐜𝐫𝐢𝐩𝐩𝐬 𝐍𝐚𝐭𝐢𝐨𝐧𝐚𝐥 𝐒𝐩𝐞𝐥𝐥𝐢𝐧𝐠 𝐁𝐞𝐞 𝐂𝐡𝐚𝐦𝐩𝐢𝐨𝐧!" the spelling bee captioned a post on its Instagram account. "She won the 93rd Bee by spelling the word "Murraya." All the way from Harvey, Louisiana, she is our first Champion from the Pelican State. Help us in congratulating #Speller133 Zaila Avant-garde on her new title! 🎉."
When she's not busy reading up on dictionary definitions and the language origins of certain words, Zaila loves to play basketball. In fact, she currently holds three Guinness World Records for her skills on the court, including the most basketball bounces in 30 seconds with four basketballs, the most bounce juggles in one minute with four basketballs, and a tie for the record for most basketballs dribbled at once by one person. (For anyone who's curious, it's six, but there's a good chance Zaila might beat her own record soon.) So whether it's spelling or sports, huge congratulations are in order for this 2021 rock star!