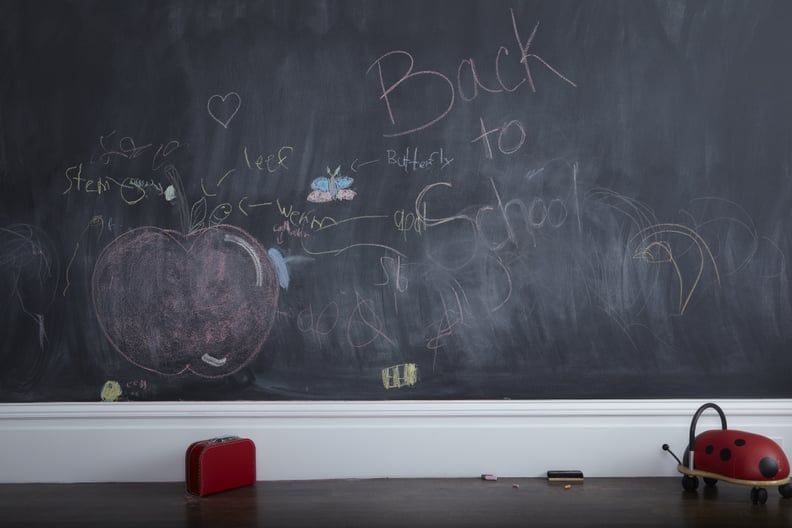 POPSUGAR Photography
POPSUGAR Photography
Choosing a preschool for your little one can be worrisome for a mom, but if you think you have found a winning school yet you're still on the fence, here are 12 signs you've picked a great preschool for your little one!
Your Kid Had a Blast at the Visit
Did your child really enjoy visiting the preschool? If so, you've picked a good spot. Children are honest, and if they're not happy, they won't tell you otherwise. If the teachers could get your child to interact and explore in the preschool at a visit, it's a good sign that your child will be able to happily adjust to this school.
Did you not take a tour? Oh no! Moms, tours are a must. Schools should allow kids to see the room and get a feel for the atmosphere.
Friendly Staff
If the staff is willing to answer your questions without sounding rude or abrupt, and if they sound welcoming as well as put you at ease, your child (and you) are in good hands. You want to feel as if the staff is approachable and willing to work with parents, especially if this is the first kid you're sending to preschool!
Trial Run
A school should be willing to give you a trial run or test your kid out for at least a day or two in order to help you decide if this is the best fit for your wee one. If the school agrees to this, this is a good sign!
Certifications
Is the staff educated in child development, CPR, and first-aid techniques? Ask. You have every right to know, and the staff should be both educated in child development and first-aid techniques. Don't panic, since an emergency most likely won't happen at school, but sometimes it does and you want to feel at ease knowing the school owners value a trained staff! A good preschool will provide you with this information willingly.
Owner
Is the owner friendly or in it for a buck? Is the owner on-site? I think having the owner on-site is a must, at least for the majority of the time school is in session. An on-site owner is more in touch with the pulse of the school and any issues that arise. An owner who's not around doesn't have the same investment in his or her school, which is a bad sign, in my opinion.
Discipline Policy
Ask the school what the discipline policy is. In my opinion, you want a school that focuses on positive discipline practices such as redirection and relaxation corners for children to step away to when feeling angry or combative. A school should be open about how they handle matters such as this.
Also, ask the school how they handle difficult children. Again, a school shouldn't be quick to kick out kids. They should have some sort of procedure for handling children who may need help such as psychologist referrals. The most important thing is the school should be clued in to normal childhood development and able to assist, to support, or to direct parents if a child is struggling. A great preschool is willing to share how they tend to handle such matters as well as signs they look for when identifying children with special needs or behavioral issues.
Parent Communication
Some schools communicate with parents more or less. For example, my daughter goes to a Montessori school, so I don't get daily updates about her school experience. However, when I taught at a Goddard school, parents got daily sheets describing their child's day. If the school's daily communication habits fit your personal needs, it's a good sign this school is a winner!
Sick Policy
The school should explain how they handle sick children and any outbreaks of various illnesses; they should also have a sick policy. A good preschool will be more than happy to talk to you about this.
Cleanliness
Is the school clean? Look around in the corners and in bathrooms. Are items in the classroom organized and labeled well? You're not looking to be OCD here but to see that the rooms are regularly maintained. And more importantly:
The Feel of the Room(s)
Do you feel the room or rooms your child will be in all day or half day are welcoming? If you get a positive feeling upon entering the classroom, it's a great sign!
I've visited schools and felt they were either too cluttered, too bare, or not child friendly enough and walked away knowing that that school was not a good choice for my daughter. The ambiance in the classroom air is important!
Class Size
Does your child need a smaller classroom size? If you find a small private preschool, that's a good sign for your child that he or she won't be part of a bigger, more day-care-like atmosphere.
How Long Have the Teachers Been Teaching? What Were Their Attitudes?
A young teacher can have great enthusiasm, but a seasoned one can as well. In my opinion, low turnover rates are one of the single most important factors in choosing a preschool. Ask the director how long the staff has been in place. What are the teachers' backgrounds? When you visited, did the teachers look happy or exhausted? These are all factors in choosing a great preschool.
If the teachers looked happy or at least actively engaged with the children and positive, you should feel at ease. Of course, teachers have bad days too, but listen to their language — both verbal and physical — with the kids as you visit. Are they warm? Responsive? If you answered yes, bingo! You've found a great preschool!
At the end of the day, you should feel at ease with wherever you send your child. Preschool is supposed to be fun, and more importantly, it's supposed to teach your child how to socialize. Yes, learning basic letter and number facts is important, but children should be children first and get to enjoy play. In the worst-case scenario, if you decide that a preschool you've chosen ends up to not be the best fit for your child, try not to sweat it. Changing schools can be hard, but children are resilient!