We Cannot Get Over This Professor's Emotional Reaction to His Students' Surprise on Zoom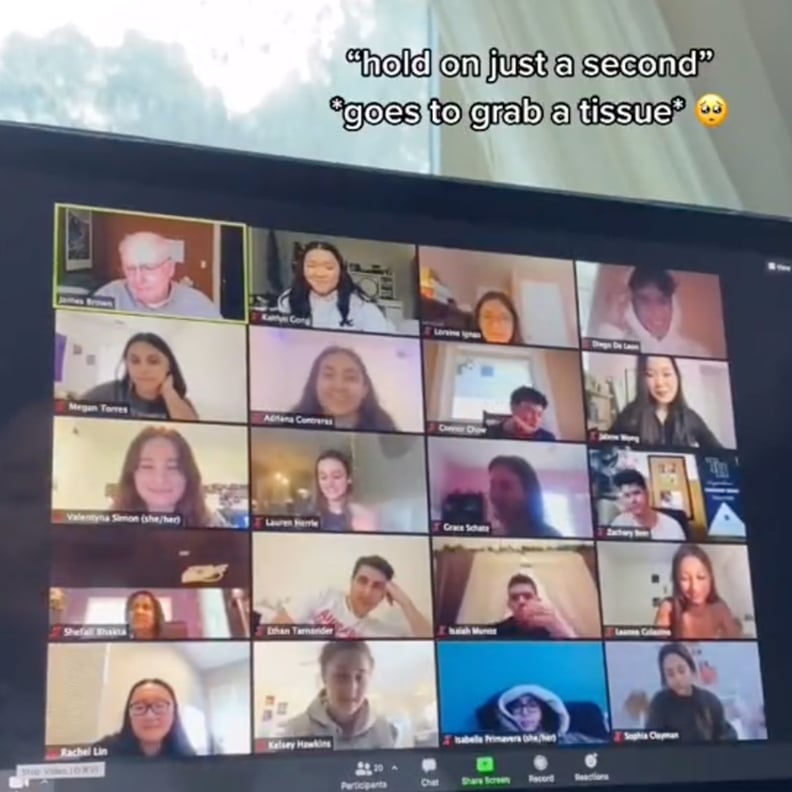 It's no secret teachers are often undervalued, and with the added complications of the pandemic, they certainly deserve credit for navigating virtual learning and adjusting their classes for their students. A group of freshmen students at Chapman University felt the same way, and organized a surprise on the last day of class to show their professor how appreciative they were of him and his course, "Lies You Learned in School." Trust us when we say his reaction will have you shedding a few tears.
In a video shared by TikTok user @notsorry4drippin that has since gone viral with over 24 million views, professor Dr. James Brown is seen starting his class on a Zoom call, only to find that all of his students have turned their cameras off. "I don't see anybody with their camera on," Dr. Brown said. "Is this kind of the new cool thing to do — to not turn your camera on? I've heard that. I've heard that in some classes nobody turns their camera on, including the instructor." He continued, "Seriously? Is it my fault? That you have your cameras off?"
One student then unmuted herself and announced that the class wanted to do something for him. That's when all the students turned their cameras on to reveal handwritten signs thanking Dr. Brown and showing their gratitude for him and his class. "Aw you guys, you're gonna make me cry," Dr. Brown said, as he took a moment to wipe away his tears.
"He is so caring, brings so much energy to each class, and regularly checks in with us to see how we're doing."
Several students from the class posted the surprise to their TikTok accounts, including Lauren Herrle, whose video garnered over 6 million views. "All of us love Dr. Brown because he is so caring, brings so much energy to each class, and regularly checks in with us to see how we're doing, which is so appreciated in a teacher!" she told POPSUGAR. The viral videos have viewers in tears, including Lizzo, who reacted to one of the touching TikToks.
The popularity of the videos has even inspired Dr. Brown's students to band together and start a fundraiser in honor of Yazidi genocide survivor Nadia Murad, who they learned about during the critical theory course throughout the semester. Watch the heartwarming surprise from various perspectives ahead, and get ready for the tears to come.