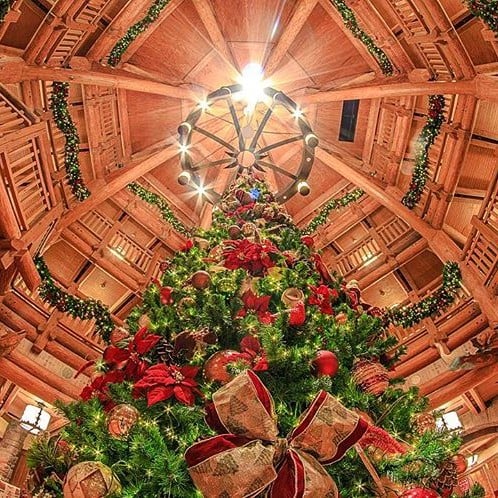 No one does the holidays quite like Disney. It's magic squared, from the over-the-top seasonal decor covering every inch of the park to the otherworldly holiday menus. But when it comes to accommodations, the hands-down most Christmassy resort at Walt Disney World is the Wilderness Lodge. Ask anyone who's been, and they'll tell you it's a must visit when at Disney during the holiday months, whether you can spend all of Christmas week there or just spare an hour to grab a mug of cocoa by the lodge's fireplace. Learn why ahead.
General Ambiance
The Wilderness Lodge's Pacific Northwest theme naturally lends itself to the holiday season. With its log design and cozy, rustic decor, it feels supremely wintery. So when it's decked out for the holidays, it basically becomes the most magical place in the most magical place on earth.
Massive Tree
The Wilderness Lodge's signature holiday touch is its towering Christmas tree. The massive pine soars several stories high through the resort's main lobby. This showstopper is the perfect place to snap a family photo.
Unique Ornaments
Once you get over the sheer height of the tree itself, take in the dazzling ornaments that cover it. From carved-wood pieces of art to real cowboy boots, no expense is spared on this over-the-top tree's decorations.
Room Decor
The holiday touches extend beyond the lobby into the guest rooms. Mickey Mouse nutcrackers, miniature Christmas trees, and seasonal serving ware are just a few of the magical touches that make a Christmas stay at the Wilderness Lodge so special.
Cozy Areas
Log cabins are known for their cozy nooks, and the Wilderness Lodge is no different. Grab a cup of peppermint hot cocoa and snuggle up by the fire with a good holiday read. You'll forget you're in Florida and think you're snowed in.
Seasonal Sweet Treats
While the lodge creates the feel of colder climates, it's actually located in sunny Florida, which means that even in late December, you'll be unusually comfortable roasting marshmallows outside to make tasty s'mores. And the seasonal treats don't stop there. Enjoy festive Mickey Mouse waffles for breakfast and hearty fondue for dinner.
Unbeatable Holiday Decorations
Hanging wreaths, seasonal floral displays, and garlands galore: no other resort comes close to matching the lodge for its sheer amount of decorations. Everywhere you look, it's outfitted to glorious perfection.