Parents on Having a Child With a Rare Genetic Disorder: "Her Willpower Is Inspiring to Us"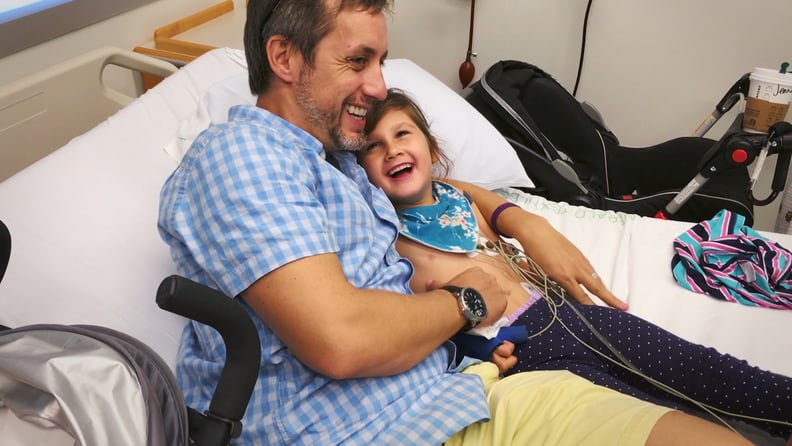 AJ and Jenny Tesler
AJ and Jenny Tesler
When Jenny Tesler noticed that her 13-month-old daughter, Magnolia, or Maggie for short, was having trouble with certain behaviors like squatting, she chalked it up to her daughter simply having weak hips. However, as Maggie's irregular behavior — such as banging her body against her crib until she fell asleep — progressed, she began to worry.
"At first, it felt like new-mom nerves," Jenny told POPSUGAR. "I was just hyperaware of everything and hopeful that [her symptoms] were nothing. Her pediatrician dismissed her behaviors as being normal. He would tell me that some of the things that she was doing differently — like not being able to walk [at 15 months] — were OK. I felt like I was becoming an insane person. I was doubting myself. As the months went on, it just felt as if something was different. It was instinct. It was in my gut. I didn't know how intense it was, but I knew something was going on."
For a long time, Maggie's diagnosis was an utter mystery. After consulting doctors and therapists, they were told Maggie has apraxia, a neurological disorder that makes motor skills difficult, but could potentially improve with therapy. As time went on, Jenny and her husband, AJ, noticed Maggie exhibiting some odd behaviors, such as losing control of her arms and involuntarily wringing her hands in her sleep. Finally, at the age of 3, Maggie was officially diagnosed with Rett syndrome, a rare genetic neurological disorder that affects one in 10,000 women and girls.
Often discovered when children begin regressing or missing milestones between 6 and 18 months old, Rett syndrome will cause kids to lose their ability to speak, eat, and even breathe on their own. Upon learning Maggie's diagnosis — which currently doesn't have a cure — Jenny and AJ began filming what it's like to have a child with Rett syndrome, resulting in the documentary Magnolia's Hope.
"They had told us that if she doesn't use [her skills], she's going to lose them."
As soon as they received Maggie's diagnosis, the Teslers instantly kicked her treatment into high gear. To help their daughter as much as possible, AJ decided to quit his demanding job as a TV and movie producer.
"They had told us that if she doesn't use [her skills], she's going to lose them," AJ said. "So for me, it was necessary in order to save her, which is an insane over-and-above thing to even consider. Because of the nature of my job, I was able to shift into a more freelance role. I was able to focus on the therapies that I had to focus on and help her navigate those early days that were so important for her future development."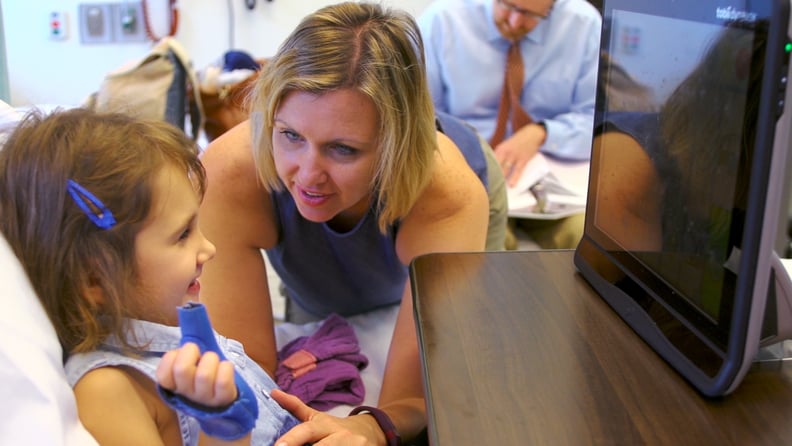 Because the disorder is regressive, AJ and Jenny did everything possible to help Maggie, who is now 10 years old, work on skills like walking and communicating, including dozens of hours of behavioral, occupational, vision, and music therapy sessions per week. The Teslers are proud of their daughter's progress, however, around age 4, she stopped speaking.
Despite experiencing heartbreaking setbacks and witnessing Maggie's utter exhaustion — to the point where they had to pull back on her therapy sessions — the Teslers pushed on, determined to improve their daughter's functional abilities at any cost. For example, although Maggie cannot physically talk, she uses a Tobii computer — which can track an individual's eye movements — to communicate her thoughts and needs. Fully dedicated to his daughter's needs, AJ was hopeful that early intervention would one day help Maggie be able to live more independently.
"When she was going through the regression, she really needed all hands on deck," AJ said. "Both of us are fairly optimistic people. The bad days are really easy to compartmentalize as something that happened knowing well that the good days are something that is yet to happen. It helped us keep our perspective and focused on Maggie and making sure the good days outnumber the bad days. I think that's a lot of what all parents do. There are bad days for any kid, and you just try to get them through that day knowing tomorrow is going to be different."
"I think that what's incredible about Maggie is she wakes up every day cheerful, happy, and excited regardless of what Rett syndrome is going to throw at her," AJ continued. "Her willpower is inspiring to us."
Although Jenny and AJ were incredibly busy with Maggie's treatments and appointments, they also knew they wanted to expand their family. Rett syndrome is technically genetic, however, only one percent of cases are inherited, meaning the odds of AJ and Jenny having another baby with the disorder were slim. After Jenny experienced pregnancy loss due to stress, the couple opted to use a surrogate and welcomed a baby boy when Maggie was 6.
"Our hopes and dreams for Maggie are largely unchanged from when she was born."
"I had to have a surrogate because of the stress I had from Rett syndrome," Jenny shared. "The stress of doing everything led me to have several miscarriages, so I ended up going through IVF and having a surrogate. It's part of our story. It was a big decision to have a second child after Maggie's diagnosis. It was kind of scary. It's actually something that parents [whose kids have Rett syndrome or other disorders] message me about all the time. For us, it's been a blessing. He opened up our world and everything became not just about Rett syndrome and Maggie. It completed us. It's not easy, but it's amazing at the same time."
Despite undergoing hundreds of hours of therapy, Maggie still cannot speak, has lost the use of her hands, and has experienced seizures and breathing problems. Now, the Teslers are focused on going on adventures with Maggie, ranging from skiing to surfing. Although there isn't a cure yet, individuals with Rett syndrome can live well into their 40s or 50s.
"Our hopes and dreams for Maggie are largely unchanged from when she was born," AJ explained. "The timeline may change, but we just want her to have the best life that she possibly can. And we want to do everything in our power to make sure that that happens. We want her to go to college. We want her to get a job. We want her to be able to live independently and choose whatever dreams she wants to follow. It's not anything more or less than what other parents wish for their kids."
They also want families to know that while the Rett syndrome community is relatively small and spread out all over the world, it's incredibly supportive. Their advice for parents who have just learned their child may have Rett syndrome? Resilience is everything. "Our advice for anybody whose child has been newly diagnosed is to not give up," AJ said. "Know that your child is in there and to do whatever you can to try to unlock his or her potential."