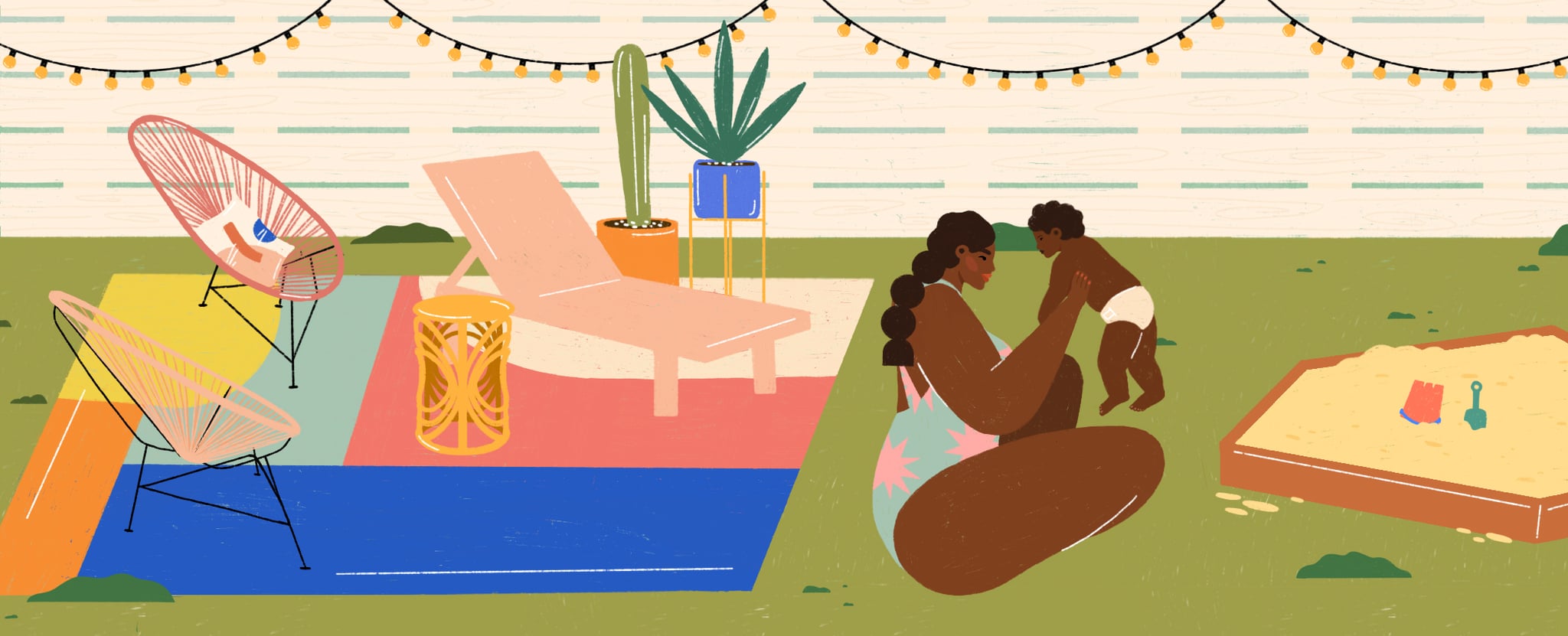 Image Source: Isabela Humphrey
We're teaming up with Pampers to share how you can make the most of a summer close to home.
Just because this summer may be different, it doesn't mean you can't — and shouldn't — find the joy in this "new normal." As working parents, we know a thing or two about social distancing with young children at home. But we aren't just making it work, we're making it fun! From balancing working-from-home schedules to making the weekends together extra special, here are some ideas you can try with your own family this summer.

For Executive Style Director Dana Avidan Cohn, all this extra time at home with her husband and three kids means a chance to reconnect and flex her imagination. Her family went back to basics this summer with activities like sidewalk chalk, making beaded bracelets for friends, and coloring. She ordered a ton of popsicle sticks and some paint, which has resulted in creative projects like birdhouses and a marble maze. Plus, she ordered jumbo color pages that they color in a little at a time, so it's like the coloring version of a 1,000-piece puzzle.
But for a working mom, even setting up an arts and crafts corner can feel overwhelming. For Dana, it's all about prep work. She tries to plan ahead one or two projects a week and lay them out the night before, since she explained her kids are always more motivated in the morning.
This year has been a surreal time with many challenges, but what's really helped Dana is always trying to look on the bright side. Her older two boys (ages 7 and 9) are inseparable and have really filled the void of not being able to see their friends every day, while her youngest is almost 2, and this extra time with her has been especially precious and given them all a chance to form a special bond.
Amanda Elser Murray, director of branded content, already had her hands full with an almost-2-year-old at home. But couple working full-time and entertaining a toddler . . . how does one balance that? Just when she would find one book, toy, or activity that held his attention long enough for her to answer an email, he was ready to move on. And while lesson plans and loose schedules work great for slightly older children, her little guy just wasn't there yet. Amanda realized the secret to making the day-to-day work is keeping her family's routine as maintenance-free as possible by following this sage advice from a friend: "just add water."
She set up her backyard as a toddler paradise with tons of play stations. One area in the shade is set up with building blocks, another has a water activity table, another a sprinkler. According to Amanda, anytime you mix water activities with a toddler, you have a recipe for success — just keep everything you need on hand. Amanda sets up a patio table as her work station and keeps applesauce pouches and a few Pampers Swaddlers Diapers on hand to avoid tantrums. Nothing can ruin a toddler's good mood like a diaper change, so having diapers there and ready to go when they need them is key to getting them changed quickly and right back to playing!
Senior Producer Juan Arboleda realized pretty quickly that there is no such thing as work-life balance anymore, since it feels like work and home life are both the same. With a 17-month-old at home, he and his wife found themselves working longer days to keep up with work. They knew they needed to get their home schedule into shape so their work schedule would follow. Juan and his wife made a shared calendar with assignments to help distribute the baby work between the two of them. This helped them organize their time and argue less.
They also realized the importance of taking advantage of their baby's healthy sleep routine. Using nap time as their chance to bang out work meant evenings opened up for fun family time. Packing up and getting out of the city to small, remote locations helped them discover and utilize amazing outdoor areas. Juan said they go to Golden Gate Park in San Francisco almost every day during the afternoon to help burn some steam, relax, and disconnect from work. Bonus: it also secures a great night of sleep for his baby boss.

Shop Our Summer Must Haves