Why I Let My Kids Decide If They Wanted to Go Back to School
No Matter How Much I Want My Kids Back in School, We're Leaving the Choice to Them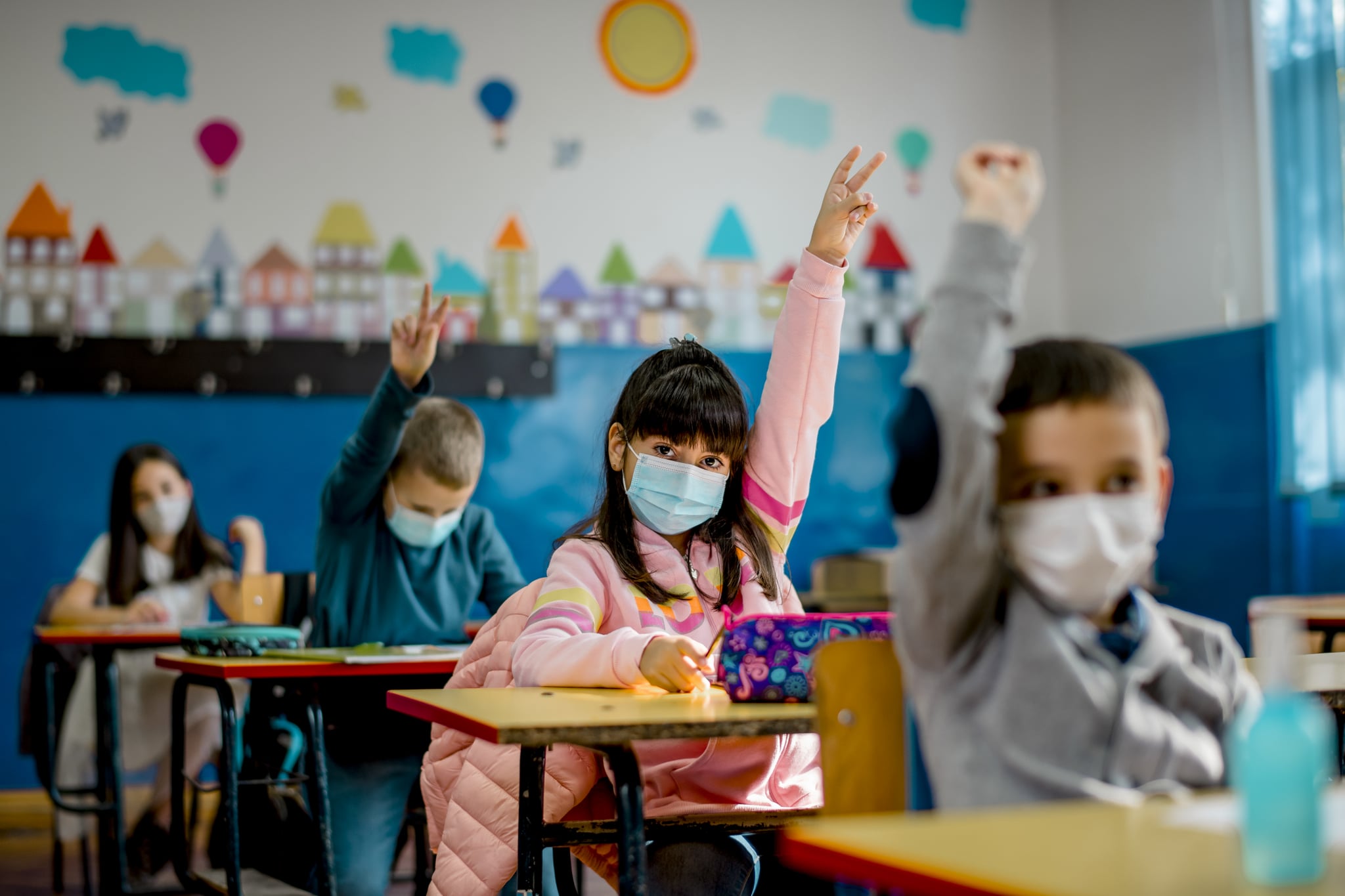 It was the moment I have been waiting for all year: an e-mail confirming my kids' school reopening hit my inbox. Instantly, I squealed. I high-fived my husband. We linked arms and danced in gleeful little circles.
The news was like manna from heaven in a pandemic year that challenged, tested, and wrung out all of my virtues. In our home, remote learning with my young kids is best described as tempestuous and unpredictable. Some days, the kids are engaged and happily learning through screens. Other days, I lock horns with my 9-year-old and then cry into my lukewarm coffee while I learn how to multiply with ten frames to help with homework.
The ping of the email alert signified the beginning of the end of this odd pandemic induced reality. High five, every parent, because we made it! Schools reopening called for rejoicing, so I danced until I saw my kids' anxious faces. Then all joy screeched to a halt. "No one asked me how I felt," my 9-year-old said quietly on one of our solo walks around the neighborhood. "I don't want to go back."
Collateral damage in all this, the children were not the intended target of all the anxiety of pandemic life, but they were hurt anyway. While very little hard data exists now about how the pandemic is affecting children's mental health, ask any parent how their kids are doing. Chances are, stories of sleep regressions, malaise, and anxiety will pop up.
With COVID cases dropping and increased pressure to reopen, more schools are talking about returning to in-person learning. To prepare for this, school districts send out surveys to parents and host Zoom meetings to field grown-up questions about ventilation systems and cohort groupings, but very little effort goes into checking in with the kids' feelings. Kids are like little pawns in this shuffle to stay home or return to school with no agency or voice. That's just not okay. Kids need as much a voice in the return to school debate as their grown-ups.
After a year of being stuck at home, some children may welcome the excitement of going back to school. "But I think the kids who already have anxiety are more prone to being more anxious going back," said clinical psychologist Jennifer Louie, PhD, a clinical psychologist, in an article for the Child Mind Institute.
Last year, my 9-year-old left second grade for what he initially thought was a long spring break. He spent the last year cloistered at home getting to know classmates through a series of rectangles on his Chromebook and the occasional school site visit to pick up supplies.
When he leaves the house, he has to be mindful of a dizzying slew of safety precautions: wear a mask, keep space, and wash hands. Also, keep hands away from your face, and if a sneeze escapes, apologize profusely. This impossible set of expectations makes it understandable for anyone to want to stay home and peek out at the world through closed curtains.
A recent survey of 1,000 students showed that 66 percent of school-age kids were anxious about going back to school in a pandemic.
"There's just anxiety in the air, and I think kids feel that. I think they are wondering: Are we sure it's safe to go back? And are other people safe? And is it safe to touch this?" Dr. Louie said in that same article. I was ready for my kids to go back to school because I answered the school surveys and asked the questions to help myself feel comfortable with the risks, but I did not communicate these steps to my kids. I was part of the problem.
When my 9-year-old said he didn't want to return to school, I felt taken aback. Then I noticed the feeling behind his words — he felt scared. He doubted his ability to keep his mask on the entire time. He worried he would be in a cohort without his best friends. And he feared the string on his mask would break, as many have in the past, leaving him defenseless all day.
These were all valid fears. I listened to the words tumble out of his mouth until he fell silent. Then I apologized for not being more transparent about the process. As we walked, I answered all the questions I could: Yes, he could bring as many backup masks as he wanted. Yes, he could take "mask breaks" outside in designated areas away from people. The questions I didn't have the answers for, I wrote down to email later to the school director. "Most of all," he said after he excised all the fear. "I feel like everyone is pushing me to go back."
Remote learning set my two little kids and I out to sea. Some days the water was rocky, other days it carried us to adventures and little moments we will remember forever. I just wanted my son to know that I would never push him out of the boat. For now, there is a choice for school. He could choose to stay with remote learning or he could choose to go in person. Armed with all the information, my 9-year-old knows now he has a voice in the decision-making. He also has the freedom to fill out a dance card and join in the celebratory family dance, no matter what he chooses.