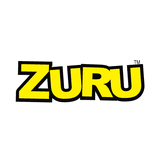 We teamed up with Zuru to share its latest collection of realistic miniatures.
With winter approaching and new lockdown restrictions being put into place, people are spending more time at home. It's safe to say Zoom fatigue has already hit, and this go-around, we're all looking for new ways to indulge in some indoor fun. Luckily, the TikTok-favorite 5 Surprise Mini Brands has miniaturized another set of iconic household names, and unboxing them is the ideal activity for staying home.
The 5 Surprise Mini Brands ($7) are miniature replicas of your favorite brands that perfectly match their full-size counterparts. For its latest release, Zuru teamed up with Kraft Heinz to create realistic collectibles that will take you out of the gloom of 2020 and into a whole new miniature world. And it seems the Series 2 is the most sought-after 5 Surprise yet! Each capsule features four surprise mini brands and one surprise mini shopping accessory. You can even find super-rare brands in shimmer, glow-in-the-dark, and metallic finishes.
In this time of uncertainty, these fun collectibles provide a much-needed moment of escapism. Just peel away the new gold packaging to reveal capsules filled with more than 70 iconic household brands (miniatures of course!), including Oscar Mayer bacon, Grey Poupon mustard, Velveeta cheese, and more. There's something so satisfying about seeing your favorite pantry items shrunken down in perfect detail, from the packaging and labels all the way down to the barcodes and ingredients.
Looking for a sneak peek of the different brands you might unbox? Just hit play on the video below to watch superstar Hammy the Hamster walk through a mansion filled with all the latest minis. Then find out where to buy the Series 2 capsules and collect them all.
Image Source: Zuru