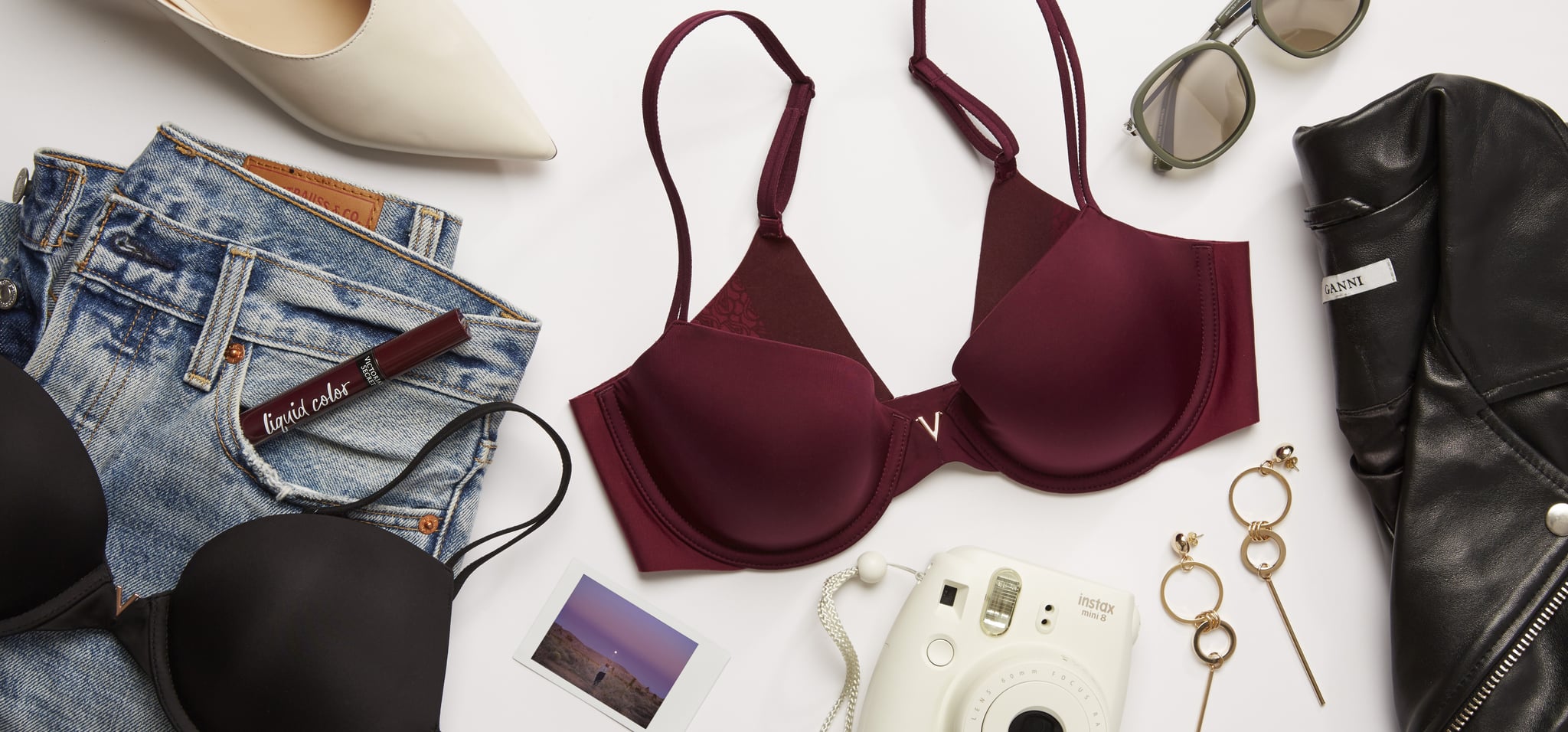 Image Source: POPSUGAR Photography / Diggy Lloyd
Best Bras For Work
What 3 POPSUGAR Staffers Consider to Be the Most Important Items in Their Closets Right Now

Your undergarments are the unsung fashion heroes keeping you on your A game. We've partnered with Victoria's Secret to introduce the revolutionary new
Sexy Illusions Collection
and show you why it's a must have for your everyday wardrobe.
Here at POPSUGAR, if we're not spending our days scouring the web for the best fashion finds, we're photographing them. But even with the hundreds of items that cross our desks, you may be surprised to learn just what makes the cut for our own wardrobes. Whether we're running around all day on set or heading straight to an industry networking event from the office, we hold high standards for the fashion pieces we rely on in day-to-day life. They need to be comfortable, confidence-boosting, and as hard-working as we are — starting with the innermost layer.
Ahead, three staffers each give a peek into the items they hold the most dear in their closets. Keep reading to discover what pieces give them the support they need to manage their hectic days — and how they can help you, too.
Image Source: POPSUGAR Photography / Diggy Lloyd
Whether she's dropping her kids off at school before racing into the city, hopping from photo shoot location to photo shoot location, attending industry events and market appointments, or making a TV appearance, one thing is certain for executive style director Dana: she always has a jam-packed schedule. Luckily, her tightly edited wardrobe and minimal makeup routine keep the busy mom moving and focused on the task at hand.
"My day is always different. I often have 12- to 14-hour days with a mix of desk time, studio shoots, dinners, and drinks and need hero pieces in my closet that are stylish but still comfortable. One of the best things about working in fashion is that your work clothing and weekend clothing can all mix together. For me, that means easy dresses or jumpsuits that I can quickly slip into in the morning and clean, streamlined accessories that help elevate my look. I also can't live without a wireless bra that's seamless with raw-cut edges. This one in particular smooths everything out like no other bra to create a flattering silhouette that looks good under anything I'm wearing. I was a lingerie editor for years and learned how bras make all the difference in the way your clothing fits."
Image Source: POPSUGAR Photography / Diggy Lloyd
For senior photo producer Andi, "on the go" is an understatement when describing an average work day, which often includes running around on set, casting for upcoming photo shoots, or scouting locations for a big project. Then, it's straight back home to Brooklyn to walk and feed Steve, her Frenchie, before squeezing in a yoga class and ending the night with dinner and quality time with her fiancé. For days like these, she relies on pieces that allow her to conquer her day efficiently and confidently.
"Every day is different with my job! It's fun and exciting, and I'm always on the go. Since I need to be mobile but still accessible, the wireless earbuds keep me connected while the sneakers allow me to move around. Meanwhile, the jeans go with everything and make me feel totally badass. And not only is the bag chic, but it's the ideal size for everything I carry on the regular. Finally, the plunge bra is perfect for getting me through it all. I need something lightweight that I don't have to fuss with or readjust throughout the day, but that still provides some lift, and this push-up fits so comfortably, it's almost like it's not even there!"
Image Source: POPSUGAR Photography / Diggy Lloyd
Even though fashion editor Stephanie's days are a little more predictable, it doesn't make them any less hectic! Whether she's rushing to catch the commuter train into San Francisco for an early morning meeting, churning out content at her desk, making the rounds for press previews across town, or heading to a networking happy hour followed by date night with her boyfriend, she requires sleek staples that help her feel put-together and that can easily transition from day to night.
"Because I'm out and about from early morning to late at night, whatever I wear needs to be comfortable enough to last me through the day, but still polished enough to take me straight into evening without needing to change. First up? A smooth and seamless push-up bra that disappears under clothing and provides natural lift. The neutral black hue allows me to throw it on under everything from a t-shirt to a slip dress, and I especially love that the plunge cut accommodates my favorite low-cut silk wrap blouse. Other essentials include a roomy tote to carry all my necessities, a versatile leather jacket to add a bit of urban edge, gold drop earrings to dress up any look, sophisticated low-heeled mules that are walkable, and a deep red lipstick to add instant sultriness for a night out."
More From Victoria's Secret:
Feels like nothing. Does everything. Try now & experience all-new VS Sexy Side Smoothing solutions.
Find a Victoria's Secret store here.