Best Cargo Pants For Women 2019
These Cargo Pants Look Great on Every Woman Who Wears Them
As POPSUGAR editors, we independently select and write about stuff we love and think you'll like too. If you buy a product we have recommended, we may receive affiliate commission, which in turn supports our work.
I officially fell in love with cargo pants when Emily Ratajkowski wore them on the street with a crop top, Prada bag, chunky sneakers, and teddy coat. They actually looked kind of sexy. I gave up skinny jeans on the spot and married my Dickies Girl Carpenter pants, which I tried because of the affordable price point (they're just $50!) and because Emily was also wearing Dickies, a brand that reminds me of my youth (hell yes, I wore those overalls in preschool. You know the ones).
I channeled Spice Girls vibes in my new pants — even my boyfriend was on board. He told me I looked like Emily Ratajkowski in them: "I feel like you think you're Emily Ratajkowski." (That's the same, right? It was if I wanted it to be). I made the executive decision that I should collect all the colorways. But then I thought, "Wait. I love how these pants are slightly baggy, comfy, and flattering all at once. I wonder if other women will feel the same way."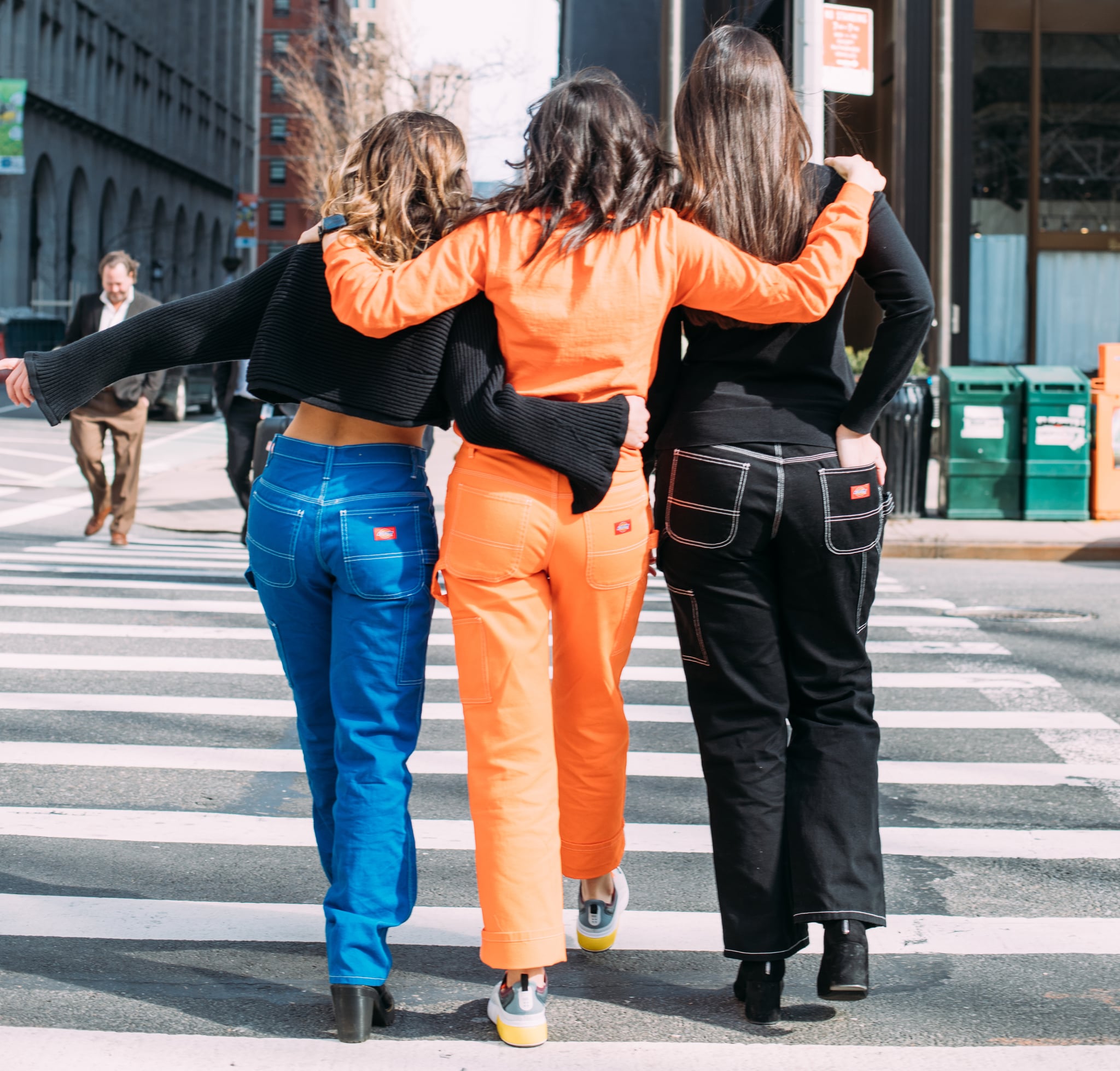 I have a petite frame, and I personally love to wear platform sneakers or boots, but how would my friends style them, and most importantly, how would they feel in them? Would they also turn around to admire their shape in front of the mirror like I did in these pants, approving of the way the structured slacks trace and define the figure, but don't grip tightly at every curve?
I enlisted associate trending and viral features editor Kelsey Garcia and senior social media editor Fabiola Lara to try them out with me. All three of us have different body types, and we took different sizes and colors to find the most satisfying fit. They were generally easy to create an outfit around — we just thought of them as another pair of jeans and each one of us added her own original flavor. (Now you're probably like, "OK, who do they think they are, the Fanta girls?"). It's probably pretty obvious that we felt like total babes in the cargos, because our body language says it all.
I figured since cargos are having a moment in fashion, it would be downright rude for me to keep this secret from you: I found a universally flattering take on this very popular trend, and I want you to try it too, in the name of girl power. Ahead, check out the Dickies we tried, then shop the exact pairs, along with similar cargo pants if you prefer slightly different details.