Source: POPSUGAR Photography / Sheila Gim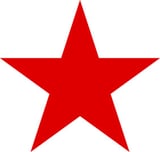 You shouldn't have to sacrifice fashion for performance. We partnered with Finish Line at Macy's to highlight pieces that satisfy both needs.
If you've ever felt like you crammed too many obligations into one day, you haven't met Dana Avidan Cohn, POPSUGAR's resident style director. A mother to two young boys, this New York-based working mom has mastered the art of juggling responsibilities. Even with a sizable work commute (she lives outside of Manhattan), she manages to spend quality time with her family and cover the fashion market, all while looking enviably stylish. The biggest key to Dana's success? Planning ahead. "I do everything the night before to speed up the morning," she said. " I organize my boys' backpacks and leave them by the door, then I unload the dishwasher, fold laundry, and make snacks for school."
Intrigued by her packed schedule, we asked her to walk us through what a full day looks like. See her calendar and simple styling tweaks.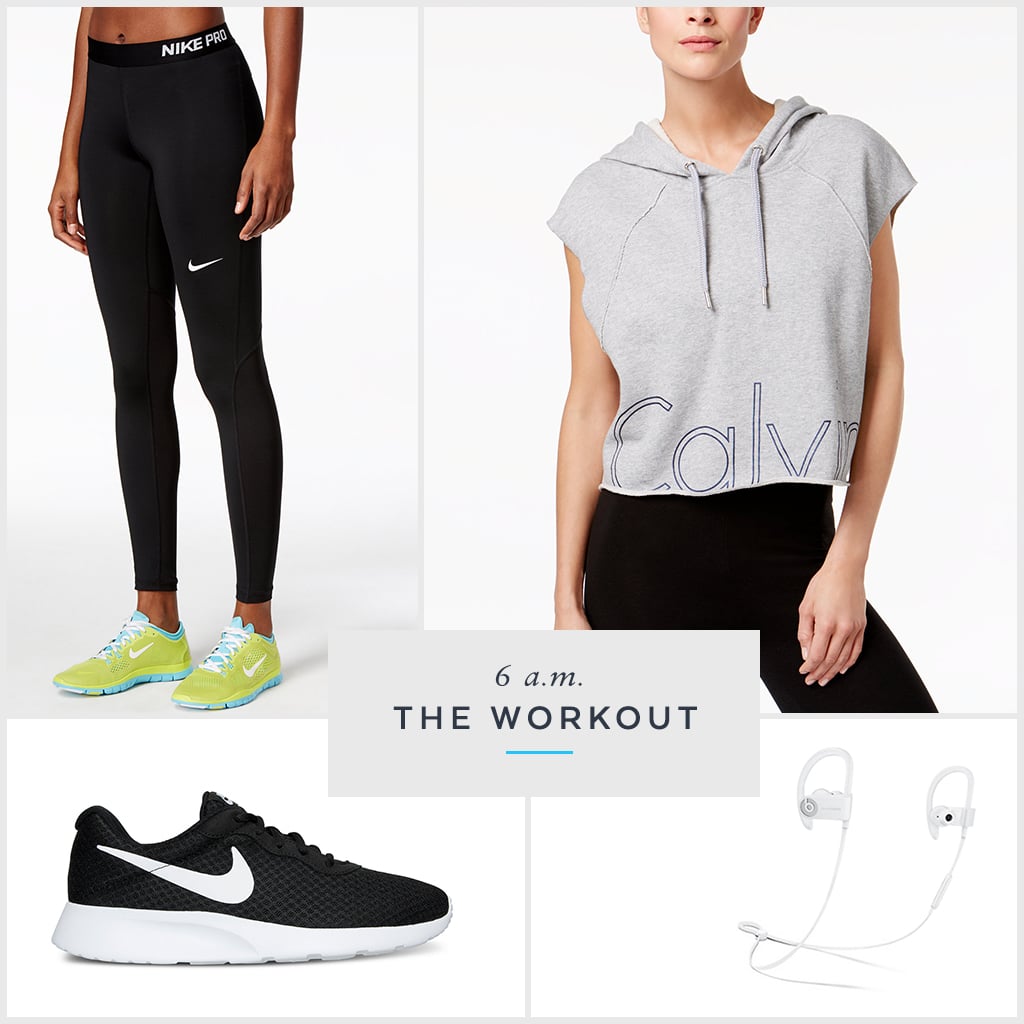 Dana gets up at 6 a.m. while her home is still quiet and quickly gets changed for a sweat session. She throws on tights, a cropped hoodie, and her Nikes because they're easy pieces that work for all of her needs. Because time is limited, she cues up a fitness app and works out inside to save time. Then she showers and leaves the house at 7:15 a.m. to drop her kids off at a morning program by 7:30 a.m.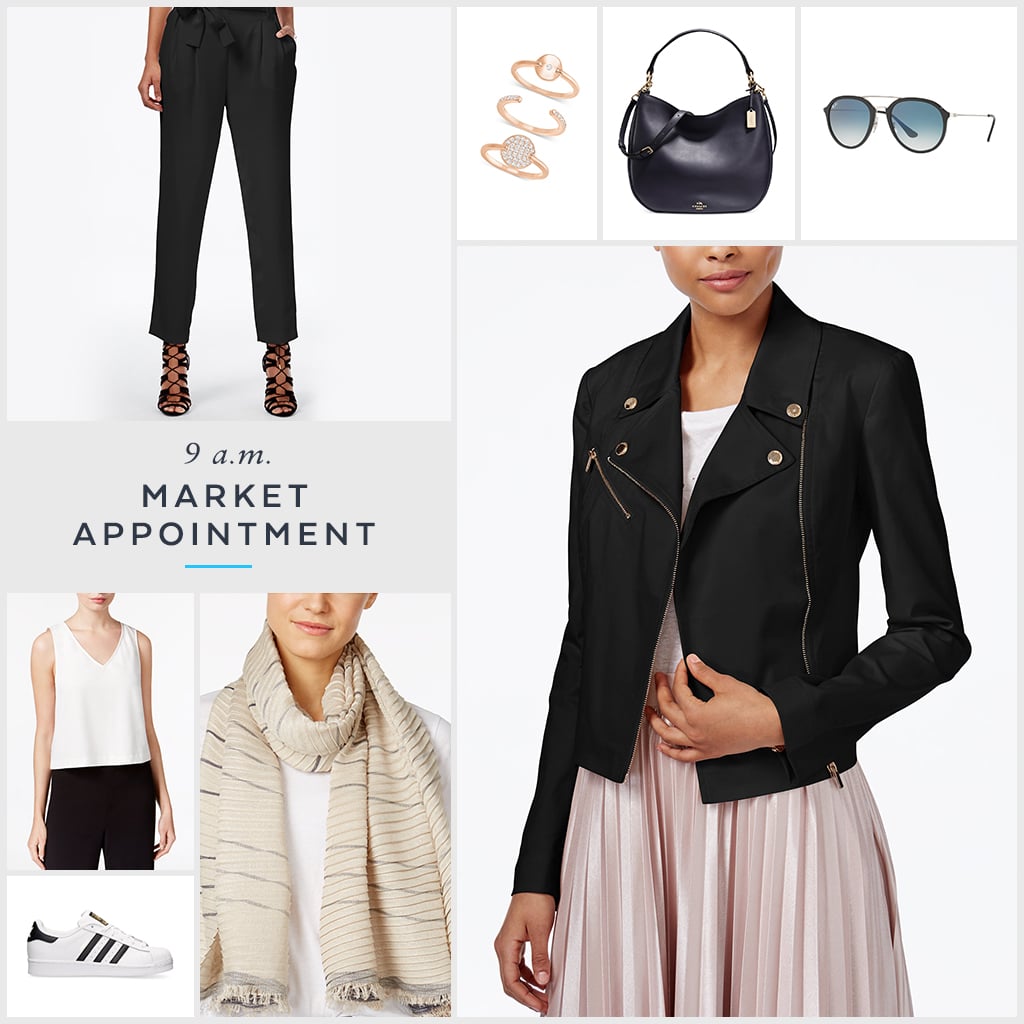 By 9 a.m., she's in Manhattan and heading to her first market appointment of the day. Dana attributes her high-functioning mornings to a closet revamp. "I recently went through my closet and got rid of so much clutter and things I wasn't wearing. Now everything in it is seasonally appropriate. It makes getting dressed in the morning much faster." Dana gives us an example of the perfect outfit.

She centers it on her Superstar Adidas sneakers. This shoe is practically a fashion staple for her. She wears them with cropped trousers, a tank, a leather jacket, and a thin scarf for chilly mornings. Carrying a big bag is critical. "I always bring a large bag that can carry everything I need for the day," Dana said.
By 10 a.m., she's in the office and gets started on style concepts for shoots and videos.
Come lunch, it's fairly common for Dana to have to pop out of work for a meeting. "I often have lunches to discuss collaborations with designers, brands, or publicists," she said. "I like to pick places that are close to the office and keep them to an hour or less so that I can have the afternoon free to finish up projects." To ready herself for these appointments, she takes a small bag that's been hiding inside her much larger bag and swaps her shoes. "I always keep multiple pairs [of shoes] at my desk," she finished. The whole fashion swap takes less than 30 seconds.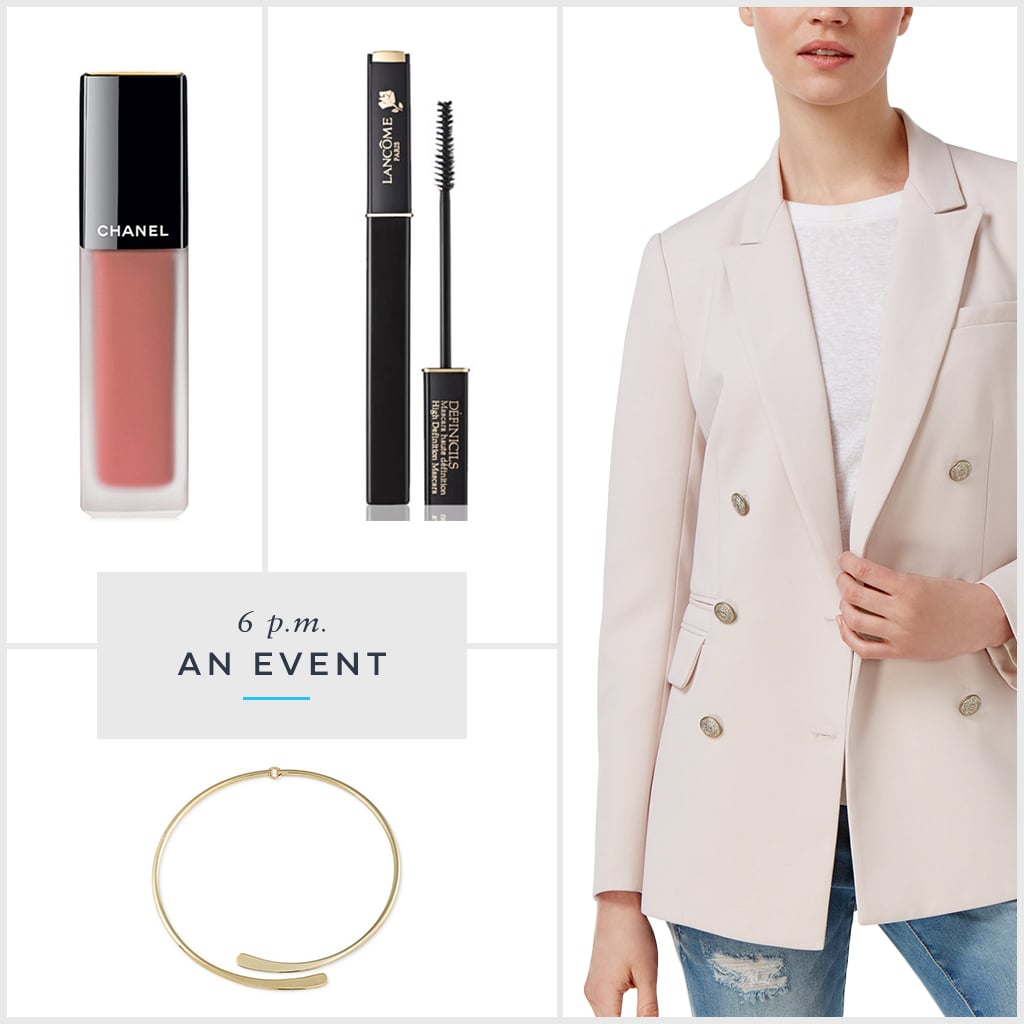 When most of us are packing up our things and going home, Dana has one more stop to make. "There are tons of events after work to celebrate new collections, store openings, or collaboration launches. I usually head to these right at 6 p.m. so that I can make it home to kiss my boys and tuck them in." To prepare, she again makes minimal clothing swaps.

Dana will likely put her Adidas back on, a neutral-toned blazer, and a thin necklace. It's a polished look that requires little effort, and they all work well together. Then she'll do a quick lip and reapply her mascara before leaving the office. "If the event isn't formal, I wear a clean leather sneaker. That way, I can walk to the train if it's nice out, and I don't have to carry my larger tote home with me for a shoe swap."
After the event, she takes off for home to spend the evening with her kids and husband. "I try not to clean up the house or look at my phone or computer at all and give them all of my attention," she said. "We read books in bed and play until they go to sleep."

From there she unwinds with her husband and gets ready to do it all over again the next day.
Shop Finish Line at Macy's!
Image Source: POPSUGAR Photography / Sheila Gim