Take risks this Fall with the boldest, most striking trends of the season. Teaming up with
Guess
, we're showing you how to do just that — major confidence included.
When it comes to standing out this Fall, certain trends are so eye-catching that they can't be ignored. But while leopard print, graphic tees, faux fur, and plaid are definitely bold, they're also totally wearable. This season, we challenge you to kiss any style reservations you may have goodbye, because trust us; anyone can pull off even the edgiest pieces. What it really comes down to is how your wear the item, and we're making it simple with the four looks ahead.
Fresh, polished, and completely versatile, these modern outfits will inspire you to step out of your fashion comfort zone and own the office, the party, or wherever you're off to. So go ahead, don't be shy — unleash your inner street style star, and start rocking the hottest Fall trends with confidence. We dare you not to fall in love.
We know you've been seeing animal print everywhere. So what are you waiting for? If head-to-toe leopard isn't your thing, begin by introducing the trend into your rotation in a more subtle way — thinks purses, shoes, or belts. Wild booties like these are a true Fall staple and will help even your simplest looks feel fresh and uberstylish. No need to think too hard when it comes to creating an outfit around them either, as leopard is the new neutral. We promise, it'll pair seamlessly with virtually everything and anything you could possibly throw at it. Exhibit A: here, it helps elevate a jeans-and-tee combo to Instagram-worthy status.
T-shirts are the foundation of most casual wardrobes, but instead of reaching for a solid tee, upgrade with a graphic style instead. Still versatile yet full of personality, think of statement tees as cheeky, extra vibrant blank canvases that can easily take the place of your beloved white v-neck. Here, this top helps tie together a denim-on-denim look in an effortlessly chic way. We also love graphic tees under blazers or slip dresses for a casual-but-refreshing statement. This is one trend that can easily be mastered, as there's truly no wrong way to wear it!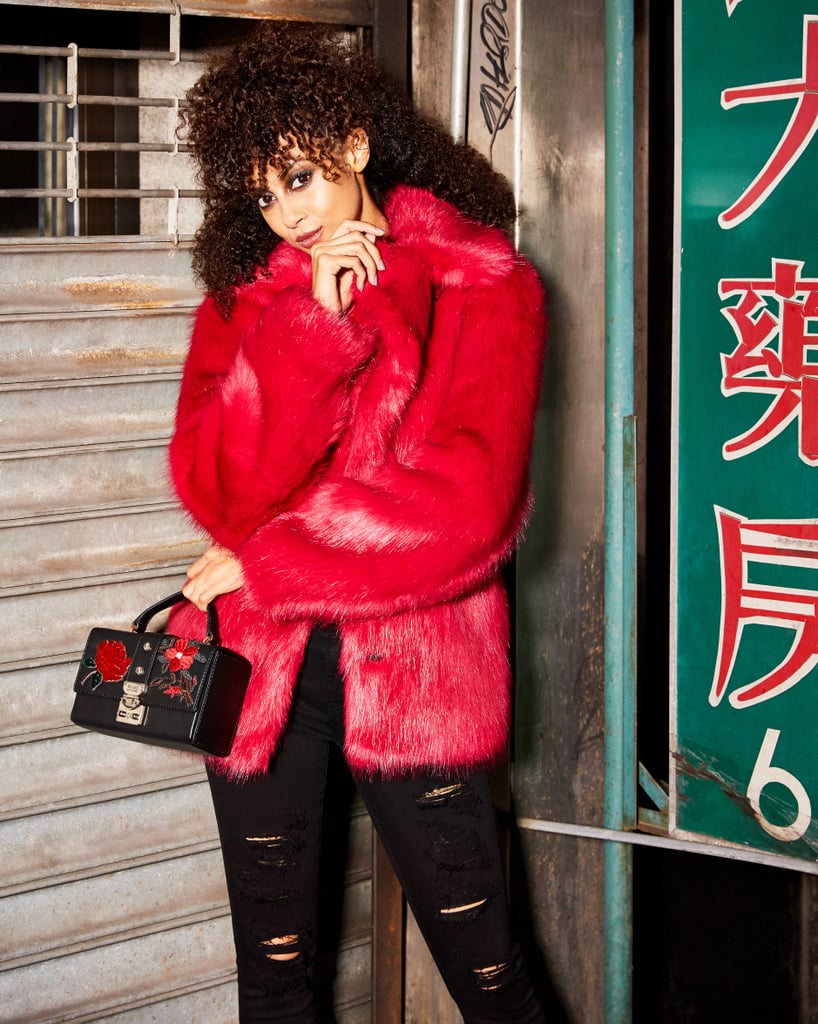 Ah, statement fur — arguably one of the most perceivably daring trends that resurfaces every Fall. But just because the style naturally stands out in a big way doesn't mean you can't pull it off with ease. Own the trend by dialing up the wow factor and keeping it fresh with a faux fur piece that offers a little something extra; think a bold color or a poppy print. Keep the rest of your outfit simple so as not to distract. Here, this red coat takes center stage set against an all-black palette and is undoubtedly electric but far from overwhelming.
Make plaid the cornerstone of your Fall closet by wearing it in the form of a coat. One of the most coveted — and classic — top layers around, a plaid coat is iconic for a reason. And while the pattern is having a major moment on everything from button-downs to pants, checks on an outer layer is quintessentially refined. Serving as the perfect cherry on top of any look, a plaid coat instantly adds polish and street style cred to even the most casual ensembles. The faux fur collar on this one makes it especially fun and fashion forward. Let it shine as the hero of your outfit by teaming it with jeans, a simple tee, and so-now metallic sneakers.
Credits: Photographer: Lauren Perlstein; Art Director: Colleen Lennon; Model: Brit Watkins; Hair and Makeup: Ashley Schultz; Stylist: Kathleen Harper and Emma Sousa; Production: Andi Nash and Sasha Bar-Tur