Flare Jean Trend
15 Flawless Ways to Add Flare to Your Jeans
Lucky Magazine is one of our favorite sources for great shopping tips. We're thrilled to share this fabulous story from our friends at Lucky!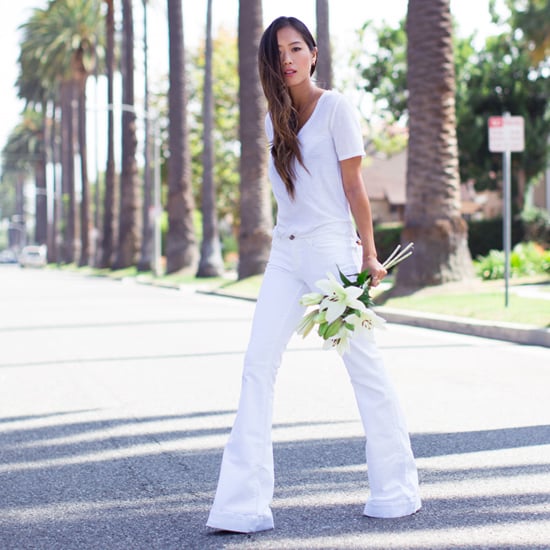 From a styling perspective, it's easy to see why skinny jeans have stayed on top for so long: the look's impossible to mess up. If a pair runs too long, you can simply roll up the hem—hidden underneath (like Garance Doré does!) or into a visible cuff — and it still looks good. The cut's trim, tapered fit balances the proportion of long, voluminous tops, but somehow works with something cropped or body-hugging (or both!) as well; shoe-wise you can go with all manner of flats, heels and boots. You never have to worry about every fabric bunching up or dragging on the floor!
Flare silhouettes, on the other hand, are a tricker beast to tame. While an in-and-out shape can be incredibly flattering, it can also go horribly wrong. "Well it's extremely important to get the exact right hem length," our senior editor Jayna Maleri/office authority on all things '70s, explained when I voiced by doubts on joining team bell bottom. "Go too short, and a wide flare looks unflattering and cuts your leg off at the wrong spot — but keep them too long and you end up stomping on them, or worse, looking like you have weird, Clydesdale hooves instead of feet!" The best way around these mishaps is pick the shoes you'll be wearing ahead of time. "When you take your flares to the tailor, bring a few pairs of shoes to see how they'll look with different heel heights, and aim for a hemline that is just almost — but not quite — skimming the floor."
This brings me to another conundrum: exactly what type of footwear goes best with flares? With flats I run the risk of looking stumpy, but a heel — especially of the pointy-toed variety — feels like something I would've worn in the early aughts. This is not a concern our creative director Katia Kuethe shares. "Just got for it," she tell me. "A flared leg pant with a pointy shoe is a classic!" Her secret to keeping the look more chic than Coyote Ugly is sticking with a kitten style. "It can look silly if the loose, swingy hem flops around because you have too much height — a kitten heel's more elegant. My favorite combination is a baby blue flares with low black Manolo T-straps. I love the contrast in color and texture!" I shouldn't, she advices, write off flats either. It's a more challenging combination, but the extra effort pays off. "A slim dark, very slight flare with a pointy metallic flat — I like silver — with a tucked in white or baby blue men's shirt is perfection. Such a very chic '90s look! I have a great high waisted pair from A.P.C., just barely flared, that's great for this. They are so tight in the hip and unforgiving rigid, though, that I tend to do have to do a short meditation before I put them on."
But want a foolproof solution, something that's impossible to mess up, style editor Laurel Pantin says to just stick heels. "It makes your legs look crazy long!" But a top that hangs too low, she warns, can kill the effect. "Since the line is so long from the waistband to the floor, you've got to keep the proportions cropped up top" she explained. "Generally tucked in shirts, little cropped sweaters, or half tucked tee look best with flares." And, it's not a hard and fast rule or anything, but she'd start the whole process with a higher rise cut.
"Definitely look for high-waisted styles," senior fashion writer Jenna Gottlieb agrees when I ask her option. "They help define your waist!" She also agrees with Laurel on need for short and tucked in shirts. "The idea is to define your waist, and show off the slimmest part of the pants: the thighs." But she's not necessarily opposed to an oversize cut. "Something like a cute boxy top creates a really fresh silhouette."
As I mull over all this brilliant advice at my desk, I realize I really need to see it in action. Sometimes the easiest way to master a new look is simply by copying someone else.
Click over to Lucky to see 15 flawless ways to wear flare jeans.