Handbags to Buy Based on Age
The Handbag You Need in Your 20s, 30s, and 40s, According to a Designer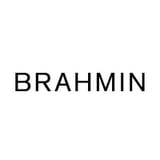 With 35 years under its belt,
Brahmin
is well-versed in designing a luxe, eye-catching handbag. To celebrate its anniversary, we've partnered with the brand to spotlight its new collection full of on-trend styles for any age.
While we're big believers in the idea that every woman should wear what she likes no matter her age, there's no denying that there are some pieces better suited for certain life stages, especially when it comes to handbags. Considering a luxe leather handbag is an investment piece and a wardrobe staple, you want to ensure the style you buy complements your current lifestyle. "A handbag is ageless, but there are certain silhouettes that are essential at each stage of your life," noted Susan Thacker, CEO of American-based luxury handbag brand Brahmin. "Whether you are looking for the It silhouette of the moment, capacity to carry your essentials, or a style to keep your hands free, Brahmin has something for everyone."

Of course the styles featured ahead can be worn and enjoyed by women of any age, but if you're looking for recommendations, we tapped Thacker to help us distinguish the trends worth considering for your 20s, 30s, and 40s. Keep reading to see and shop her picks.
20s: A cool crossbody that transitions from day to night
For many 20-somethings, life consists of work and play. A versatile option is ideal for keeping up with your budding career and buzzing social life. "You need a handbag that can carry you through your day in style: enter the crossbody," Thacker said. "Our options are spacious enough to carry your office essentials and still make a splash at happy hour. Rich textures, exotic prints, and special finishes are sure to turn heads."
30s: A structured style in the It silhouette of the moment
For a more sophisticated option in your 30s, Thacker recommends a polished style with personality. "The top-handle satchel has been deemed the silhouette of the season, and I could not agree more," she said. "Our design team took this structured silhouette to the next level with an unmatched attention to detail — accordion pleats add style (and extra space), and our signature exotic embossed leathers make the Gabriella unmistakably Brahmin."
40s: A chic satchel with special details
For your 40s, Thacker recommends a handbag that doesn't sacrifice function for style, like a roomy satchel. "Our Large Duxbury Satchel is a bestselling silhouette for good reason. Our customers love its classic shape and ample space to carry every daily essential. The Priscilla boasts the same great benefits with an angular edge. Our handbags are all equipped with our signature functional features, including key clips, phone pockets, jewelry pockets, and more."